Whether we like it or not, one of the main reasons for gun ownership is personal defense. We live in a world where bad things happen and bad guys do exist, and guns are the great equalizers.
Gun storage for home defense is complicated; it has to be accessible when things go bump in the night, but secure enough to keep curious little hands from obtaining your firearms.
The ideal storage solution is a marriage of security, easy access, and functionality. How quickly can you kit up to meet the threat of a home invader head on, while keeping your guns and gear secure?
We at Hold Up Displays understand the struggle of personal safety, and we have the solutions for every need. Let's go through some ideas and tips for the ultimate level self defense and preparedness in any dangerous situation.
Should I Get A Safe?
Remember the push back in the 90s (Author's note: I may be dating myself here) to demonize butter and dairy fats, instead pushing margarine? The assumption was that an artificial spread was superior to a natural fat. Long story short, it was wrong, yet millions still reach for margarine instead of wholesome butter. This is a product of programming.
What does that have to do with home defense?
Gun culture has been programmed for eons to believe that a cheaply-built, stamped steel "gun safe" (more like wall locker) is the right solution to your gun storage.
These cheap units are not good for much beyond throwing your guns in and hoping they don't get rusty.
For defensive purposes , they are not organized in a way that optimizes your ability to kit up quickly. They are not built to keep your entire kit in one place. In fact, unless it is a large safe, your kit will take up the entire safe, save room for a rifle or two.
You will probably end up getting a separate pistol safe since storage space is lacking in vertical safes, unless you go with a large unit, which then brings its own host of problems (namely weight and space restrictions).
But that still leaves the question of where to keep all of your kit. Are you going to hang it on a coat rack? Or a hook on the wall? This puts all of your gear spread out. The whole point of the kit is to keep yourself organized with all the necessary self defense tools ready for rapid response.
Moreover, a safe is an inefficient use of space. Cheap safes are little more than a wall locker; however, there are some really great ones out there. These are awesome for expensive collections, unique guns, etc., but they are not optimal for quick access when you need your weapons most. Not to mention they are extremely pricey, heavy, and cumbersome.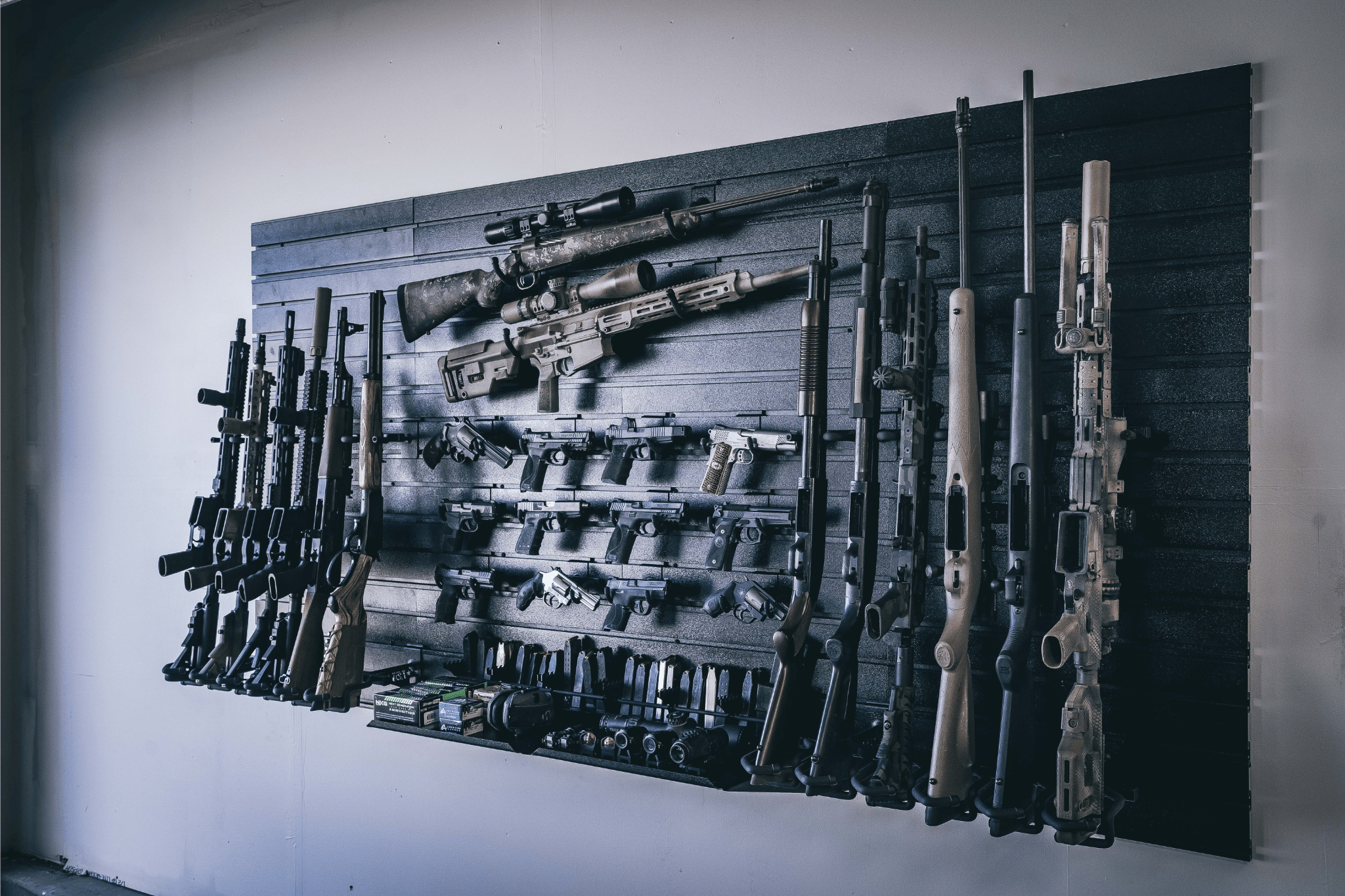 Why A Gun Wall Is Your Best Bet
A gun wall is a great home defense storage solution for a few reasons:
It is infinitely modified because it is completely modular.
You have room for up to 12 long guns on a single wall, but it is infinitely expandable for any number and mix of handguns and long guns.
Our line of accessories provide storage options for chest rigs, magazines, ballistic gear, and anything else you can think of.
Our Gun Wall Bundle is one of the most popular ways to store a wide range of weapons and provides the ultimate accessibility to protect against a potential intruder. It comes standard with a vertical mount for six long guns, so you can store a mix of shotguns, pistol caliber carbines, standard carbines, and AR-pattern pistols or SBRs. It also has mounting for six pistols, magazine holders that are compatible with standard AR or AK magazines and pistol-caliber magazines, and a tray that is great for spare pistol magazines, ballistic helmets, tactical flashlight, or even a kitted out assault belt. Our Gun Wall Builder is the ultimate option for designing the perfect gun wall for your needs. It is tailored to your exact arsenal, big or small.
If your kit includes a chest rig (which we highly recommend), you can add on a plate carrier hanger. Of course, if your gun wall is already out of room, we offer the plate carrier hanger (and many of our other products) as a flat wall mount so you can mount it adjacent to your gun wall. Or anywhere else for that matter!
And while we are huge fans of our standard black slats, we get it: sometimes you need a little flair. Our American Flag Gun Wall Bundle has more flair than most people can handle in one dose.
The American Flag bundle has room for your AR-15 and five of its closest friends. We also throw in six pistol hangers for the pistoleros out there. Oh, and did we mention the slat wall shelf? Yeah, we put that in this bundle, too. Go ahead, load it up with mags, drums, knives, or whatever else you might need.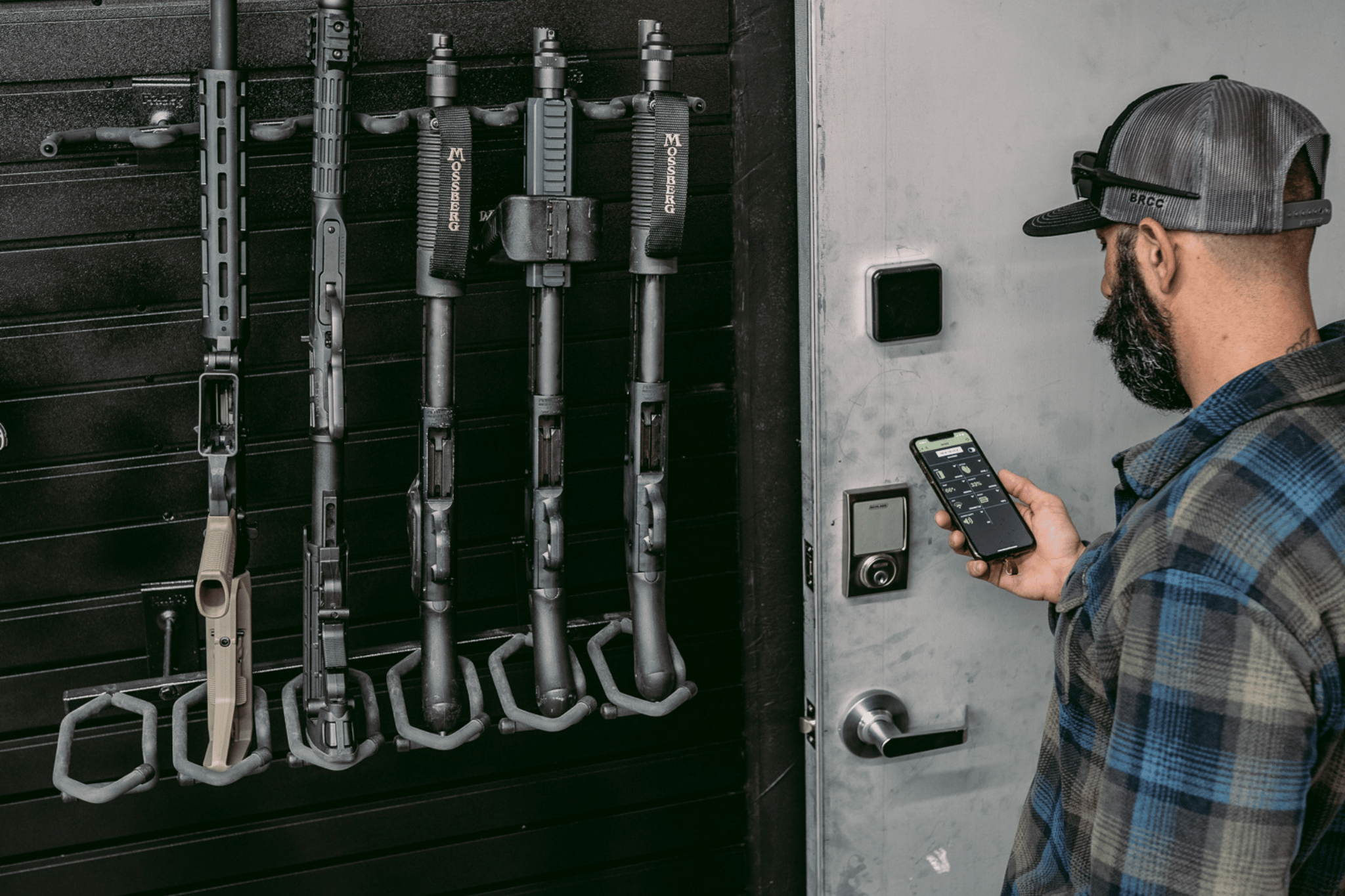 What About A Gun Room?
A gun room is your ultimate flex as a gun owner. And it's a downright necessity once your collection reaches critical mass; safes aren't an option and it only makes sense to outfit your digs with a gun room.
And we get it: not everyone has a lot of extra room for a gun room. However, we have the products you need to make just about any room a gun room, even a closet. Yes, your spare coat closet can be a fully decked out gun room.
Are There Any Other Solutions For Home Defense?
Our gun walls are a great addition to any room to store your full kit, but if that presents a little too much bulk for, say, a bedroom, you might consider a few of our flat wall mounted options for your self defense weapon. You can inconspicuously mount a single pistol on a wall mount. As small as these mounts are, you can mount pistols out of sight and mind just about anywhere you want.
Of course, if you have a few long guns to mount close to your bed but don't want a full-blown gun wall, we've got you covered.
Reliable, American-Made Home Defense Solutions
Whatever your home security and defense needs are, Hold Up Displays manufactures high-quality storage solutions right here in the United States. We have a product or a combination of products to keep you in the fight. Of course, we have a full line of gun locks to make sure no innocent little hands get into things they shouldn't.
Our walls are there when you need them. Our goal is for all of you gear to be on the ready and well organized when you need it most. No matter what the day (or night) brings you, you'll be ready for it.