So, you've got a whole lot of guns and nowhere to put them? Man, that's rough. We've all been there. Well, if we haven't all been there, we wish we had. Too many guns is a problem we can all get behind. When faced with this dilemma, what can you do about it? You can always truck in a massive safe to put in your basement. I hope your friends are strong. Or you can lean them up in the corner of the laundry room (my personal favorite).
All jokes aside, how about taking an extra closet and converting it into a sweet gun room? Perfect. We'll talk through how Hold Up Displays can help make this firearm storage solution possible.
How Much Space is Enough Space?
Look, here's the thing about gun safes: they have their place. For instance, maybe you have an irreplaceable, expensive, and valuable gun collection. We get that. Some modern gun safes can withstand temps of up to 1,200℉ for an hour or more. So this might be the way to go if you are sitting on a stash of heirloom guns. No lie.
Also, they are pricey. We're just wagging here, but the beefy units that hit that thousand-pound mark are way over three grand. For a steel box. You have to be careful where you put a thousand-pound safe on your floors. Not a huge deal for a house on a slab, but it should go in the basement if you have one, and then your guns aren't all that accessible. Plus…how are you going to get it back out unless you have a walk-out basement?
Figuring out how much space is enough space depends a lot on your arsenal, available storage space, and how you intend to store your guns. So let's reverse engineer this to figure out how much space we can expect to work with.
A walk-in closet would be ideal for mass gun storage, but something tells me that our spouses have other ideas. So, let's assume the best we can expect to work with is a standard closet. A standard depth closet is 24 inches deep, although a coat closet is up to 28 inches deep. That is good to know for our purposes.
A typical wall closet is four feet wide, perfect for hanging up guns.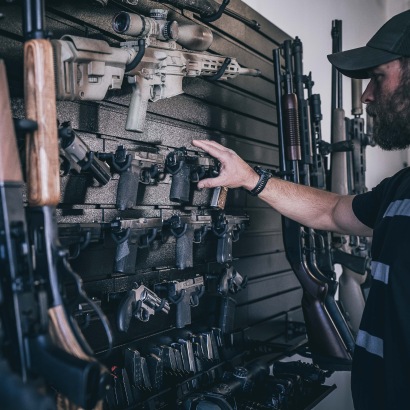 Closet Gun Mounting Solutions
To maximize space in a small area, you need to go vertical as much as possible. For example, if your closet has standard eight-foot height walls and is two feet deep with a four-foot width on the back wall, you have about sixty-four square feet of vertical wall space.
Our vertical mounting space solution includes our infinitely expandable gun walls, along with wall-mounted gun racks (vertical or horizontal).
To fill in the floor, which is about eight square feet, we can squeeze in a folding gun rack or throw in a crossbow tree rack. You know, for good measure.
These systems are perfect for quick access and safe storage, whether you're storing a rifle, shotgun, pistol, revolver, accessories, or anything in-between.
Guns Walls
Our gun walls are completely modular designs, built to be expanded (or reduced if you need them) to fit just about anywhere there is empty wall space.
Each slat measures 48 inches in width, ideal for a storage closet that typically measures exactly four feet in width. Our standard gun wall ends up being four feet across but three feet high, and you can mount all kinds of gear on the gun wall. In addition, since the slatwall design is fully modular, you can go from the floor to the ceiling if you want.
If you went ceiling to floor, it's tough to estimate exactly how many guns you could store on your wall. There are so many different layouts and accessory options that come into play. Since the average length of an AR-pattern carbine with collapsing stock and a sixteen-inch barrel is 35 ½ inches, you can fit roughly two stacked end to end vertically. Our gun walls have infinite capacity since they are a wholly modular design so that you can add as many slats as fit the space.
Wall Mounts
You can use various mounting options for the narrow walls to store guns and bows securely.
The vertical gun rack is 23 ¾ inches wide, allowing it to fit perfectly on those two-foot-wide walls. These racks hold six long guns of your choice, so if you have a bunch of rifles, you can probably stack two of these and mount twelve long guns per wall.
If the quantity isn't your biggest concern, our vertical gun hangers are a nice option to hang a single rifle, shotgun, or even a bow.
For the handguns, our five handgun track display is a great way to display and store up to five handguns on a single track. It can be mounted horizontally or vertically, which gives you plenty of mounting options. For example, you can slide it on a narrow wall-mounted vertical and a few vertical gun hangers or mount them parallel to maximize pistol storage.
Free Standing
Finally, let's hit on some free-standing options for your floor space.
Now, this isn't mandatory, and you might not even want to use the floor space since you'll sacrifice the ability to step into the gun closet. But if you are too loaded with hardware and need the storage, we have solutions.
For long guns, we recommend our folding metal gun rack. The great thing about this rack is that you can take it with you to the range to keep six of your best friends off of your table and out of the way.
If you have a shelf in the closet that you don't want to part with, you should try our countertop four pistol rack or our in-barrel pistol display for shelves. These are great ways to keep those handguns close at hand, and also to free up space on your gun wall for long guns, mags, and ballistic gear, etc.
Keeping your Gun Closet Secure
When it comes to proper storage of your firearms, safety and security should always be considered. Making sure the door to your gun closet includes some sort of lock, whether that be a deadbolt or combination lock, will prevent any unauthorized access.
A lock on your guns themselves is another smart security measure that can be easily integrated into your gun display. Hold Up Displays features a variety of gun locks including individual and multi-gun cable locks. We also feature a key lock pistol and long gun display designed to completely lock into your wall.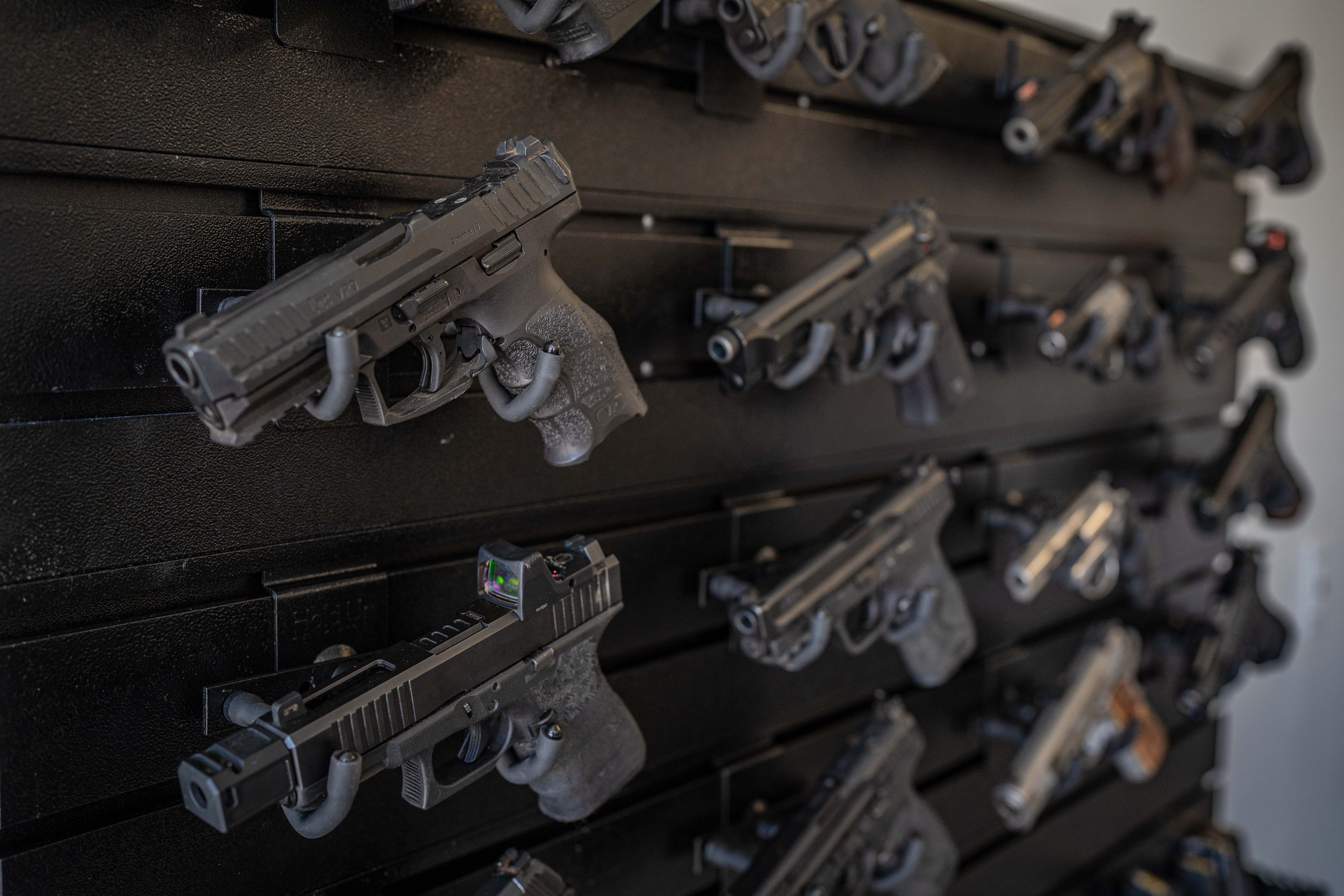 Building the Best Gun Closet with Hold Up Displays
A closet is an ideal space to convert for your gun storage. If you have a spare closet that you (or your spouse) are willing to part with to use for gun storage, you should go for it! Hold Up Displays has every solution imaginable to optimize the limited space in a wall closet fully. And, of course, if you can talk your wife out of her walk-in closet, we will help you outfit it. Whatever space you have to work with, we have a solution. Give us a call, and we can figure out the best fit for you!