You've spent years building your collection of valuable weapons. From guns to blades to bows and all the gear that supports your craft, a storage room is essential to keep your weapons secure, safe, and displayed.
As collectors and enthusiasts ourselves, Hold Up Displays understands the unique storage needs of those with a large collection of weapons. A weapons locker, shelf, safe, or cabinet are some common options for gun enthusiasts and knife collectors, but we encourage you to look beyond these limited solutions and focus on wall storage for more secure weapons storage you can be proud of. Whether you're storing blades, bows, or guns (or all of the above), we have the solutions you need to display your gear and build your dream armory.
Displaying Your Collection
Your collection can take on a lot of different shapes, sizes, and forms. We have mounting solutions to fit your needs no matter what they are.
Firearms
Displaying firearms is sort of our bread and butter. It's what we do, and we do it very well.
Collectible firearms can take a few different forms: Historic weapons and antiques from classic battle rifles to muskets, muzzle-loaders, Sharp's rifles, and more. Or, more modern guns, say your custom AR build, hunting rifle, or MSR. No matter what guns make up your collection, our products can help provide a custom wall-mounted layout. Our racks use American-sourced steel, durable powder coating, and protective padding to ensure your guns will not be marred, scratched, or damaged. For the 90=]long-term preservation of your valuable firearms, a wall-mounted solution is truly the best option.
No matter how large your collection is, we have a solution to store it. The modularity of our full wall systems allows you to expand storage as your collection grows. Let's be honest, we're never done adding more guns to our armory.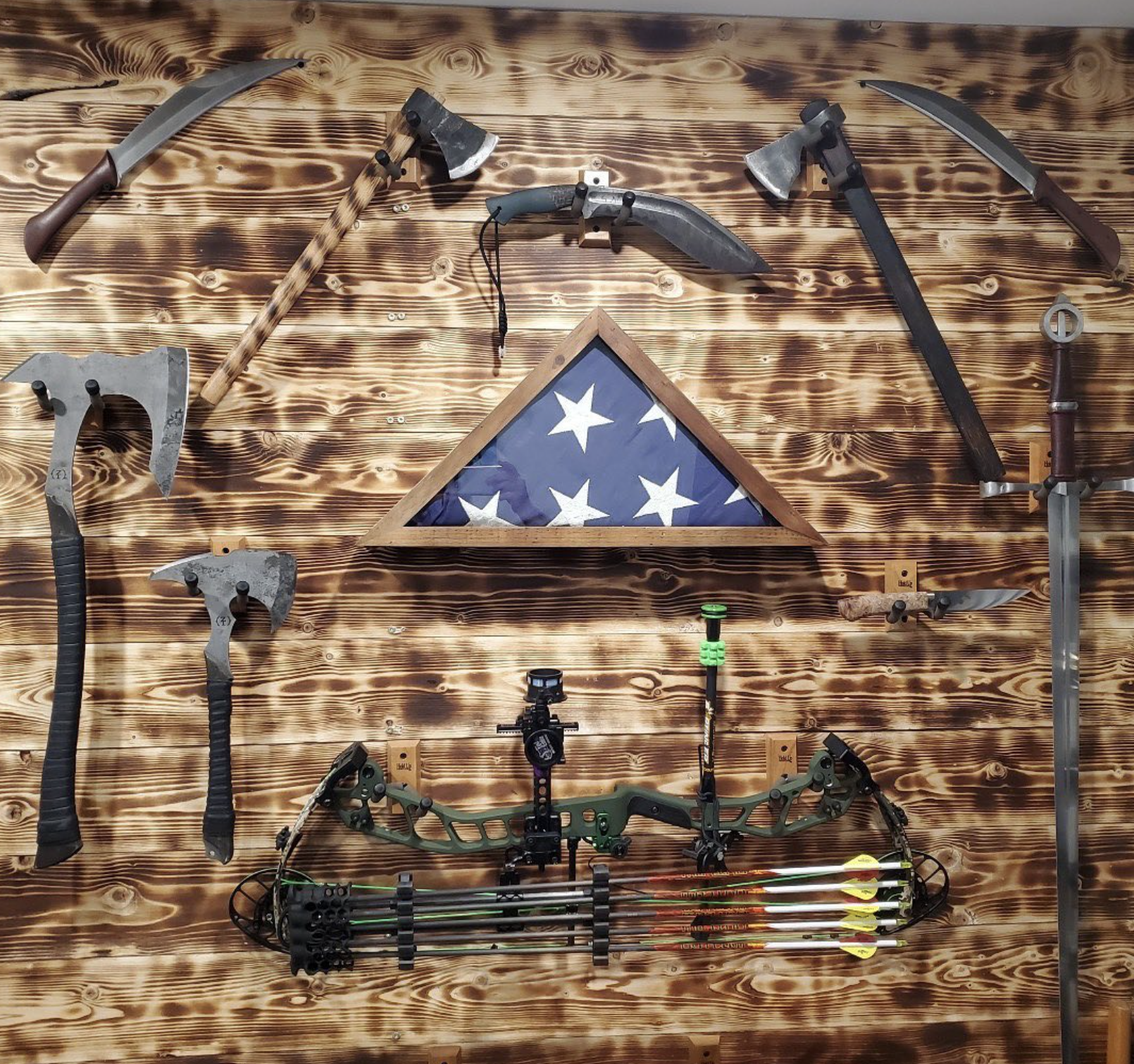 Swords & Knives
How about the blades? We know you guys love some blades, and why wouldn't you? They are awesome.
Storing your knives and swords can be tricky. You don't want to damage your heavy-duty fixed blade or have your weapons get into the wrong hands.
The good news is HUD is not limited to firearm storage. Our firearm & fishing rod track bundle is a great option for keeping your swords mounted horizontally on the wall. It will hold up to five swords, and since you can pick the width, you can adjust it based on whether you have short swords, medium-length, or if you have long swords.
How about knives, you ask? We can help with knives, too. Our pistol holders are great for pulling double-duty and holding your daggers and long knives.
Archery
Hold Up Displays carries an entire line of archery-specific mounts. Whether you have a collection of classic recurves, modern compound bows, or crossbows; we have mounting options for all of them.
You can mount your archery equipment vertically or horizontally and create a customized layout that suits all your gear. Our archery mounts come in both wall mounts or as a holder for our slat walls. OR you can even go with our ceiling-mounted bow racks. Talk about a great way to optimize space for the rest of your collection!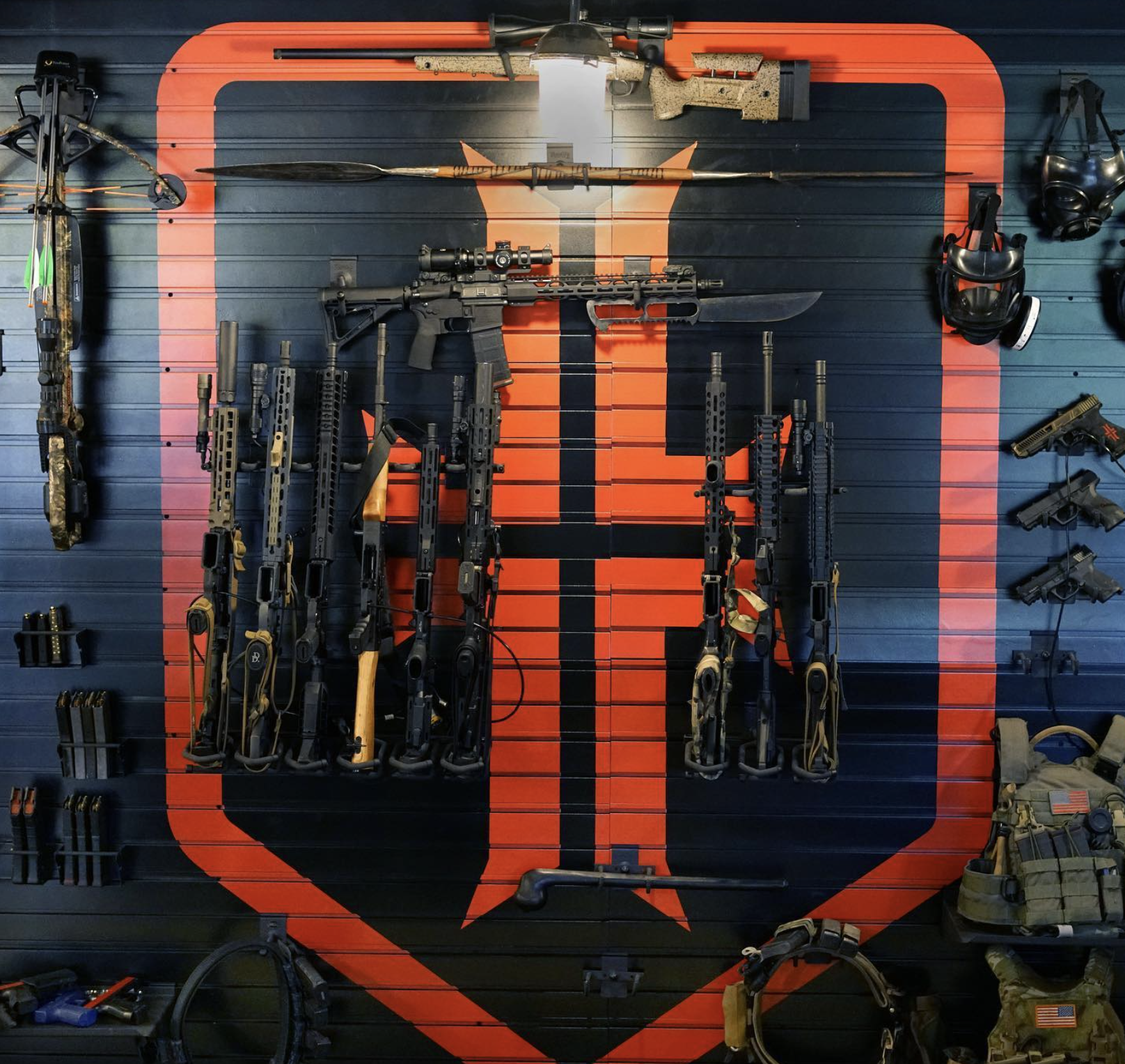 Storing Valuable Guns
Whether you're storing a modern set of weapons, antiques, or a mix of the two, the safety of your weapon should be your number one demand to maintain your collection's value. What are some of the things you need to consider when using these guns?
Preserving the Finish: Environment Control & Cleaning
Modern firearm finishes have come a long way. Anodized finishes are the norm, and they are incredibly durable, as is Cerakote. Durability is the name of the game with modern finishes, but it's still important to consider the material you are using to secure your gun to avoid scratches and damage.
Vintage firearms are not made of the levels of steel quality as modern firearms, nor are the finishes up to the same levels of durability. A traditional chemically blued finish with a high gloss walnut stock looks beautiful but is far more susceptible to environmental impacts.
Every firearm must be in a temperature and moisture-controlled environment. An open-air gun wall in a climate-controlled room is one of the best ways to keep your guns from succumbing to a rusty coffin in a vault or safe.
Your guns should also be cleaned regularly to keep dust at bay and ensure that moisture never has the chance to seep into your firearm's fine finishes. Unfortunately, the truth is that when a gun is out of sight, it usually remains out of mind. If you pack it away in a safe with many others and forget to keep your dehumidifying agents fresh, you might open it up in a couple of months and find a rust bucket instead of your finest Turkish shotgun.
Gun Safes Don't Make The Cut
Gun safes are sealed to keep heat out, along with other environmental conditions. But this will destroy your collection if you aren't proactively working to keep the humidity at bay. And the thing is that you have to stay on top of dehumidifying because the dehumidifying agents are not good for a lifetime. If you don't replace them when they are due, you risk harming your entire collection of guns, swords, knives, etc.
Also, safes are not made for aesthetics. They are made to lock up your collection air-tight and keep flames from destroying it; for that, they do wonders.
But they are not for every collector. A large safe weighs in at over 1,000 lbs. If you have a basement, it will likely end up there because of weight issues. If you don't have a basement, a safe will take up an inordinate amount of space in the home. And their price tags are not for the faint of heart.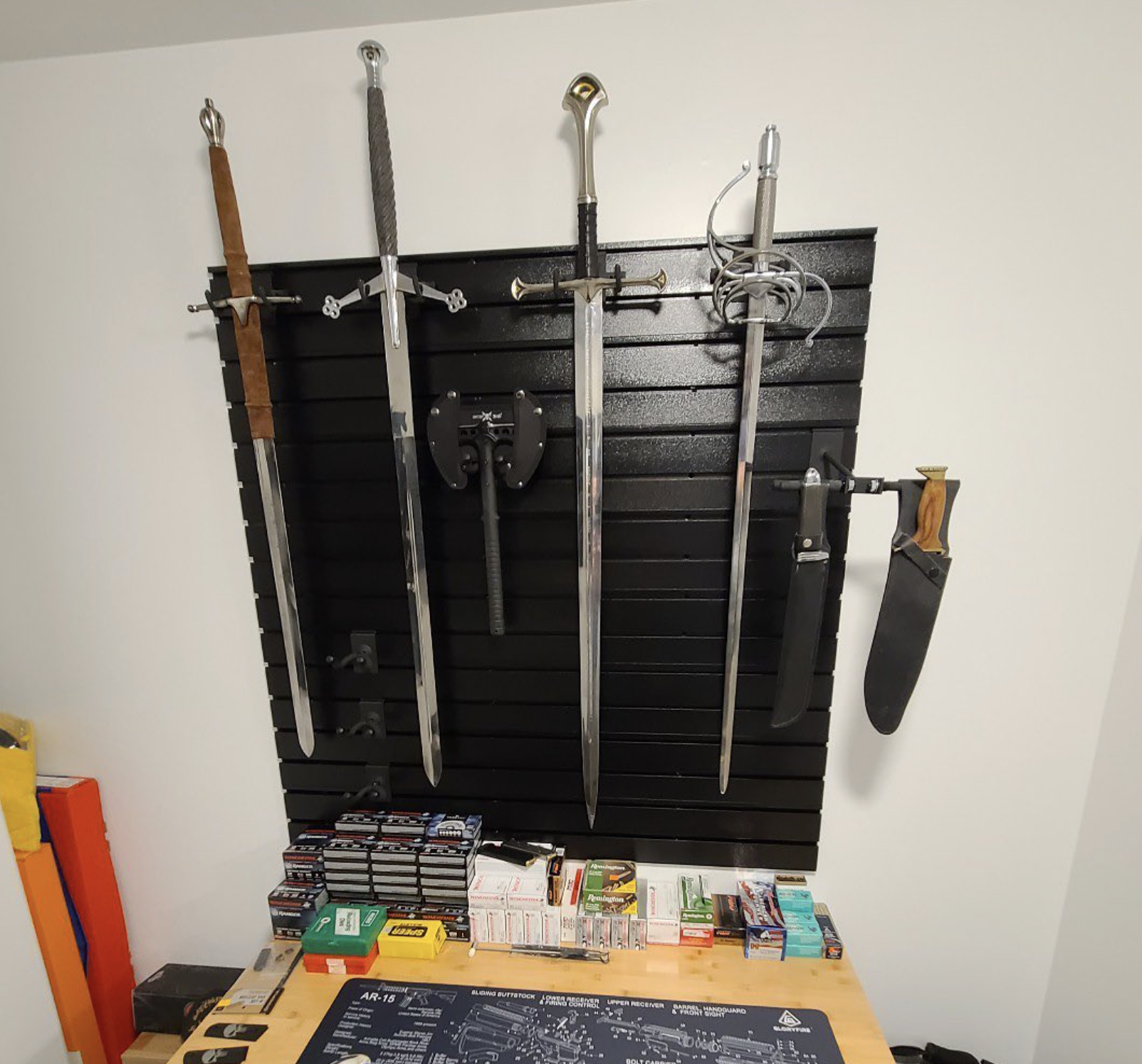 Mounting Your Weapons Is Key
The key to keeping your weapons, whether guns, swords, bows, or even spears, clean and presentable is how you mount them.
Stashing them in a closet or leaning them against the corner of your bedroom wall won't cut it either.
You need to mount your weapons where you can reach them. You need to mount your weapons where you can see them. And most importantly, you need to mount your weapons where you can secure them.
Hold Up Displays provide solutions to every one of these problems. We can secure your bows, your guns, and your swords. But not only are they secure, but they'll also look great to boot.
Designing Your Weapons Room
Ideally, if you have a large collection, and especially if you plan to keep growing your collection, you will want a dedicated place for them.
A vault room,gun room, weapon workshop, secret weapon room, or whatever you want to call it is one of the best investments you can make for your collection.
First, an arms room is the most secure option. With the right vault door, your weapon room is kind of like a personal Fort Knox. A heavy, steel door securely mounted into the framing will provide years of trouble-free security for your weapon room.
Storage
You need lots of room for your collection so you'll want to decide on the location. If you have a basement, you might consider framing a room to the dimensions you need. If you don't have room in the house, a steel shop is a great place to add a weapon room. Just ensure it is climate controlled so you don't deal with mildew and rust.
Seating & Workstations
Your weapon room will probably become your ad hoc gunsmithing room, so ensure you have available workbenches and don't skimp on seating. Get yourself some good chairs for the room so you can hunker down and keep those guns clean, bows tuned, and swords cleaned and sharp.
Style
This one is really up to you. You may like to mix modern mounting solutions with classic weapons. That's fine, we have plenty of modern.
Or you may like the classic styling of oak, cherry, or walnut finishes. We've got those, too.
If your theme is vintage military arms, you might want a more military-themed storage option like matte finishes or even camo. That's fine by our book, and we'll hook you up.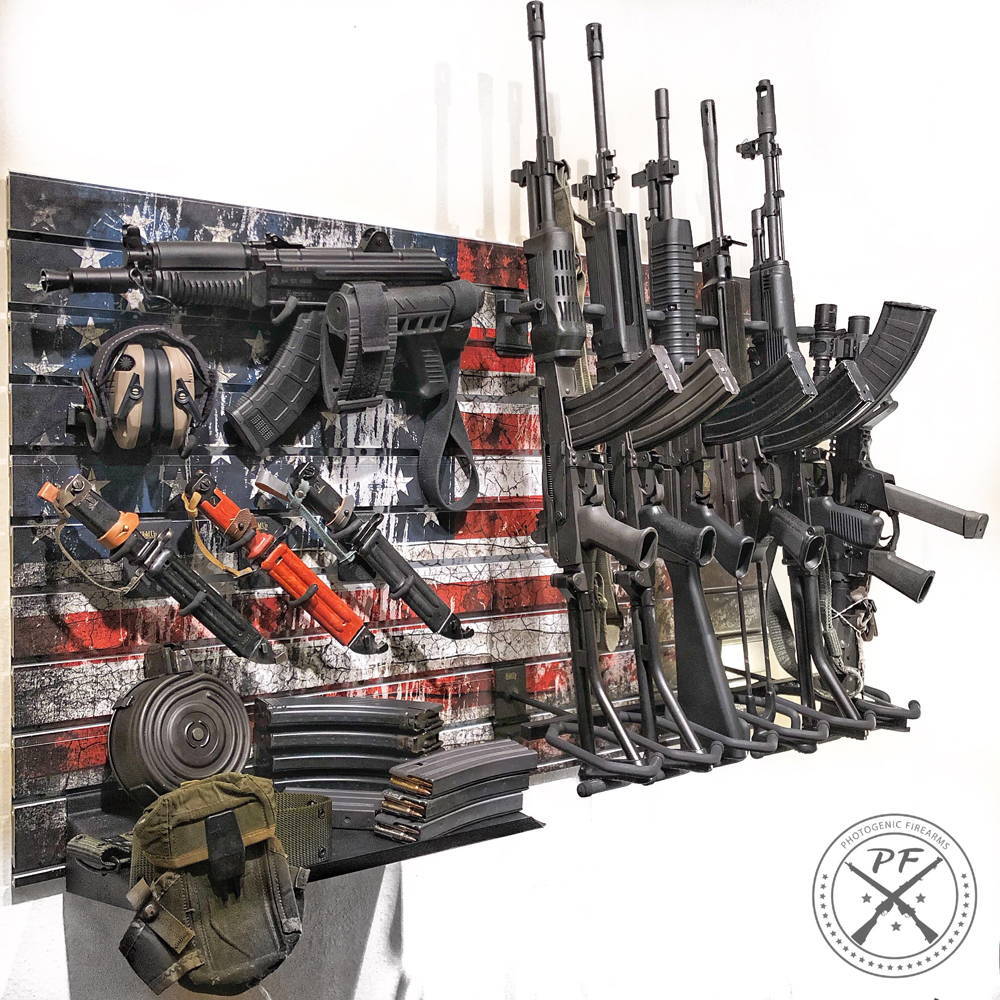 Reliable Storage Solutions for Any Collection
We all have collections to some degree or another, and we care about them. They take a lot of time and money to build. When you find that perfect item to add to your collection, it just pulls it all together. But it can all go to waste if you don't have a good storage solution.
Hold Up Displays offers the best way to outfit a weapon room for your collection or to add a stand-alone collection to open wall space anywhere. Whatever it is that you need, from swords to guns, to bows, we will get it mounted and secured. Build your own gun wall today or contact us for more information.