Having a personal gun room is a goal for many gun owners.
For many of us, however, it feels like the space and cost required to build a gun room far exceed what we could justify. But what if you could actually DIY a gun room with a lower cost and smaller space than you think? These ideas along with the help of Hold Up Displays can make your gun room dreams turn into a reality.
What is the Purpose of a Gun Room?
A gun room is, as the name suggests, a room for storing guns. But for many gun owners, the purpose of a gun room goes beyond storage. It's a room where you can really enjoy your hobby, show off your collection, or practice the necessary cleaning, gunsmithing, and reloading of your firearms.
What you include in your gun room is up to you, but the overall design and layout of your DIY project should be steered by important considerations involving your collection and space.
Important Gun Room Considerations
Size of Your Collection
One of the most basic considerations for a gun room is the amount of storage you need. That, obviously, depends mostly on the size of your firearm collection, plus any other items, like ammo, body armor, eye and ear protection, tools, etc. that you want to store in your gun room.
Don't forget to allocate space for your collection to grow in the future, but you may need less storage space than you think, as long as you use efficient storage systems.
What Else Do You Want to Be Able to Do in the Room?
Do you want to use your gun room strictly for gun storage, or do you want to have space for other things as well?
Some people will want available space to perform any gun cleaning and maintenance. Others might want to use their gun room for prepping storage or as a safe room. Or maybe you just want a space to relax, hang out, and admire your firearm collection. How you plan to use your room will dictate the layout, design, and any wall decor to consider adding to your space.
Security
Secure firearm storage is essential to prevent unauthorized access to your gun collection and, in some jurisdictions, comply with the law. A gun room should be designed with that in mind. We'll re-visit exactly how to keep your room secure shortly.
Types of Gun Rooms
Gun Closet
A gun closet is probably the easiest way for most of us to integrate a gun room into our homes. You don't have to give up an entire room of your house or worry about financing the gear to fill a whole new space.
A walk-in closet is the easiest to turn into a gun room since you get more space to work with, but virtually any closet can be converted for firearm storage.
Start by simply taking out any existing hanging bars, though you may want to leave in existing shelving for storage of pistols, ammunition, headwear, and small accessories. Depending on the design of the shelves, you may also be able to use a handgun hanger beneath them.
With any available wall space, you can add gun racks and hooks to create a sort-of DIY tactical wall. We generally recommend against putting storage on the floor, since floorspace is already limited, but using free-standing racks is another option if the space permits.
Walk-In Gun Room
Walk-in space is most commonly pictured when people think of a gun room. Typically, this would be a converted spare room, like a spare bedroom or den. The extra space compared to a closet gives you a lot more walls and floor space to work with.
With more wall space, you can mount larger wall racks, full gun wall displays, and include any flags or wall decals. Whether you're working with drywall or a concrete wall, Hold Up Displays has a variety of gun storage systems for the wall of your walk-in gun room. Our products are sure to create a firearm wall you are proud and confident in displaying.
The extra space also allows you to consider floor and table racks. They're not as space efficient as wall-mounted racks but are a great option if you have a smaller supply and the extra floor space. And, of course, floor racks can also be used in tandem with wall displays.
Depending on the size of your collection and your space, you may also be able to make some room for a workbench, table, or other furniture.
Basement
If you really want to go wild with your gun room, repurposing a basement is the way to go. It will typically provide a lot more square footage than other rooms. Basements give you an abundance of wall and floor space to create a super personalized and efficient storage solution. Furthermore, an unfinished basement also gives you the most options since you can build almost from scratch.
Remember that basements have a tendency towards humidity, which is the enemy of firearms, so you'll want to have some sort of system to keep ambient moisture at bay. Other than that, basements do tend to be pretty easy to climate control.
In addition, basements are really easy to secure, especially if they don't have a garage door or other exterior door access (and if you're renovating, you may want to close these permanently), unlike upstairs rooms which will generally have windows and easier access. Interior basement doors are usually easy to reinforce.
DIY Gun Room Ideas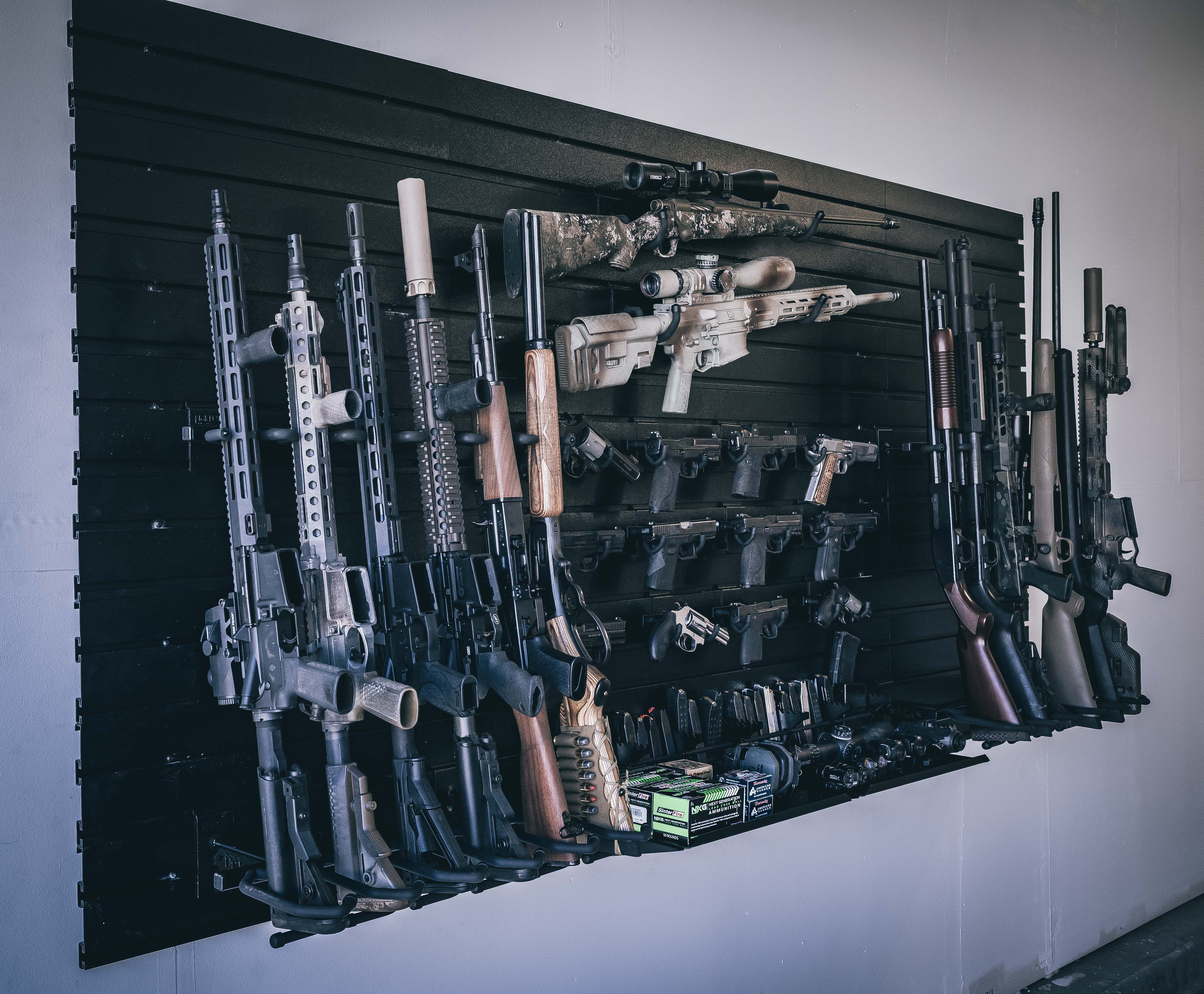 Gun Wall Display
For many gun owners, part of the joy of owning firearms is enjoying them as mechanical art or, at the very least, enjoying them as part of a larger collection.
Gun walls are the perfect way to do just that. They display your guns and gear in an organized manner, where you can see and access each individual piece. Whether your collection is made up of long guns or handguns, you can layout an inside wall with a custom design to really take advantage of the space you're working with and create the aesthetic you have in mind. With horizontal and vertical gun racks, display hooks, and gun hangers, a gun wall display is the perfect DIY gun room solution. And they're not just handy for firearm storage, you can incorporate a variety of gear into your gun display including ammunition, helmets, optics, targets, and other accessories.
One of the best parts about a gun wall display is its ability to grow with your collection. Investing in a DIY gun room should prove to last long-term. Hold Up Displays designs gun walls with easy expansion and additions in mind, allowing you to build up your wall horizontally or vertically or add on any racks to accommodate for new gear.
Floor Gun Racks
Floor and free-standing gun racks are another easy way to store your firearms in your new space.
They're especially useful if you're renting and can't drill into the wall to anchor mounted gun racks. If you're working with a small space or large collection, a floor gun rack might not be the most efficient solution. But, if you have some available floor space, these racks are an easy and affordable storage solution.
Hold Up Displays features quality gun racks to use on a tabletop or floor space in your gun room. Floor gun racks can be a valuable addition if you often transport your collection to the range or outside your home. Our folding long gun racks are great for easy transportation and safe storage both outside and inside your gun room.
Workbench & Cleaning Station
In addition to gun storage, a workbench or cleaning station is a great addition to a gun room. If you're working with a little more room, installing a work area can be beneficial in providing you with more table space to work with your firearms. It's especially nice if you often clean your firearms, are working on a personal build or upgrade, or enjoy general gunsmithing activities.
Keeping your Gun Room Secure
Back to the obvious, but important consideration of gun room security and gun safety. Keeping your gun room secure starts with the entrance to the room itself and moves all the way to each individual firearm. Techniques to secure your room can range from complex and cool ideas to more simple and affordable security measures.
A hidden gun vault door or secret room would be ideal, especially if you also want to be able to use your room as a safe room or panic room, but a secret door is not necessarily the most practical or affordable option for most of us.
A generally secure door would be the next best option. A steel door with a secure lock would provide good access control and is available at most big box hardware stores. They even come in some nice-looking options that can blend with your home's existing decor - and won't scream "there are valuables hidden in here!"
No matter what doors or access points you are working with, it's important to secure these areas with simple locks and keep consistent control of who can enter the room.
The next step to keeping your gun storage secure addresses the guns themselves. Here, gun locks can play a huge role and can contribute to the overall safety of your room without taking the attention away from the firearms. Hold Up Displays features individual and multi-gun locks to incorporate within your display and keep your rifles or handguns safe and secure on your slatwall.
One last note on security: some jurisdictions have particular requirements for gun storage. Make sure you know what those are before you start setting up your gun room.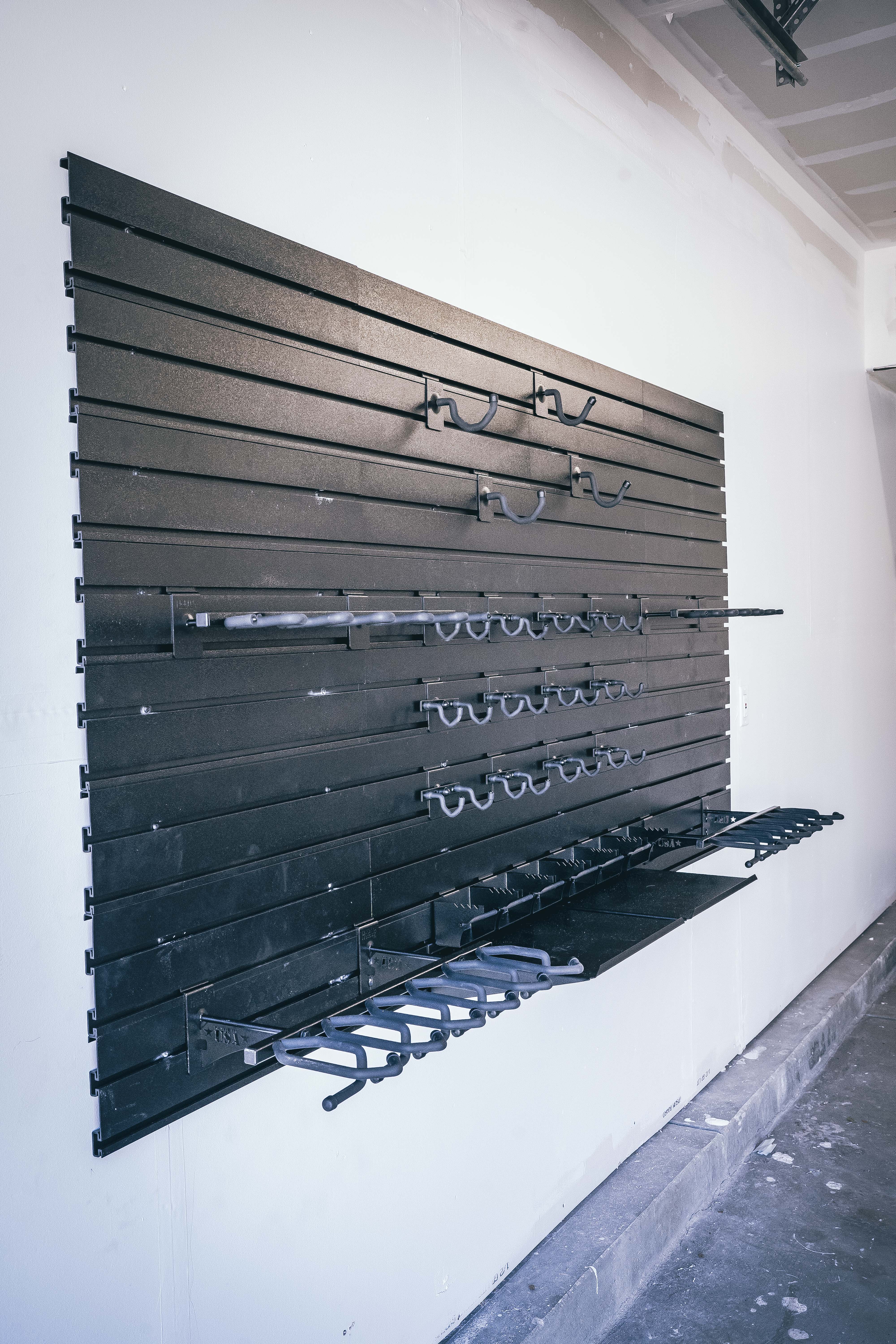 How to Build your Own Gun Room with Hold Up Displays
As a gun owner, there are a lot of ways to store your firearms. Finding the space to create a personalized gun room can be a rewarding and efficient way to store your firearms. Your design can mirror a classic hunting or smoking room, a European-style country manor, or a more utilitarian look for simplicity and functionality. Whatever your taste, Hold Up Displays is here to help build your storage solution.

We offer full gun wall displays, custom displays, and individual gear for long guns, handguns, firearm accessories, ammunition, and more. Hold Up Displays is proud to provide what you need to create your dream gun room featuring a quality display that you'll admire and love to show off. Contact us today and ask about how we can help build your DIY your gun space.