Do you have a dynamic variety of firearms and gear that you're dying to display? Or do you love the idea of an entire room that you can secure, customize, and personalize for your weapons and equipment? If so, a home armory, yes, an entire armory, might be for you. And with the right gear, it's easier than you might think.
A home armory is a specially designated, highly secured room used to store your firearms, equipment, and other valuables. It's a dream for many gun owners but can seem impossible, unrealistic, and expensive. With Hold Up Displays, designing and optimizing storage in a personal armory is made easier and more affordable.
Investing in a Home Armory
Not sure that we need to do any convincing on why a gun enthusiast needs (and deserves) a personal armory, but just in case, here are a few reasons we can think of:
You want to optimize your gun storage for your growing collection.
You want to have a unique workspace to clean, modify and adjust your favorite equipment.
You want to securely store your weapons while still being able to enjoy them on display.
You've been itching to finally marry your man cave with your gun collection.
Because they're epic.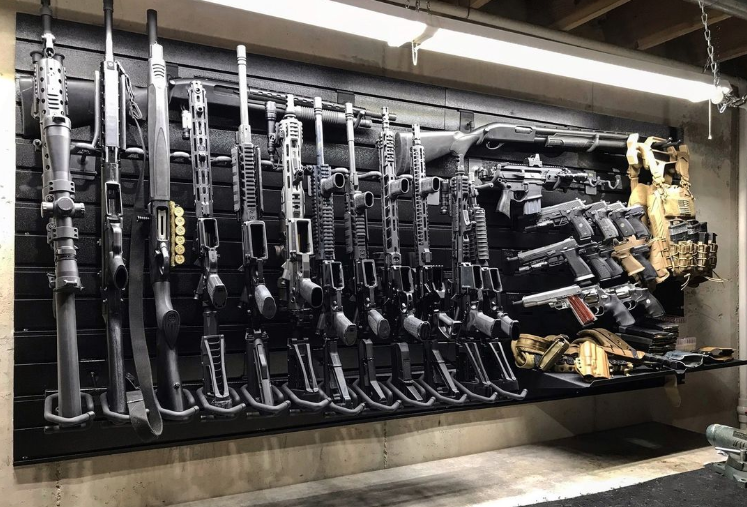 Home Armory vs Gun Safes
You might be thinking to yourself, my safe is currently operating well, so what would make a home armory any better? To start, truly effective safes that provide good weapon security and fireproofing are going to cost several, even tens of thousands of dollars. These safes are also extremely difficult to transport into your home and are nearly impossible to remove.
Building a home armory can actually cost a fraction of the price, especially when using our gun walls and racks which are easy to install and won't break your bank or your back securing them to your new favorite room.
Owning a gun safe conventionally appears to be the most effective and functional option for your firearm storage, but it ultimately places fixed limitations on what your gun collection could be. Safes have a set-and-stone capacity that if we're honest, isn't ever enough for our insatiable appetite for more weaponry. These safes also don't provide great functionality, if you have a variety of weapon types you're most likely running into problems trying to cram all of your firearms into that tight space.
Having a home armory gives you the ability to decide exactly how you want your storage system to function. Whether that is designating an entire wall for your handguns, displaying your favorite weapon system as the centerpiece, or personally tailoring a highly efficient section to carry all of your most used gear, the options are endless and more importantly, yours to decide.
Gun safes, especially lower budget options, also fail to protect your firearms from corrosion due to humidity and moisture that seeps in which can ruin both the finish and functionality of your weapons. Whereas, a home armory gives you the power to control the climate, so your firearms can be properly preserved and keep their immaculate finish. So how can you bring this dream into reality?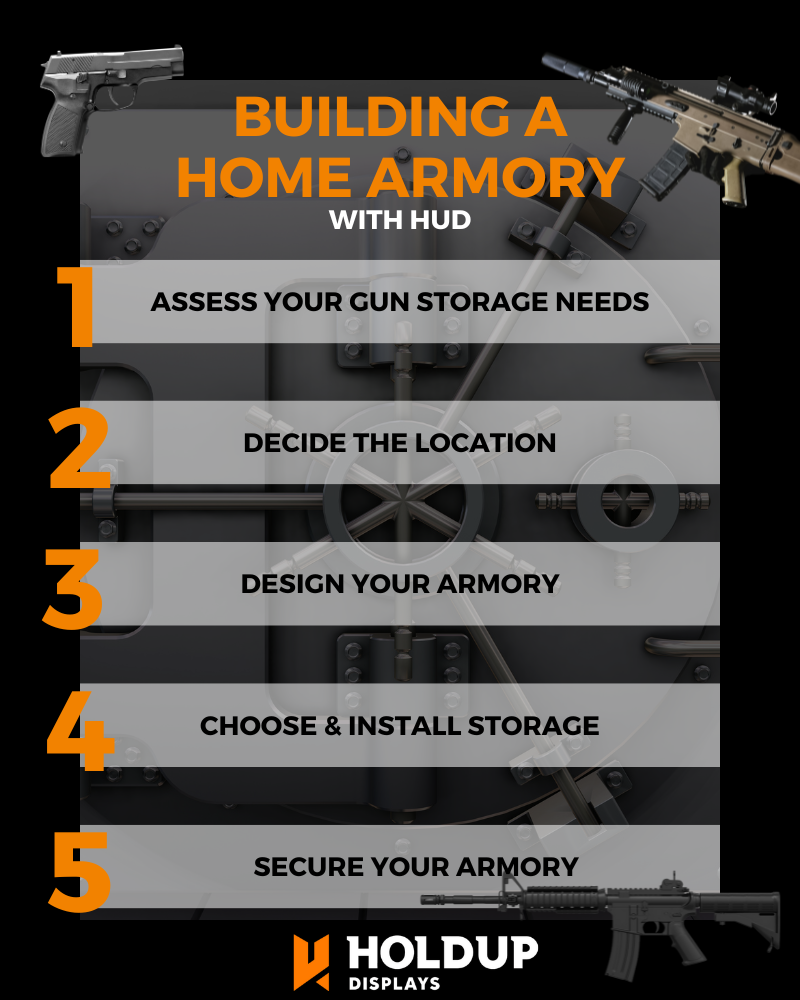 Steps to Building Your Dream Home Armory
We want to help make the process of building your home armory as seamless as possible so we have compiled easy-to-follow steps to get you started.
1. Assessing Your Needs
The best place to begin is to thoroughly assess your needs. Ask yourself these questions:
What is the total size of my firearm collection?
What is going to be the main function of my armory?
How can I organize and incorporate my gear and ammo?
Do I want a full workbench to clean and modify my guns?
What level of security do I want to maintain?
Establishing a clear vision and taking a thorough inventory will set a strong foundation for building your home armory. Don't forget to leave room for growth as well, we all know you're going to buy more guns.
2. Deciding the Location of Your Armory
Now that you have an idea of your inventory and capabilities, you need to consider the optimal location inside your home. Is there a space that can currently fit your ideal vision? Maybe it's a spare room that's been functionally idle for the last couple of years. Or is it the basement that you've been dying to turn into your own man cave? Or is there a space that would operate consistently with your home defense plan? Safety should always be at the forefront of your mind when choosing the proper location to build your armory.
3. Designing Your Armory
Once you've selected the exact room or space for your home armory the next step is to get creative and add your own style to the mix. For some of you this could be the most exciting part, for others finding a "style" might be a nightmare. If coming up with a theme for your home armory scares you, don't worry we have some great idea starters for you here.
Adding furniture is a great way to personalize your gun room and make it your home within your home. Whether it's a family heirloom like a custom-made table from your grandfather, or if it's your newly purchased tool cabinet, elements as such can give a unique feel to truly enhance this space. We want your home armory to have style and represent what you're all about. But the key to making that happen is proper storage.
4. Choosing Your Storage Solutions - Here's Where We Help
Hold Up Displays offers the best solutions for properly storing your guns, gear, and valuables to truly make your home armory functional, safe, unique, and versatile. Your storage solution should allow all of your equipment to be accessible and on display. We want your guns to be on the walls reminding you of why they're so great. We also believe that displaying your guns doesn't have to come at the cost of losing modulation or organization. You should be able to easily change up your display as you'd like and fine-tune how you want your loadout to look on the wall.
The best way to ensure all of those boxes are checked is by using our durable slatwall panels. Our wall panels are the best on the market and are made from heavy-duty aluminum directly here in the US. These are proven to withstand extreme weight loads without giving any signs of flex and are built to last you a lifetime. HUD slatwalls are the perfect storage option for your home armory due to their modularity which allows you to place a wide variety of hooks, racks, and shelves for all of your equipment and they are easy to install and adjust for any additions or changes you'd like to make.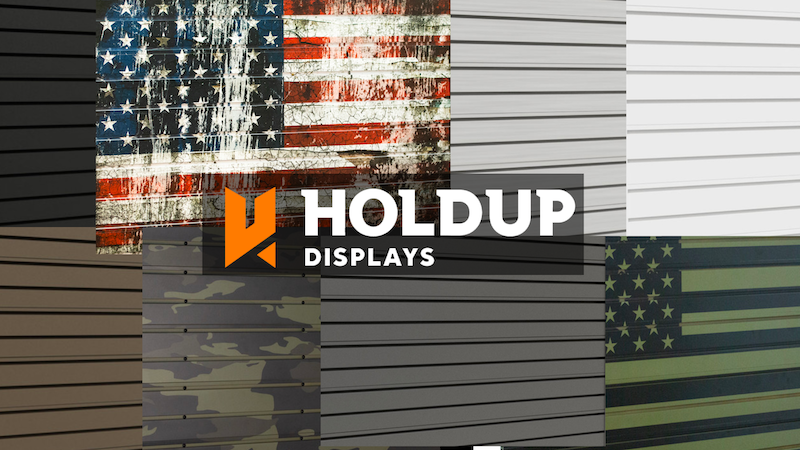 Function and performance can look great too. Our walls not only offer supreme performance they stand out in any room. We have a variety of color options to fit your personal taste and style.
Our color options include:
Black
Camo
Gunmetal
FDE
Walnut
White
Many more!
To further optimize your storage needs we provide a variety of gun racks that can easily be placed on those newly added slatwalls or even on the floor of your space. We offer both vertical and horizontal racks for your long rifles as well as racks and individual holders for your handguns. All of our mounts are made with the strongest steel to support the strongest weapons and also feature durable protective padding to protect the finish of every gun.
Completing your storage must also include consideration of your accessories, and yes it is okay to accessorize. We want your mags, ammo, plate carriers, helmets, and extra gear to look good and fit well next to your firearms for the perfect display. Choose from any of our shelves, brackets, or even scope trees to add the perfect touch to your gun wall.
The options are only limited to your imagination when building your armory walls. Our custom gun wall builder allows you to decide precisely what slatwalls, gun racks, holders, and accessories you want to install in your home armory.
5. Securing Your Armory
Lastly, but the most important consideration is how you plan to secure your dream home armory. For maximum security, we would recommend investing in a thick steel vault door. There are plenty of options for the locking mechanism; dial, electronic, or biometric all have their strength and weaknesses. You can also install sensors on the door frame to detect any unwanted or unauthorized entries.
Start Building Your Home Armory Today
Your Dream Home Armory doesn't have to be this unattainable financial nightmare that could only happen years down the road. Our customizable gun walls and affordable durable slatwalls which allow for optimal storage, modularity, and crisp display make starting your home armory easier than ever. We want to provide you with quality, American-made products that expand your gun room possibilities. We strive to offer the best customer service so call us today for any questions on building your dream home armory.