Man cave gun room combo? That's the dream, but it's not as far-fetched as you might think. You might not have an entire basement or garage free to convert, but as long as you've got a spare room, like that home office you've never actually used, you can create the ultimate man cave that also fits your gun storage needs.
Here are some man cave ideas to get your project kickstarted, along with our complete resource guide for building the perfect firearms display.
Relaxing and Entertaining
Let's start with the essentials. The perfect man cave checks all the boxes for relaxing and entertaining. You might not have space for a whole home theater, but that doesn't mean you can't create a comfortable spot for you and your buddies to hang out and watch your favorite team or have a little "friendly competition" playing video games.
Here are the easy essentials for your Man Cave "living room":
Flat Screen TV
Dark Wood Coffee Table
Lounge Chairs
Bar Area
Every man cave has some sort of bar area, or at the very least, a well-stocked mini fridge. Having a full bar might seem daunting at first, but it doesn't have to be. Building out a slim countertop and cabinets can maximize space and storage. Or, if you've got a spare corner, you can install a small L-shaped bar, complete with bar stools, that doesn't take over the entire room.
If you gave up too much space with the pool table or arcade games, consider a bar cart or cabinet to house the drink accessories, like bullet bar glasses or a shotgun shell ashtray. The important part is there are cold drinks on deck.
Man Cave Theme
A man cave can serve a lot of different purposes, but the main thing is that you create the perfect place to get away, relax, and enjoy your hobbies. A lot of guys go with the sports fan thing or the game room vibe, but what better way to enjoy your gun collection than to make it the main event in your man cave decor.
First and foremost, you will want to tackle the weapons display (since it is the most important piece). After you get that squared away, you can look to customize with additional gun-themed decor like deer/game heads or vintage firearms.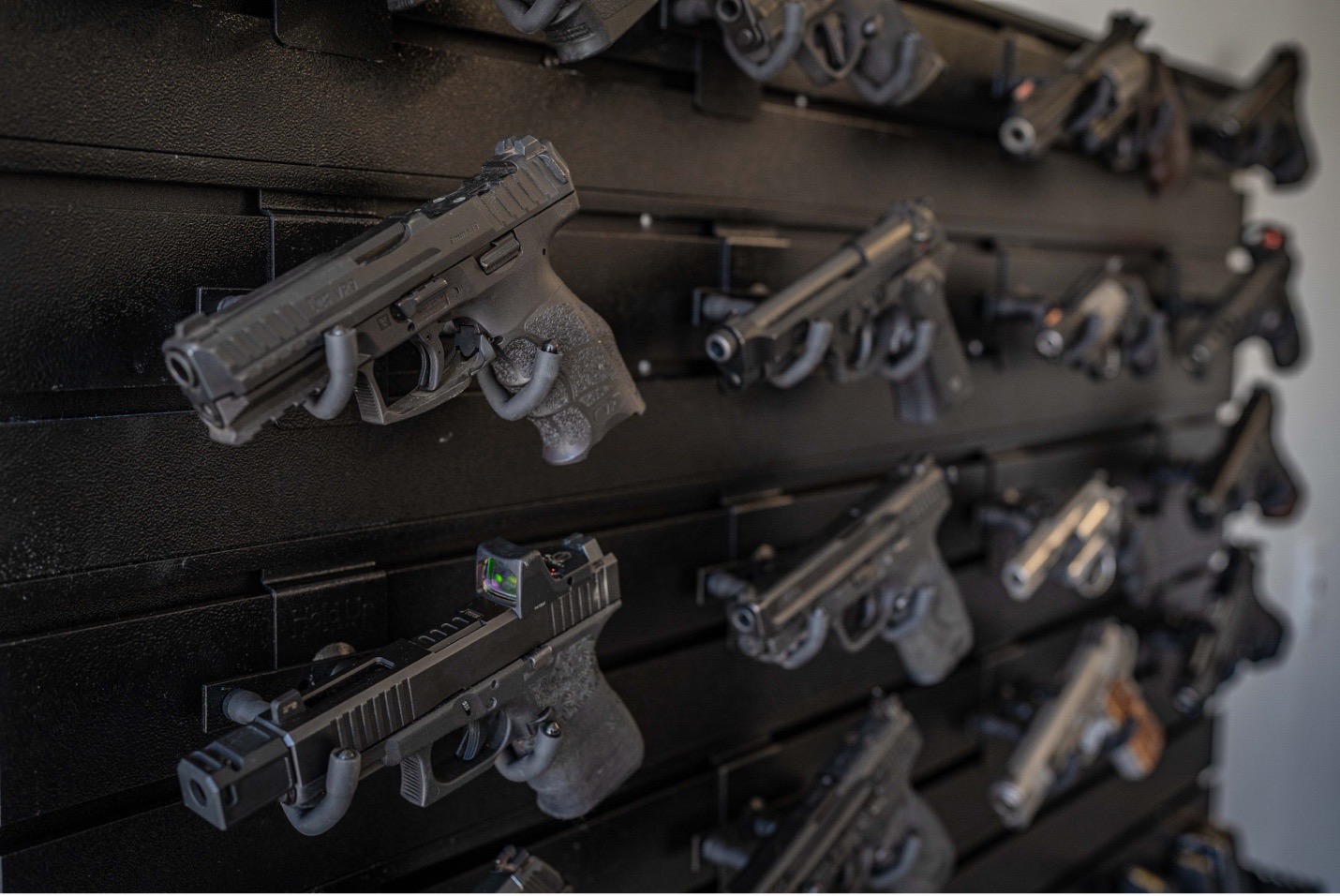 How to Store and Display Your Guns
Every gun owner's number one concern is how to safely store and display their firearms. Old fashioned wooden display cabinets might look nice if you've got a whole hunting lodge to fill up, but they can take up a lot of space and don't allow you to fully appreciate your gun collection.
Gun Walls are the best "space-friendly" way to display and store your firearms and firearm accessories, while keeping them safe, accessible, and organized. But just because they're practical doesn't mean your gun wall shouldn't look like something James Bond would have in his own man cave.
Today's modern gun walls are more like a system, with modular panels that easily accept interlocking hanging accessories and holders, making them easy to change around and customize. When getting started you have two main options, a pre-designed gun wall or a custom gun wall.
Pre-Designed Gun Walls
Not sure where to start with your gun wall? No problem. We've already done the hard work for you by bundling some of the most popular combinations of racks, hooks, and hangers to help you visualize how to use the pieces together.
The pre-designed styles come in a variety of sizes and colors, and are expandable, so your display can grow alongside your gun collection. All you need to do is mount the wall, add a few hanging accessory mounts, and you've got your man cave's first accent wall ready to go.
Build Your Own Gun Wall
If you have more specific needs or already have a vision, you can easily build your own gun wall with Hold Up Displays' fully customizable components. Start by picking from a variety of aluminum slatwall panels (your gun wall backdrop), then decide how you want to display your weapons with long gun racks, handgun holders and archery racks. After you've got the basics covered, think through your gear. We have add-on options for mags, helmets, plate carriers, and more that will help keep your gun room organized.
Need some extra inspiration? Get in touch with our experts and we'll help you with your masterpiece.
Proper Gun Storage Tactics to Avoid Long-Term Damage
When displaying your guns there are a few factors you need to consider in order to keep them in good condition long term. Temperature changes, humidity, and oxidation can all have deteriorating effects on guns and ammo, so keeping your gun room clean, dry and free of dust will need to be a priority. Because of the metal components, humidity is your greatest enemy, causing rust and corrosion. To prevent damage, it is suggested to have a de-humidifier that also monitors temperature, so you can keep the room regulated.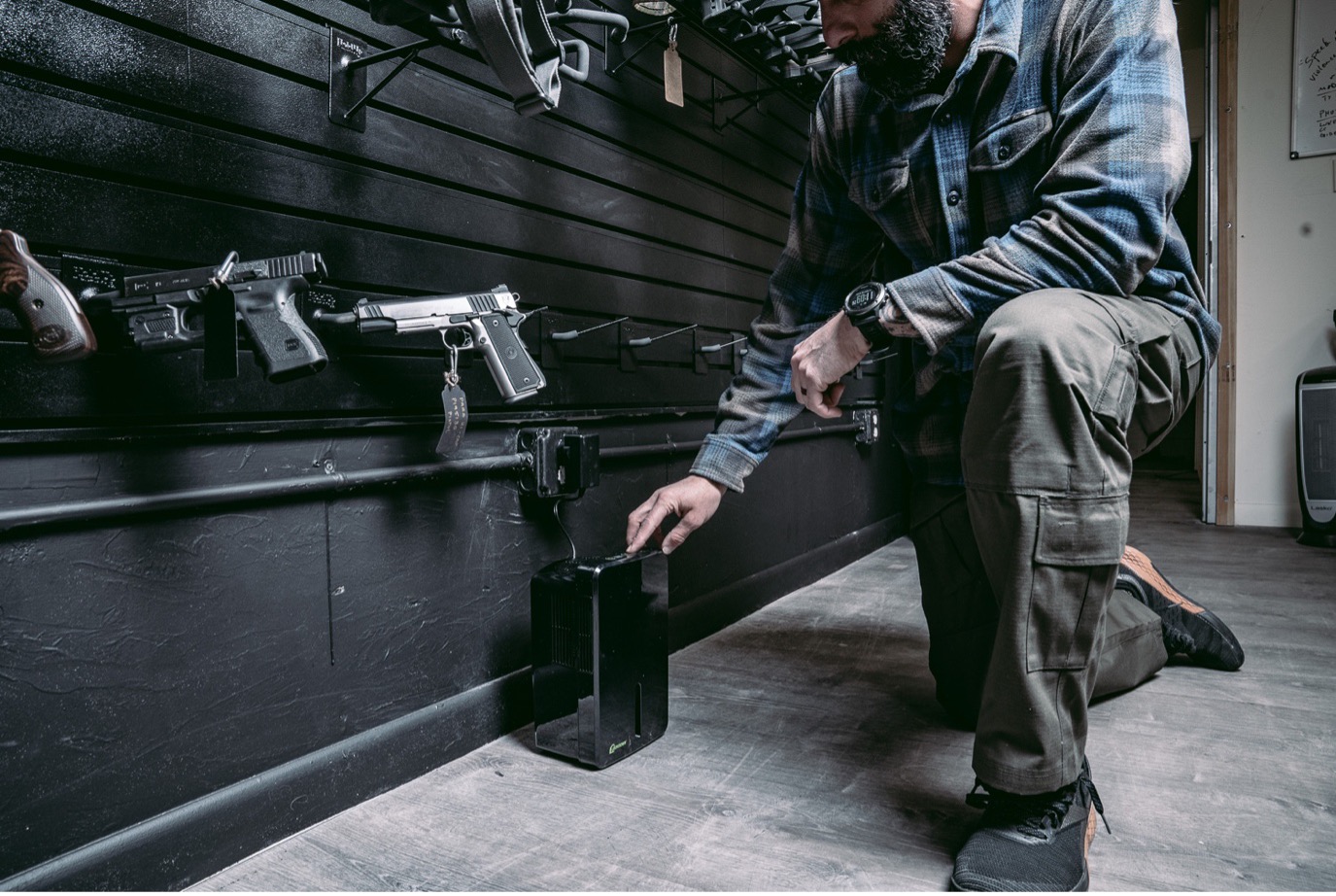 Workbench and Gun Cleaning Station
The best way to keep your firearms functioning well is to clean them regularly. Experts recommend cleaning firearms after each outing at the range. But even if your trips to the range are infrequent, you should make a habit of cleaning your firearms on a regular basis.
If you have enough space for a workbench and gun cleaning station in your man cave, it will make the gun cleaning process a lot more enjoyable. (This is where the Garage Man Cave gets some extra points.) You can pick up a simple workbench online or at most big box hardware stores but consider making one yourself to get that personal touch. The best style is built into a wall, with a flat surface connected to the wall with sturdy brackets and two support legs on each outer corner. Hang a peg board on the wall at the back of the workbench for storing and organizing your gun cleaning tools.
Gear and Ammunition Storage
To keep your man cave tidy and uncluttered, you'll want to ensure you have abundant storage for gear and firearm accessories, but that doesn't mean stacks of storage containers. Another benefit of a modular gun wall is that there are plenty of options for wall mounting hangers and shelves for gear, accessories, and ammunition. This not only keeps things organized and accessible but goes right along with the theme.
Here are a few of the top ways to utilize your gun wall for firearm accessories: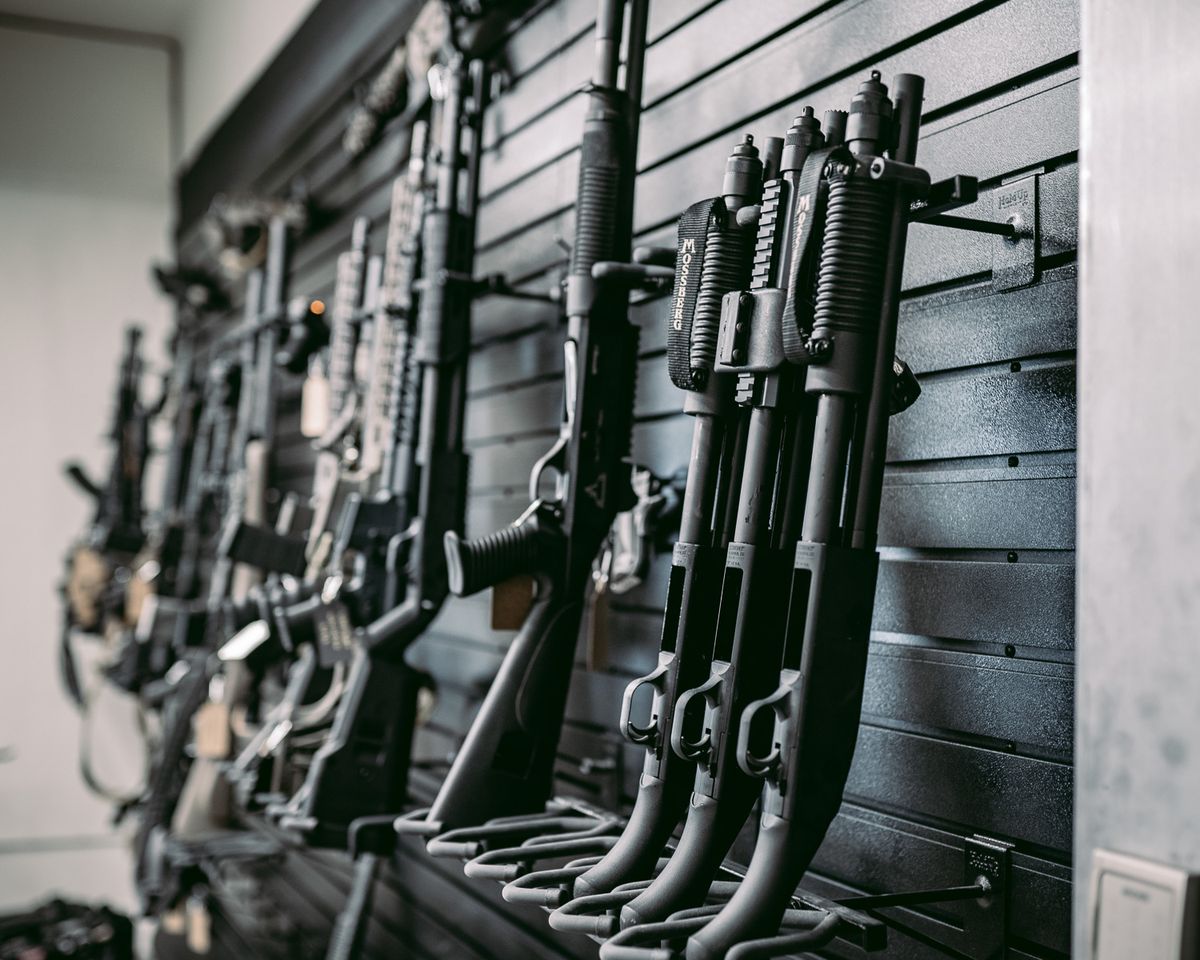 Keeping Your Guns Safe and Secure
While man caves are often used for relaxing and entertaining, you will want to ensure you are taking additional safety precautions to protect your firearms and ammunition from theft or unwanted handling. Whether you live alone or with family members, it is critical to house your man cave in a safe room and that you have taken steps to secure your weapons.
If you are building your man cave gun room from scratch, a hidden room would be the ideal choice, but if you are utilizing an existing space look for a relatively inconspicuous location with limited entry points.
The most important security factor will be the entryway. You will need to invest in a secure door that stays locked to prevent entry from wandering children or guests and is made to withstand all types of break in attempts. However, you also want to choose a door that does not draw attention, screaming "this is where my valuables are". Under threatening circumstances, having the right door and house protocols in place can quickly turn your man cave into a panic room.
When it comes to your firearm display, you should always have an extra layer of security in place. Utilizing locking display plates for individual guns or cables that run through trigger guards to lock multiple guns in place are well worth it for that extra peace of mind.
How We Can Help
At Hold Up Displays, we are constantly working to improve our products and develop new innovative ways to store and display firearms. Our goal is to provide gun owners around the world access to the products and support needed to build a professional gun room or vault. All of our products are made with high-quality materials right here in the USA.
If you need a little more help figuring out how to execute on your dream gun room, get in touch today! Our passionate team of experts are standing by to provide you with solutions and get you set up with a firearm display system that will last a lifetime.