At Hold Up Displays, we strive to provide gun storage solutions to every gun owner. From customizable walls to quality racks, stands, and hangers, we can cater to the needs of any guns, gear, and space.
We talk a lot about our modular products for home defense, man caves, hunting rooms, and gun vaults, but we don't talk often enough about how they can suit the needs of our friends in the law enforcement community.
If there is one thing a police officer has a lot of, it's gear. Duty rigs and chest rigs with a flashlight, radio, medical supplies, magazines, handcuffs, taser, and duty gun, just to name a few.
After a long day of serving our communities, officers need a place to securely store all this gear. Keeping these essential supplies and weapons mounted and ready for duty will make your life easier, keep you organized, and ensure your gear is safe.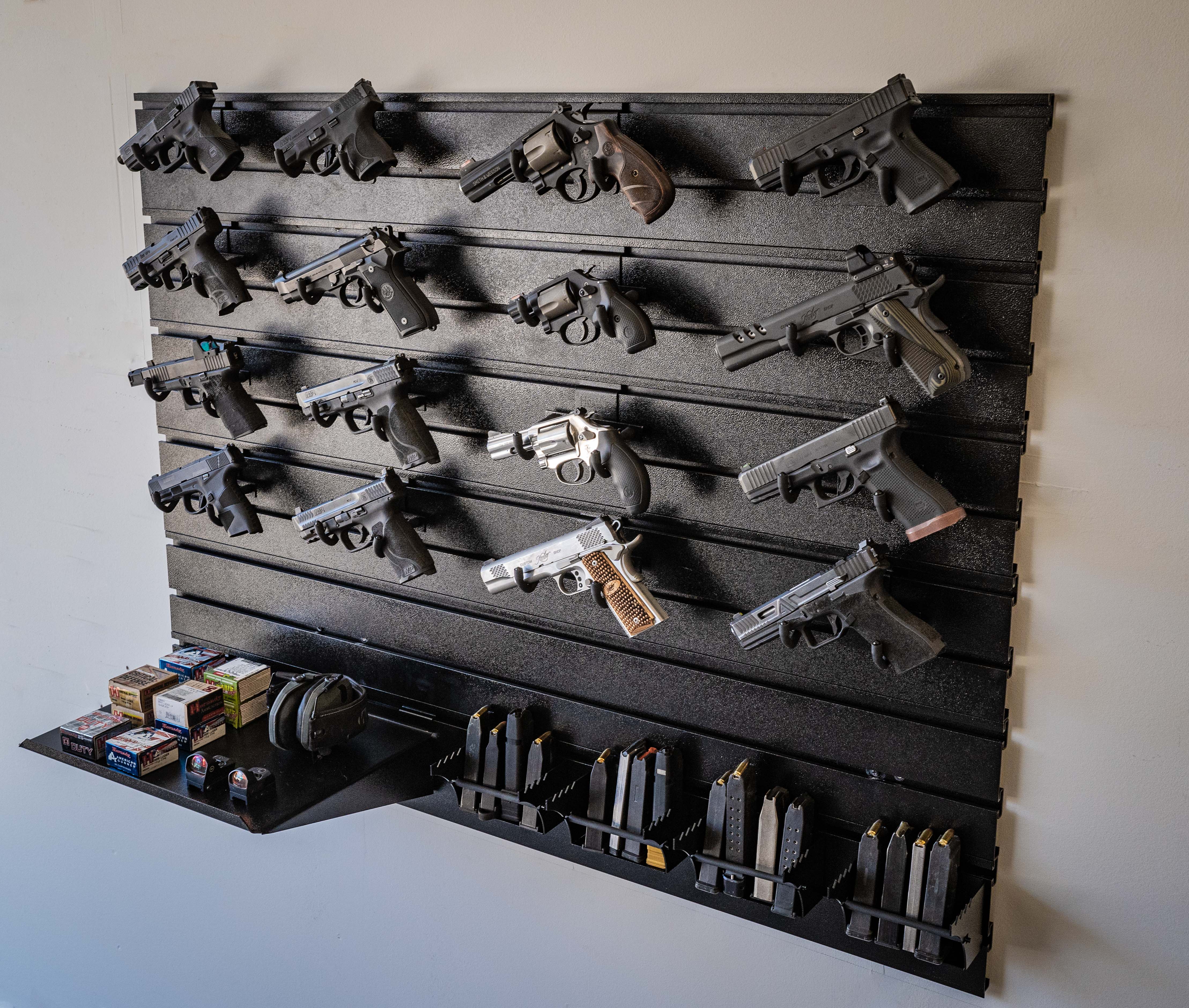 Mounting Your Guns
What is the most important piece of gear to mount? Most would unanimously answer 'your guns!' And we couldn't agree more. Your duty weapons are the most sensitive and important pieces of equipment that an officer can carry. But once the shift is over, what to do with your duty weapons?
Your duty weapons are going in your holster and in your cruiser day in and day out, underappreciated and overworn, They need a place to be stored where they can air out. Look, even though holster and retention have shifted largely away from leather (a total haven for moisture), any holster is going to hold in moisture against your sidearm. It is best to leave it out in the open air when it isn't in the holster so that moisture has less of a chance to corrode your weapon.
But what are you supposed to do? You can't just leave your guns sitting out in the open.
Our wall-mounted storage solutions are a great way to securely store your guns in the open without sacrificing safety or security. And the best part is that you don't have to pick and choose whether you want to keep your handgun or your long gun(s) stored on the wall mount. We can do both with a fully customizable wall display system.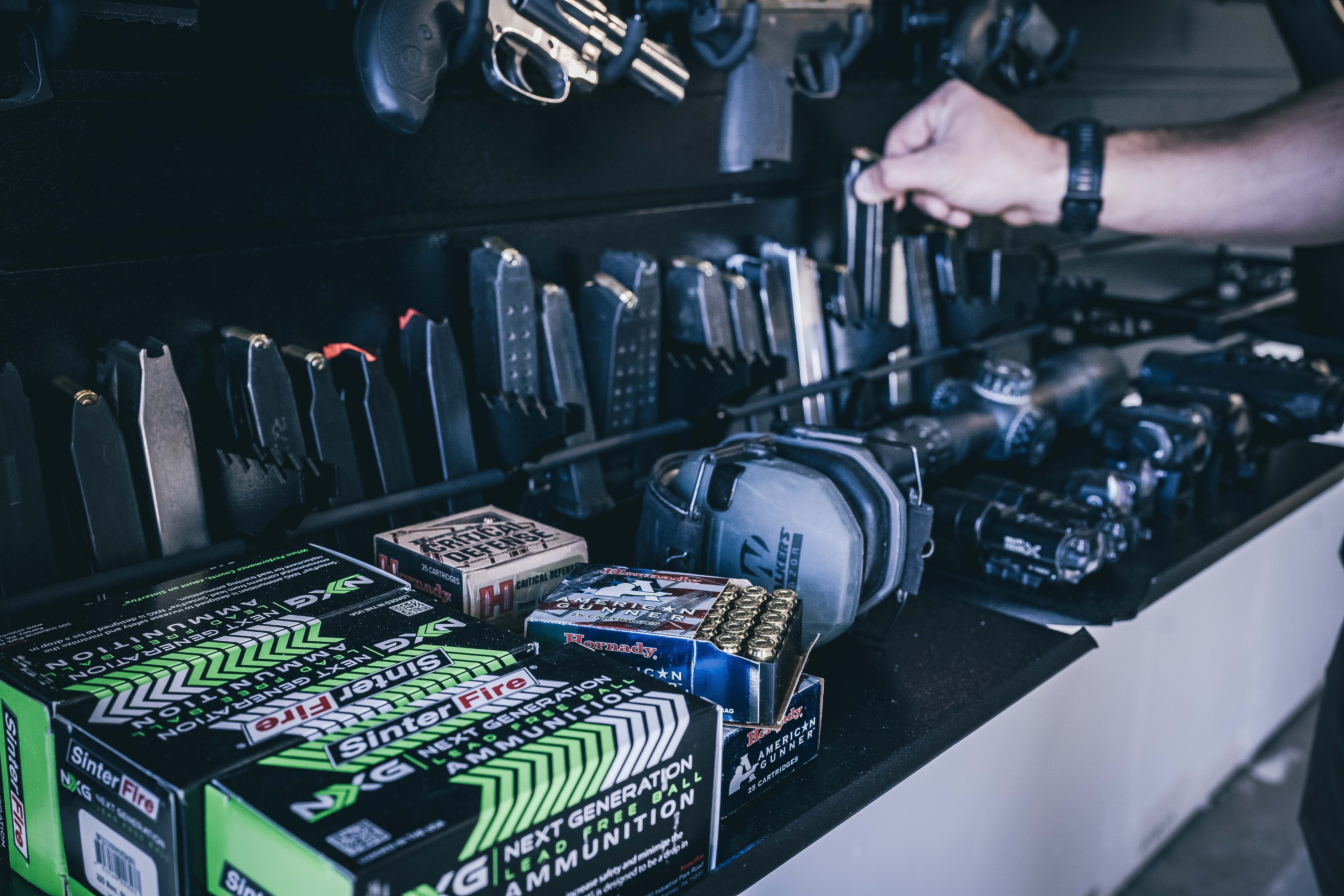 Your Gear
Cops carry a lot of gear. If you've followed the trade for any appreciable amount of time, you'll recognize that law enforcement personnel seem to be carrying a lot more gear on their beats than even a decade or two ago.
You want everything to be ready immediately, but how do you keep it all in one place while securing your guns?
Uniform
Keeping your uniform crisp and tidy is important to look the part of a professional. But also, having it available for short-notice/no-notice call-ups is important. Thankfully, you can hang your uniform with the rest of your kit, so it is all in one spot. You can even keep your boots on our conveniently heavy-duty display shelf.
Plate Carrier
Plate carriers and other pieces of body armor are an important part of your duty ensemble, but they don't really fit anywhere conveniently.
Thankfully, we've got you covered with our plate carrier hanger. It is a no-frills way to keep your vest ready so it can go when you need to go.
Duty Belt
Your duty belt is one of the most crucial pieces of duty gear, if not your most critical piece of duty gear. But what should you do with it when it isn't on your body?
One way to store your duty belt is by using our simple padded display hooks. No need to overthink gear storage; you can hang and mount a variety of gear with our quality hooks and shelves. With modular display systems, the limit on gear is nonexistent.
Weapon Storage
This is probably the most important part of the whole ensemble: how should you store your duty weapon?
Thankfully for you, we have no shortage of secure gun storage solutions.
For your sidearm, you can go with a number of options. One is the90° in-barrel mount, where you can simply and safely slide your sidearm onto the padded hook. Always available, always in reach.
For a more secure option, you might consider our locking pistol display. It is simple: unlock the trigger guard, insert the pistol, and lock it up. Super secure, fast, and easy to access.
For your off-duty collection, we've got a wide selection of handgun racks and long-gun displays. With modular systems, our solutions can grow alongside your personal and professional collections.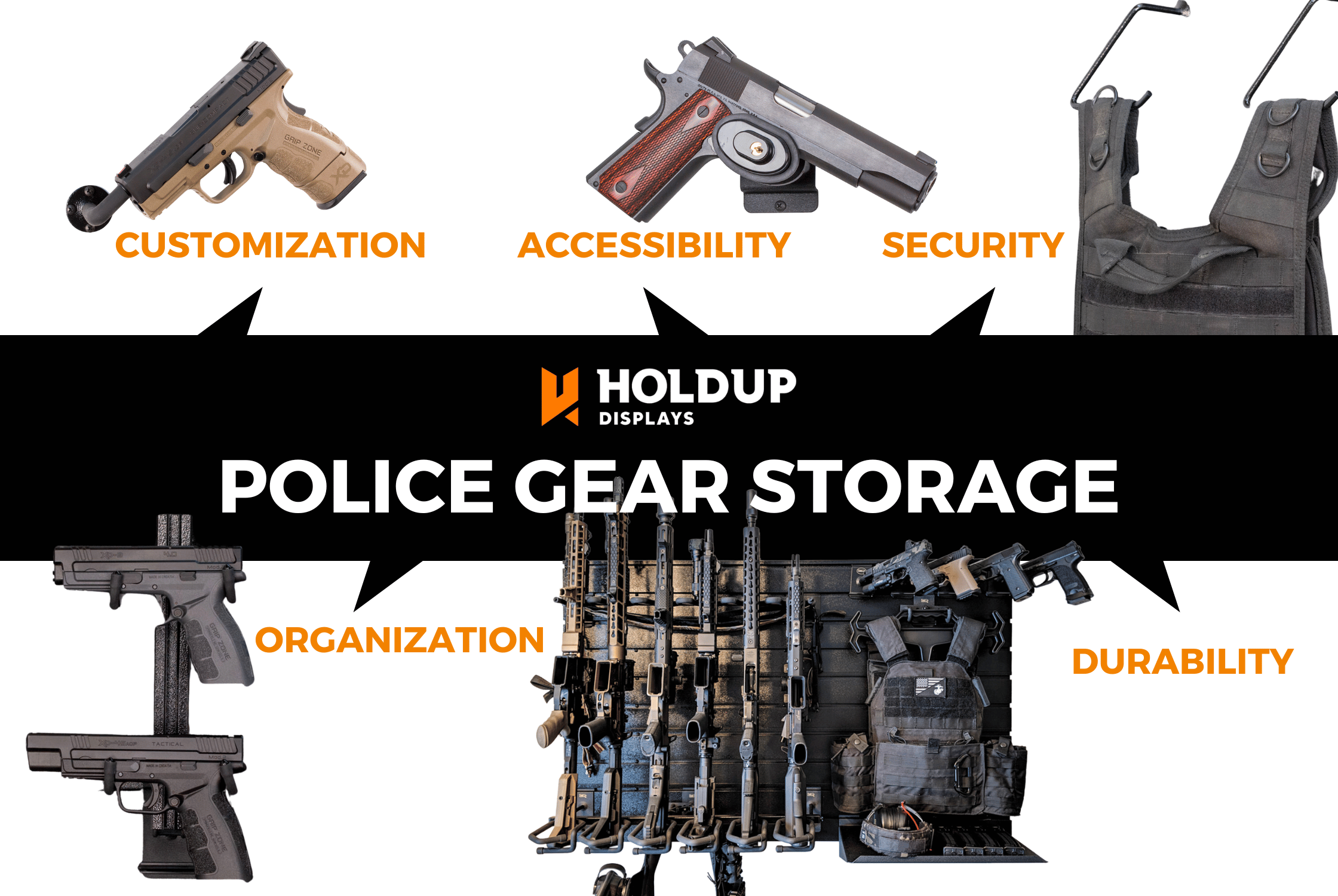 Police Gear Storage Considerations
Every officer's kit is a little bit different. Sure, you may all carry roughly the same things day in and day out, but your loadout is different. How you carry it and where you carry it are all different.
The Best Storage Solution is Customized to Fit Your Needs
Storing your gear should be approached no differently than how you wear it. You need to be able to customize your storage solutions to your specific tastes. This isn't a generic wall locker we're talking about. It is a gun wall organization system that is customizable down to every last item.
Accessibility is Key for a Fully Functional Rack
You are an officer on the go. Shifts change. Overtime gets sprung on you when you thought you had the night off. The local sports team won the national title, and now you are working overtime for crowd control.
The last thing you need to think about is what coat closet your gear is crammed into, and why you can't find that missing item.
Our gun walls are the best storage solution to keep all of your items right where you need them, right when you need them, every time.
Secure Your Valuable Guns
We don't like to think about it, but security is a very real issue. Thankfully, you can rest assured that your duty sidearm and long guns are completely secure on our gun walls through one of our many locking solutions.
Durable Products Will Last Longer & Protect Your Gear
You demand a lot of your gear; your job is a highly demanding one. That's fine with us. Our gun walls are made from aircraft-grade aluminum and will withstand years of the hardest use you can put it through.
Organized Storage is a Game-Changer
Finally, you need your gear organized. Throwing it all in a heap in the corner of the bedroom isn't going to cut it anymore. It looks like trash when you put it on, and you will lose something from your kit, guaranteed.
Instead, try out a gun wall and have all of your equipment securely in one location. We promise you'll love the difference.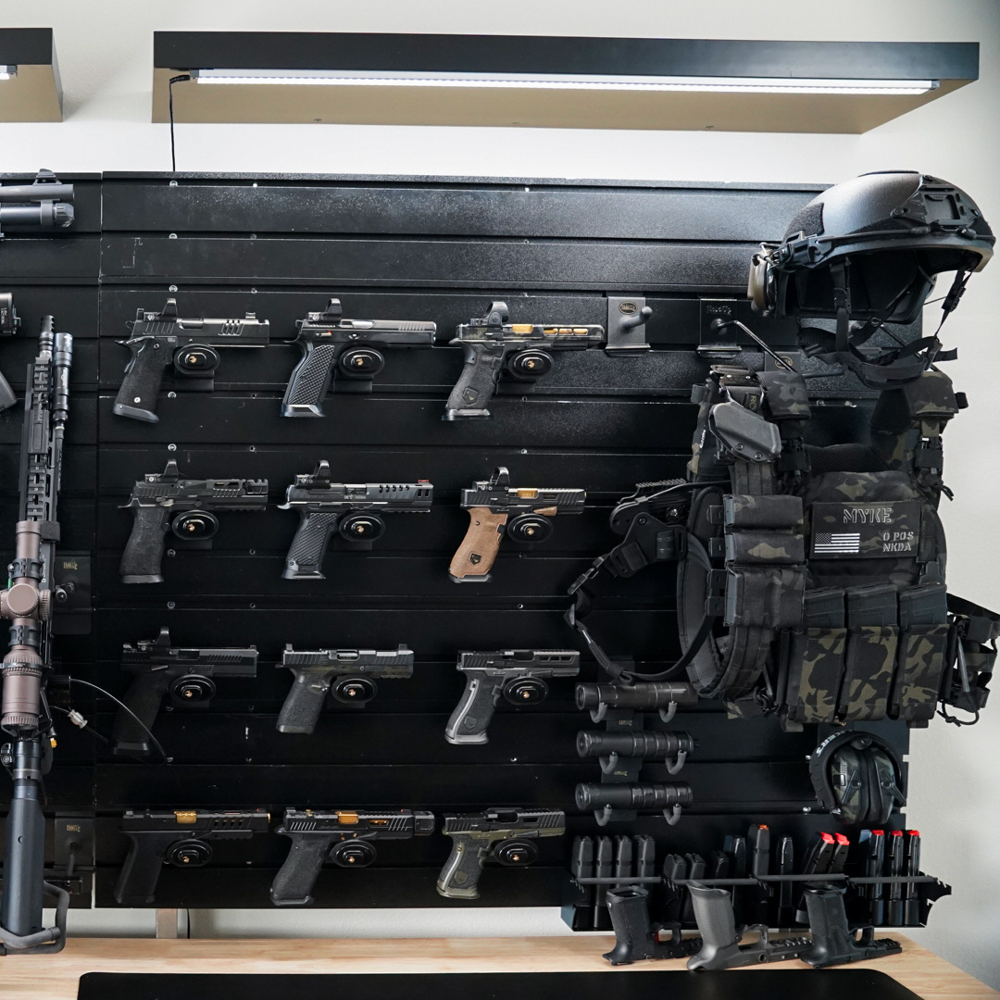 At-Home Storage Options for Tactical Gear
If keeping your tactical gear at work isn't a viable option, you need to work through some of the solutions to find the best one for you.
Tactical Room
Depending on the scope of your tactical collection, you may want to consider a tactical room. Overkill? Not necessarily. A tactical room doesn't have to be huge. A walk-in closet or a spare pantry is more than adequate for most people's needs.
Closet
Closets are usually a little easier to come by for most of us. Even a small coat closet is ample room to store firearms, set up a complete police gear rack, or hang your chest rigs, duty belts, riot gear, and of course, standard uniforms.
Don't sleep on converting a small closet into a tactical room.
Bedroom
This one is between you and your significant other. If they are cool with a gun wall gracing the walls, then the bedroom can be a great place to keep your gear out of sight, out of mind.
Garage
Usually, the best places for gear storage, especially if you have any surplus room to spare in yours. Bonus points if you take your police cruiser home and park it in the garage. Having all of your gear in one place by your cruiser could be a huge win.
Any of our gun walls makes a fine addition to your garage and will help you optimize space.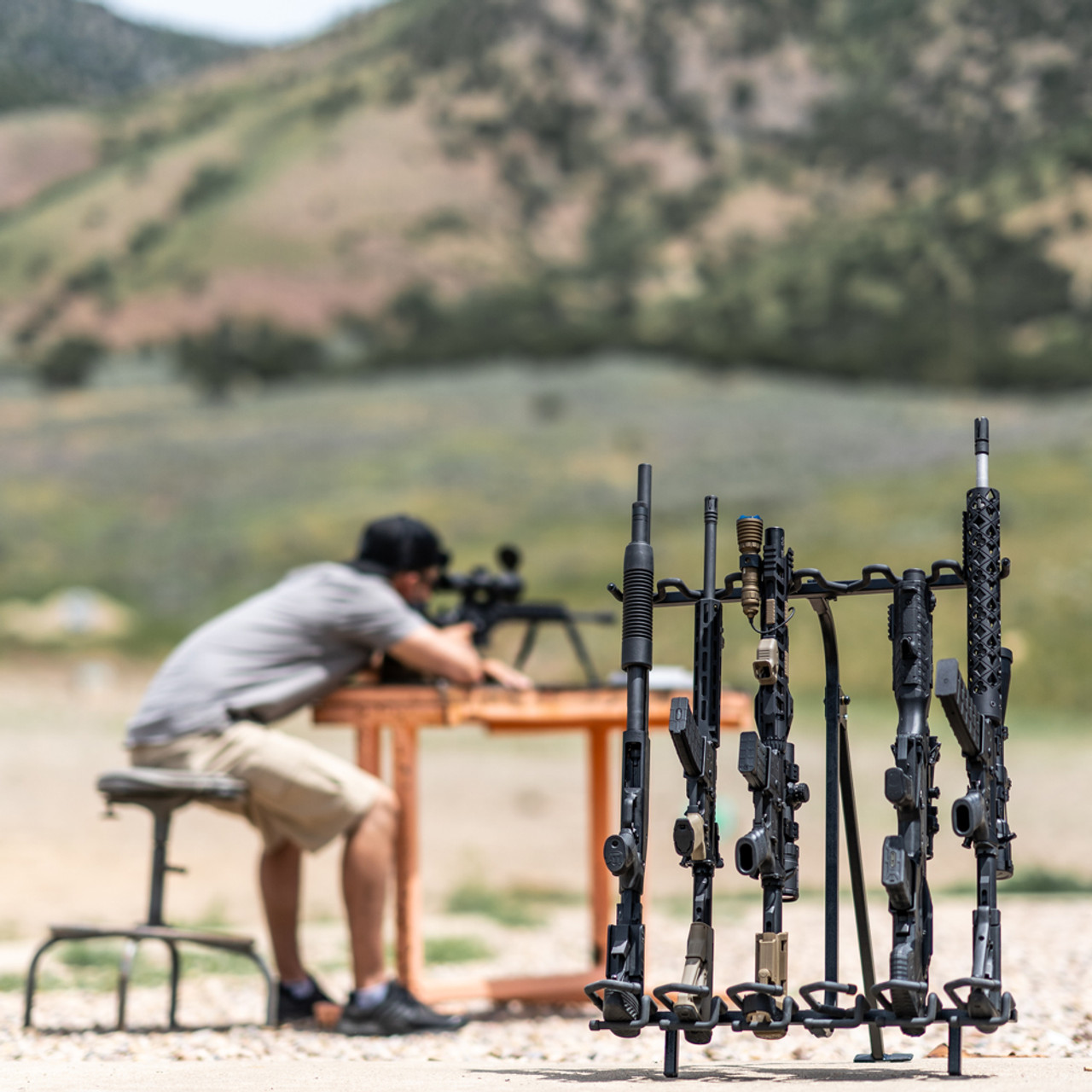 Free-standing, Gun Walls, Wall Mounts
Hold Up Display has hundreds of solutions to your guns, gear, and uniform storage concerns. If you want it all in one discreet location, then our gun walls are the way to go for you.
If you want a little more flexibility, most of our mounting solutions from the gun walls can also be bought as an independent wall mount instead of the slat wall design. This can be handy if you are working with a very small surface area and the gun wall is too big.
We offer free-standing solutions that work very well if you have several long guns that you need to be stowed but don't have wall space for. These are also great for portability, our Folding Metal Gun Rack is a perfect tag along to the range.
Heavy Duty Systems to Optimize Tactical Storage
Hold Up Displays is proud to support our law enforcement officer community, and we make a long list of items that will hold, organize, and secure your gear when and where you need it. Our solutions are completely modular, so if something isn't working, you can shop our extensive line of accessories and play with configurations until you get it just right for you.
If you have any questions, make sure to give us a call, and we can figure out what the right solution is for your needs!