If you've been storing your hunting gear in a plastic bin tucked under the bed, it's time for an upgrade. Ideally, this upgrade would be a hunting room and a storage system that will make your gear more accessible this hunting season.
The only problem is, building a hunting room is a dream many of us have, but it can be difficult to find the space or know where to start. Let's explore what you should consider for your hunting room and some efficient storage ideas that Hold Up Displays offers.
How do you Start Building a Hunting Room?
Whether you call it a hunting room, closet, man cave, gun room, or if you're blessed with a whole cabin – There's a lot that goes into designing your ideal space. The key here is personalization and efficient storage. Let's start from the beginning and explore how to start building your hunting room.
What Kind of Space Are You Working With?
First and foremost, consider your storage space carefully. You may have a whole room that your spouse doesn't mind giving over to guns, gear, and mounts, but that's probably going to be rare.
The following are some spaces you might be able to convert into a hunting room/storage area:
Hunting Closet
First up, we'll take a look at the most likely option, and that is turning a spare bedroom closet, small shed, garage area, or maybe a laundry room into a hunting storage closet. You might already have some guns or gear stored here, but the fact is, you need a more efficient, organized, and aesthetically pleasing solution.
One of the main goals for a hunting room, no matter how small, is to have a space where you can see more of your kit laid out in front of you. This makes it easy to get things ready to go to the range or take a hunting trip, and it also lets you display pieces you're particularly proud of.
Here, we are working with a small space, so efficient storage is key. You probably don't have a ton of floor space within a closet, so let's take storage to the walls. Not only will you have easy access to your gear, but it will also be organized and mounted in place.
The exact products you'll want to use will depend on the available wall space. Let's say you have a good bit of wall area, so you'll definitely want to utilize a gun wall system to mount a variety of gear in a customized layout. Here you can incorporate your guns, crossbows, mags, ammo, and whatever other hunting gear you desire.
Maybe your closet space doesn't have room for slatwall panels. In that case, you can mount a variety of gun racks and hooks to the wall of your closet, depending on what gear you are hanging. Our standard hangers and racks can safely and securely hang long guns, handguns, crossbows, and fishing poles.
For more information on transforming your closet into a gun room, check out our Closet Gun Room blog which shares more details on what you'll need.
Hunting Room
If you're converting an entire room, garage, or maybe a home office into designated hunting storage, you'll have a lot more walls and floor space to work with.
You can go all in on firearms here, or you can include fishing gear, motorcycle gear, or gear from any other hobby or interest you might have. But the key here is balancing your design and aesthetic with practicality and storage.
We'll get to design ideas later but to address the practicality and storage aspect, consider designating a full wall for the storage of your gear. You'll be able to incorporate an aesthetically pleasing gun wall that can store all your supplies, keeping everything easily accessible and organized. Our wide range of accessories, like our heavy-duty display shelf, can accommodate ammo, mags, and whatever else. With so many color options ranging from black to hardwood, a gun wall will look great while providing practical and safe storage.
You'll be able to use the other walls for trophies, memorabilia, pictures, art, or whatever else you desire.
When you're furnishing your hunting room, you'll have to ask what you want to be able to do in your new space. Some general suggestions for furniture will be a comfortable couch or seating area, coffee table, drawer system, table or flat surface to act as a workspace, and/or a TV if you want to make your room the perfect place to watch a big game.
Hunting Cabin
If you have an entire cabin at your disposal, you'll want to create a cohesive design room-to-room while also incorporating efficient storage solutions throughout.
Obviously, each room will have its specific purpose, whether that be a bedroom or living room, but carving out a specific storage room for hunting gear is a good idea to keep your supplies organized and in one spot. You can use the same storage recommendations stated above for this room: utilizing your wall space for efficient storage and leaving room for any sort of furniture and decor.
A hunting cabin will give you all the freedom to embrace whatever style fits your personal preference.
Hunting Room Ideas: Design & Style
The way you design your hunting room is totally up to you, but a few popular styles people choose are Rustic, Modern Lodge, and Military.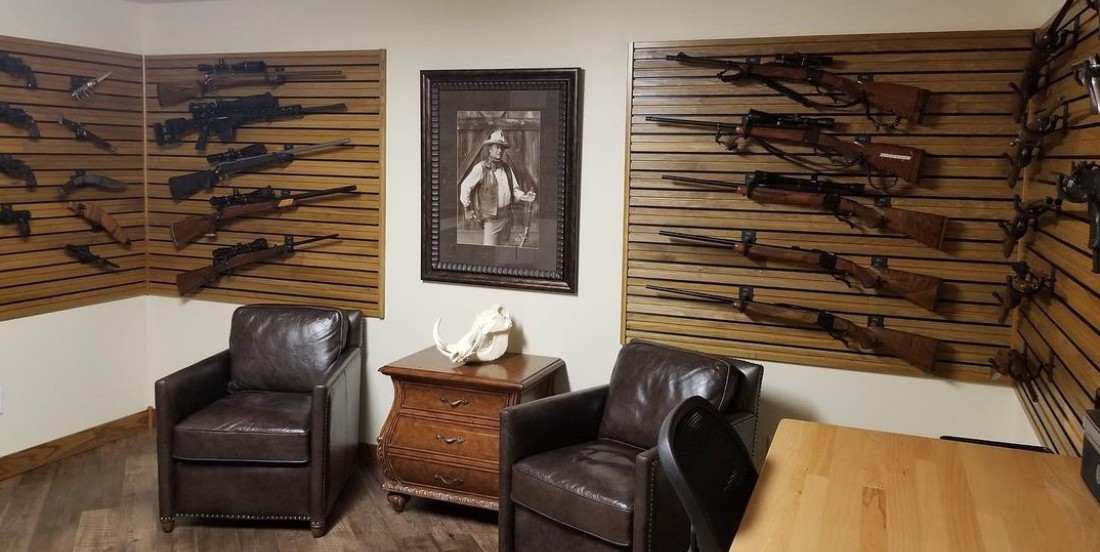 Rustic
If you're going with a more rustic look, A hardwood slatwall is the way to go. We also have plenty of wooden floor racks and hangers that are a great start, especially if you have unfinished or distressed wooden walls. This can work in a more farmhouse-style home or bedroom, as well as in a cabin.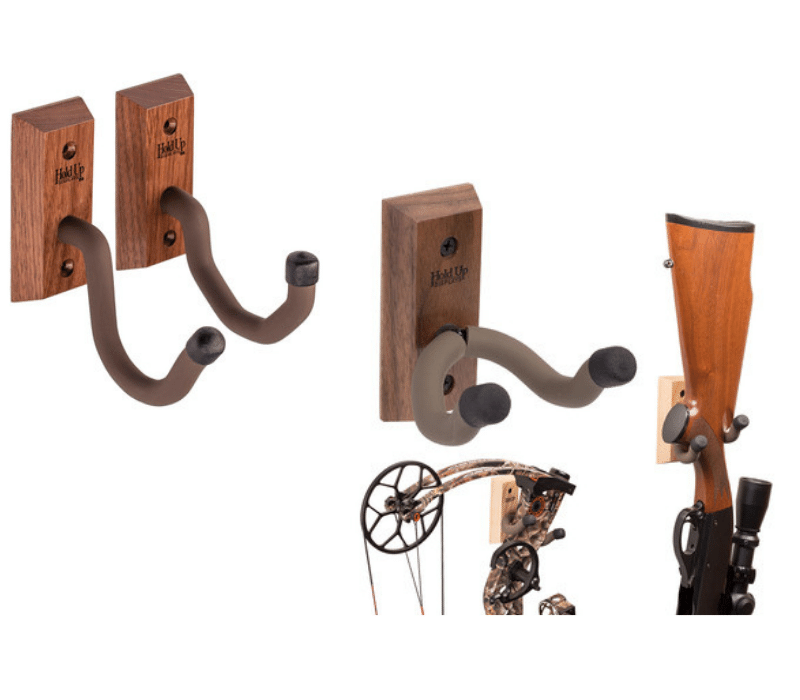 Pair your hardwood gun wall with some vintage whiskey bottles, antique gas lanterns, wood signs, and of course, your taxidermy mounts.
Our single gun/bow hangers are made primarily of a solid piece of hand-worked wood and have a swiveling hook that can accommodate most any firearm or bow (or sword, if you're into that sort of thing).
Modern Hunting Lodge
For a more modern hunting lodge look, glass and warm, dark woods are usually the way to go. This can be incorporated with our Walnut Gun Wall Bundle or more simplistic styles like the Rifle Rack Slatwall Display Package. The idea here is to embrace simple designs and neutral colors and leave the focus point on the firearms themselves.
Outside of your storage solutions, you'll want to use the same simplicity with furniture including warm wood tables, leather couches, and modern appliances/light fixtures.
Military/Prepper/That One Scene in John Wick
If you're aiming more for an armory type of look where the guns are the focus first and foremost, then we recommend aiming for a black and white style that mimics modern military armories as well as some of our favorite movie scenes.
You can do this with plain black slatwall, camo slatwall panels, metal floor racks, and black or brushed metal hooks and hardware. Outside of a workstation, we don't typically see as much furniture in this style, allowing you to put some extra money into perfecting your display. A military style will give you that crisp, modern, and professional look.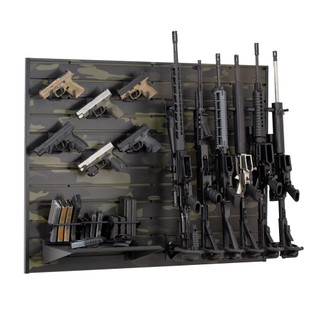 Displaying Your Trophies
Of course, having all the guns on the wall is one thing, but if you regularly hunt, you'll probably have specific mounts, memorabilia, and photographs that mean something to you.
Some of our favorite designs have been antique taxidermy, say a deer or bear brought down by someone's father or grandfather, which is then displayed alongside the firearm used to take the animal.
This is a great way to connect your current love of firearms and hunting to that sense of family and community that so many hunters share.
Hunting Equipment & Gear Storage
With a slatwall-style wall mount, you can really hang whatever you want, from helmets to hunting clothes, whatever you use in the great outdoors can be stored in your room to keep all the gear you need in one central location.
Plus, hanging up your go-to hunting jacket, scopes, calls, and lures, or even just your range/field bag is a great way to get your stuff out of the back of the closet where you have to dig it out of a storage box every season.
The Perfect Addition to Any Hunting Room:Hold Up Displays
Hold Up Displays specializes in dedicated firearms-specific storage and provides the perfect solution to organizing your hunting gear while creating a personalized hunting room to be proud of.
Our gun wall builder lets you build your gun wall based on your exact collection of gear, and ourpre-designed options are collections of all our best racks and mounts.
Whether you are displaying guns in a gun shop or looking for tactical gear home storage solutions, we are here to help. Contact our customer service team if you need help creating the best storage solution to display in your hunting room.