Pistols strongly embody the versatility, modularity, and efficiency of what we are all about at Hold Up Displays. Whether you are purchasing the fourth new configuration of your favorite model or acquiring your first ever handgun, we are here to walk you through everything pistols, especially providing you with the best solution for optimizing pistol storage in your home.
Handguns provide users with almost endless variety due to the numerous calibers, actions, configurations, and models. For first-time owners, the most common calibers for pistols are the 9mm, .45, .40 S&W, .22 LR, and the .380 ACP. Each provides unique strengths depending on your ability and situation. While the .45 can be a blast with its energy and stopping power, the 9mm might be better suited as a self-defense round due to its strong performance and better handling.
Users also must consider the differing actions of a handgun when finding the perfect fit. Handguns come in four main actions: single, double-only, double/single, or striker-fired. Single-action handguns are manually cocked for each round which allows for a shorter trigger pull yielding higher accuracy but creating a longer time between shots. Double-action cocks when the user begins to pull the trigger and then fires as the user finishes the pull. This requires a longer trigger pull needing more skill and familiarity, but also exists as a safer option. Double/Single-action combines the features of the two while a striker-fired handgun doesn't have a hammer that needs to be cocked. Instead, it has a striker bar that directly engages the firing pin giving a smoother and more consistent trigger pull.
When deciding which model to add as the first or final piece of your pistol rack, the most formative question is why? Asking yourself why you're acquiring this firearm will be the best guide for finding the right option. As a first-time buyer, there could be many reasons you're acquiring a handgun: protecting your family from home intruders, applying for your CCW, enjoying a new hobby like recreational shooting, or diversifying your hunting arsenal. Different styles, sizes, and models of pistols will be better suited depending on your reason. Now you might be starting to see how we end up with such large collections. Regardless of the size of your handgun arsenal, proper storage is crucial and must be carefully considered.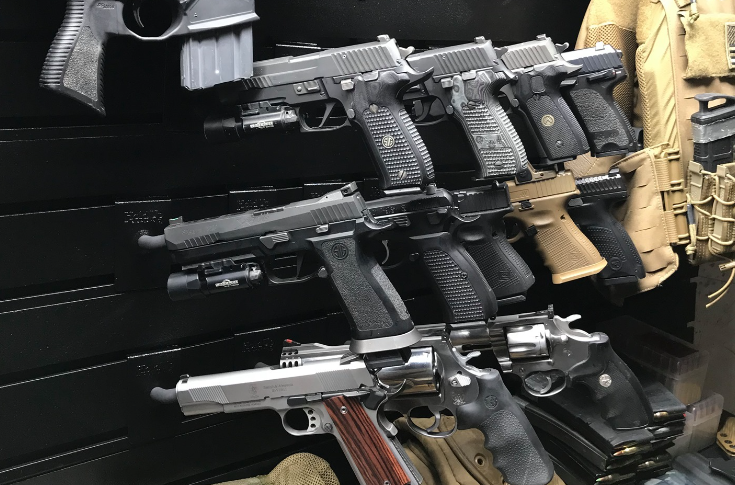 Storing Your Pistol(s) at Home
In storing your pistol at home, your primary considerations are accessibility, the safety of your home, and the safety of your firearm. Does your storage system provide quick access in situations that require you to respond in a matter of seconds? Is your handgun in a location that puts you at a tactical advantage in a home defense crisis? Is your pistol secured to prevent an unauthorized user from loading or firing? Does your storage system best protect your collection from wear and rust?
Added considerations depend on the size of your collection. Large collections carry unique spatial and logistical obstacles such as finding a room or wall in your home that can accommodate your needs, especially if you're someone who obsesses over organization. You might be thinking of purchasing a safe, case, or cabinet for a larger collection while getting a pistol storage bag or a small case for a few pistols. These are all good options but come with their own limitations, and we want you to have the best-optimized gun storage solution for your favorite handguns.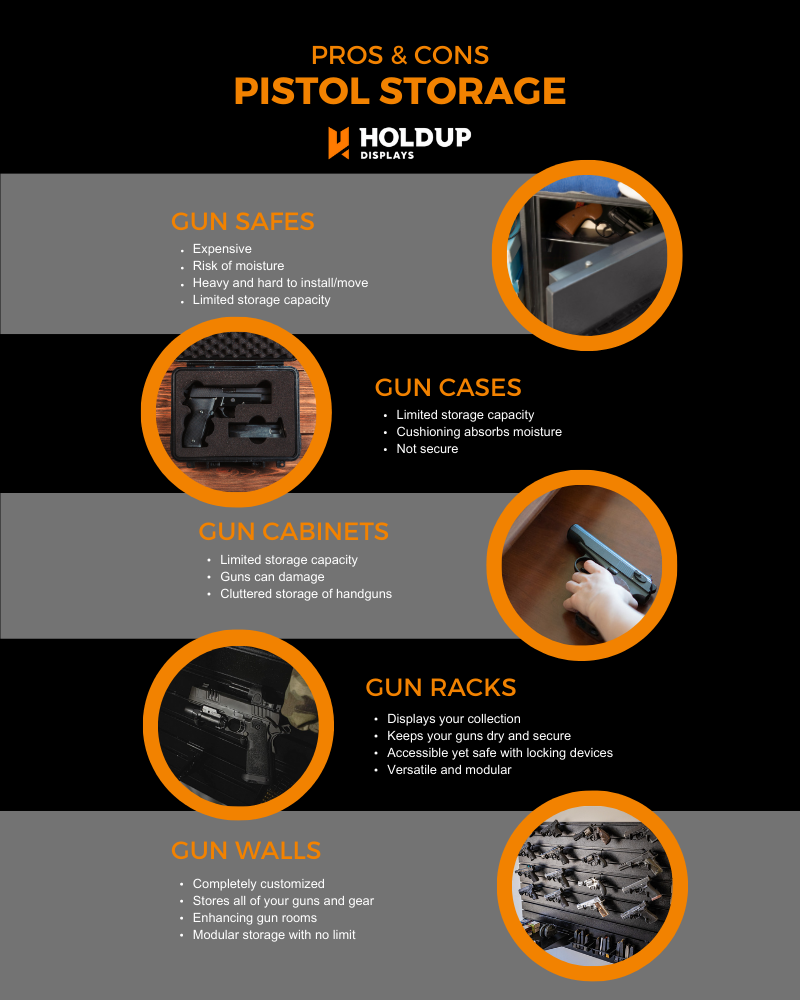 At-Home Pistol Storage Options
Gun Safes
Gun safes are still one of the most used methods for gun storage, they are widely accessible and provide a good option for keeping your equipment safe and out of the hands of unwanted persons and children. Their plate steel outer construction and inner steel walls grant modest security and fire protection, but these quality safes usually cost upwards of six to seven thousand dollars. The reality is, there are a lot of underrated alternatives for safes.
Primary disadvantages of gun safes:
Box stores and lower-quality safes are easy to breach by drilling or cutting into the top or sides.
They can be moisture-rich environments that either require you to have a dehumidifier or risk corrosion and rust on your favorite handguns.
Extremely heavy and hard to install or remove when relocating.
Your handgun storage capacity is fixed, limiting the expansion of your collection.
Gun Cases
Gun cases are a functional option, specifically for transporting your handguns. Depending on your needs, you can buy hard or soft cases, but neither offers great long-term storage capabilities, and end up locking your gun away. We all know out of sight, out of mind, and you've invested a lot into your collection - Why not display it?
Primary disadvantages of gun cases:
Very limited storage capacity.
The inner and outer cushioning (soft cases) absorb moisture, causing rust.
Not as secure as other options.
Gun Cabinets
Gun cabinets are the more furniture-like option for firearm storage in comparison with gun safes. They are much lighter making them easier to move but are primarily designed for longer rifles and usually don't have many built-in options for handguns.
Primary disadvantages of gun cabinets:
Higher chance for guns to contact each other and scratch.
Very limited storage capacity.
No great capabilities for pistol storage as they can get cluttered.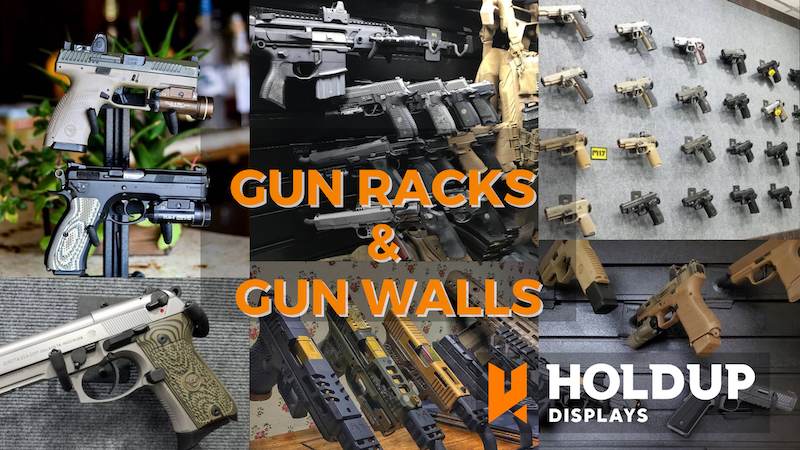 A Great Option: Gun Racks
We want to fuel your passion, and we know that our gun racks are a great option, especially for pistols, the benefits can't be ignored. First, gun racks are a creative storage option that finally gives your beautiful pistols the space they need to breathe. You don't ever have to worry about moisture in a closed container rusting away your weapon, and our handgun rack is perfectly spaced so your pistols won't scratch. Second, gun racks allow you to showcase your growing collection and highlight your cherished family heirloom as you take a step back and admire it. No need to hide that recently acquired collectors' item.
As for safety, gun racks can be built with integrated locking devices that make the firearm only accessible by the owner with a key that can't be duplicated. You can also secure your handguns with trigger locks, which obstruct the action and make them impossible to use.
At Hold Up Displays, we often recommend using a dedicated room or closet for not only safety and security but for a sweet gun room setup. Utilizing a room with no windows and locking it with a basic steel door is a game changer for the safest, most enjoyable gun storage solution on the market.
With gun racks, the options are plentiful, as they can be placed both on the floor or mounted to the wall in a precisely chosen location in your home.
The Best Option: Gun Walls
At Hold Up Displays we don't want to provide you with just a great pistol storage solution, we want to provide you with the best. That means the best variety, customization, display, and functionality that specifically fits your tastes and needs. And gun walls are simply the best. While safes, cabinets, and cases place restrictions on your growing passion and collection; gun walls open the door to endless possibilities.
Gun walls are the best for optimizing space by giving you the ability to expand vertically and horizontally in a much larger three-dimensional area. Their modularity allows you to uniquely and personally adjust your layout to fit your optics, ammo, and plate carriers, while still highlighting your favorite handguns. Finding different ways to organize your gun wall just might be your new favorite hobby.
To make them even better, these beautiful handgun displays come at a fraction of the cost when compared to quality and effective gun safes. Our 16 Pistol Gun Wall Bundle is a great starting point that really does carry 16 pistols and includes a display shelf for your ammo and mag holders so they can be readily available and organized.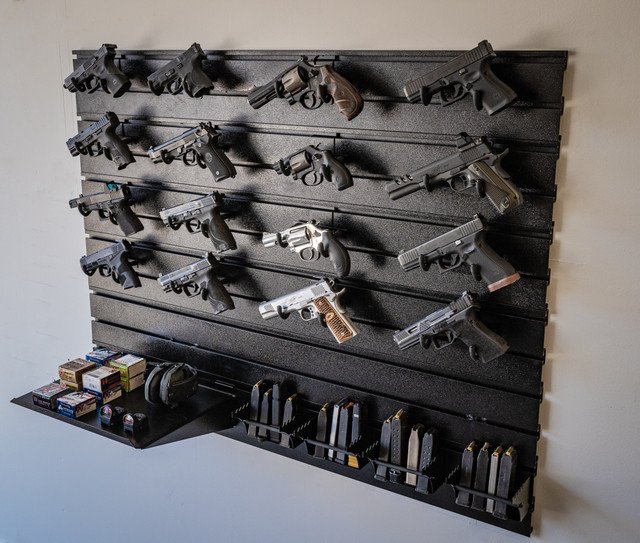 Optimize Pistol Storage in Your Home
If you want even further customization, our custom wall builder will maximize the optimization of your handgun arsenal. All it takes is four easy steps and you can have your dream handgun wall on its way.
First, select your slatwall panels just how you want them, and these will operate as the backdrop of your gun wall, securely holding all the gun racks, hooks, and accessories you choose. Second, choose your handgun holders and racks that can fit any size and weight. Third, select your accessories such as our magazine holders or scope trees. Lastly, check out and we'll ship out your order straight here from the wonderful USA.
Trusted Pistol Storage Solutions
Gun safes, cabinets, and cases all provide good storage options for pistols, but they all have disadvantages and limitations which can hold you back from growing and fully displaying your handgun collection in a safe, customizable fashion. At Hold Up Displays, our gun walls provide limitless creativity and crisp beautiful displays that optimize your pistol storage in the best possible way. We also offer simple, effective, and quality handgun racks and stands, to stand alone. No matter what pistol storage solution you're in search of, load up with everything you need at HUD. We're excited to see what you can create!