When optimizing your gun storage solution, you're faced with a few tough decisions. At first gun owners might gravitate toward a gun safe. There's no doubt they are popular, easy to find, and some are somewhat cheap. But the thing about a cheap safe is that it doesn't actually protect your guns from fire OR corrosion.
So, with that being said, if or when a gun safe is out of the question, you've got a new decision on your hands: What can I use to mount my guns and gear? Pegboards and slatwall are two common systems used for mounting guns, but they have some key differences in terms of functionality and aesthetics to consider before deciding which is best for your collection.
Pegboards
Most homeowners have had some experience with pegboards, especially in their garage tool room or in an area of the house as a "Honeydew" project. And it makes sense: pegboard is quite cheap and is readily available at every home improvement store.
And it works pretty well for most things.
But hanging up your pliers and hand saws is one thing; hanging up thousands of dollars worth of firearms is another.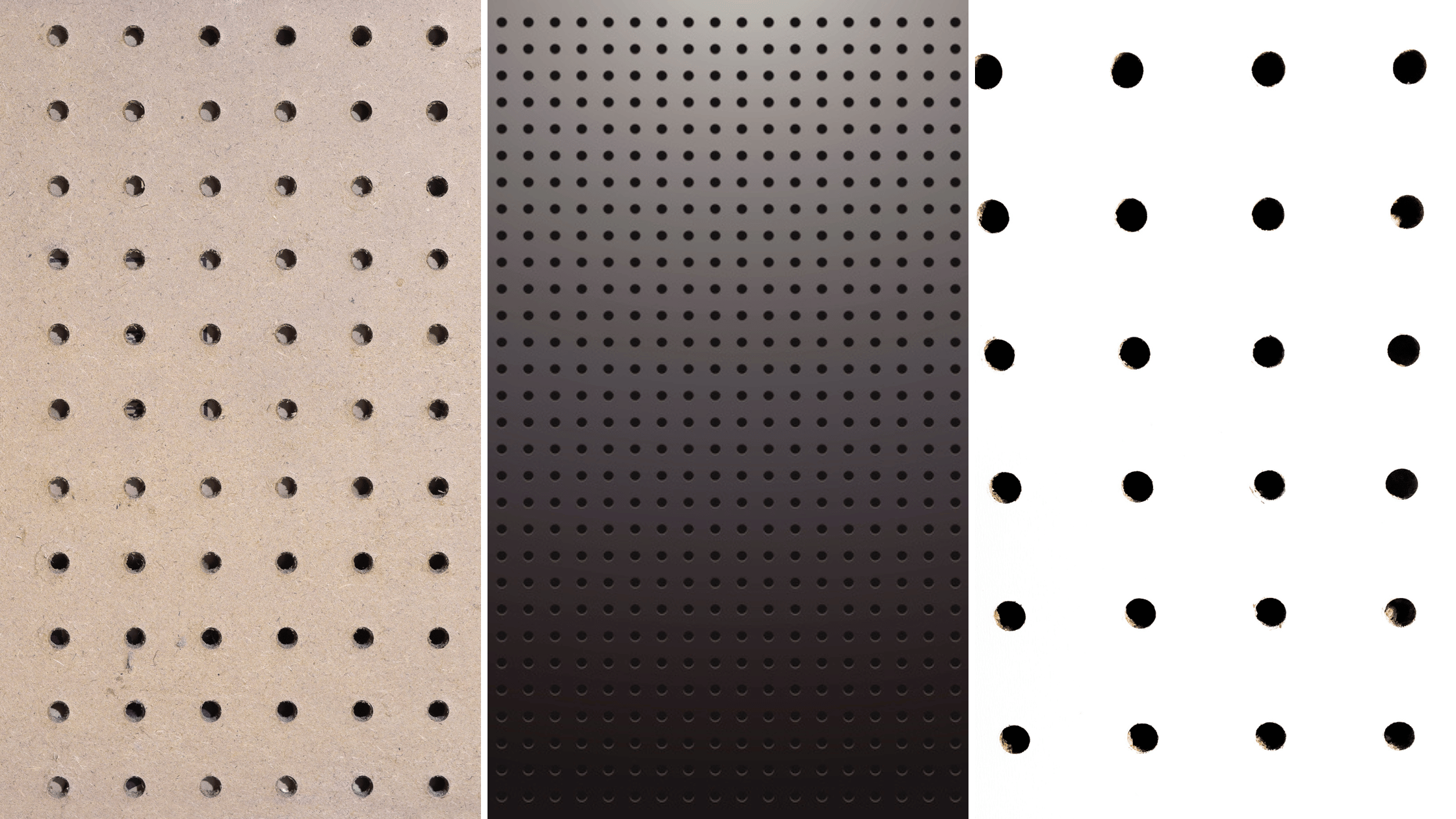 Pegboard Materials
Pegboards are made out of a few materials. The most common are particle board (wood), plastic, and steel.
Particle board is the cheapest, and it is very cheap. Right now, a 4'x8' panel is between $10-$15, depending on the vendor. But it is also flimsy; particle board pegboards are not intended for bearing much weight. If you put too much weight on them, the board has a bad habit of tearing and ripping. See, pegboards use custom-made little hangers to rest in the pegboard holes. But the design is not intended for heavy items.
Enormous pressure is placed on these tiny holes if you mount anything heavy on them, and they tear.
Steel is interesting. It is much stronger than particle boards, so we're on the right track. A lot are even powder coated, so they should offer many years of use. But it is quite expensive.
The available steel versions are somewhere around ten times the cost of particle board. Also, steel is not adjustable like particle board. If you cut the steel, it will look bad and the edges are dangerous. In other words, you need to make sure the size you get fits the area you plan to hang it.
Hanging pegboards is straightforward: use countersunk screws for a flush fit and ensure you are mounting it in the studs. Also, make sure there is open space behind the board for the pegs to mount; the board cannot be mounted on a wall with no open space.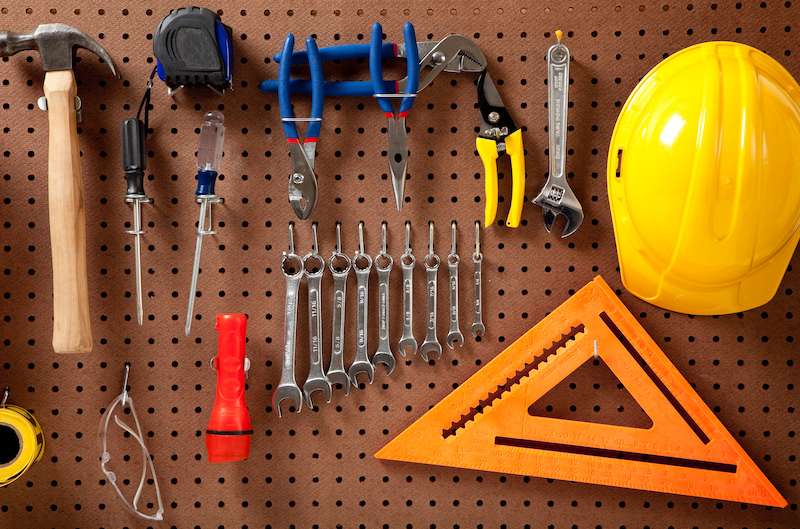 Disadvantages of Pegboard
All the old saying goes, if it seems too good to be true, it is.
Non-steel pegboard is inexpensive. In fact, you could call it cheap, meaning you definitely get what you pay for.
An inexpensive pegboard will sag on you, especially with a lot of weight on it. The board is quite thin, so it doesn't hold up well to large amounts of weight.
Another disadvantage is chipping. The particle board tends to break off into pieces, which is unsightly but also weakens the overall structure.
Also, consider what happens when it starts to weaken and warp. You might swap out the board or upgrade to a metal pegboard which eliminates your original cost savings.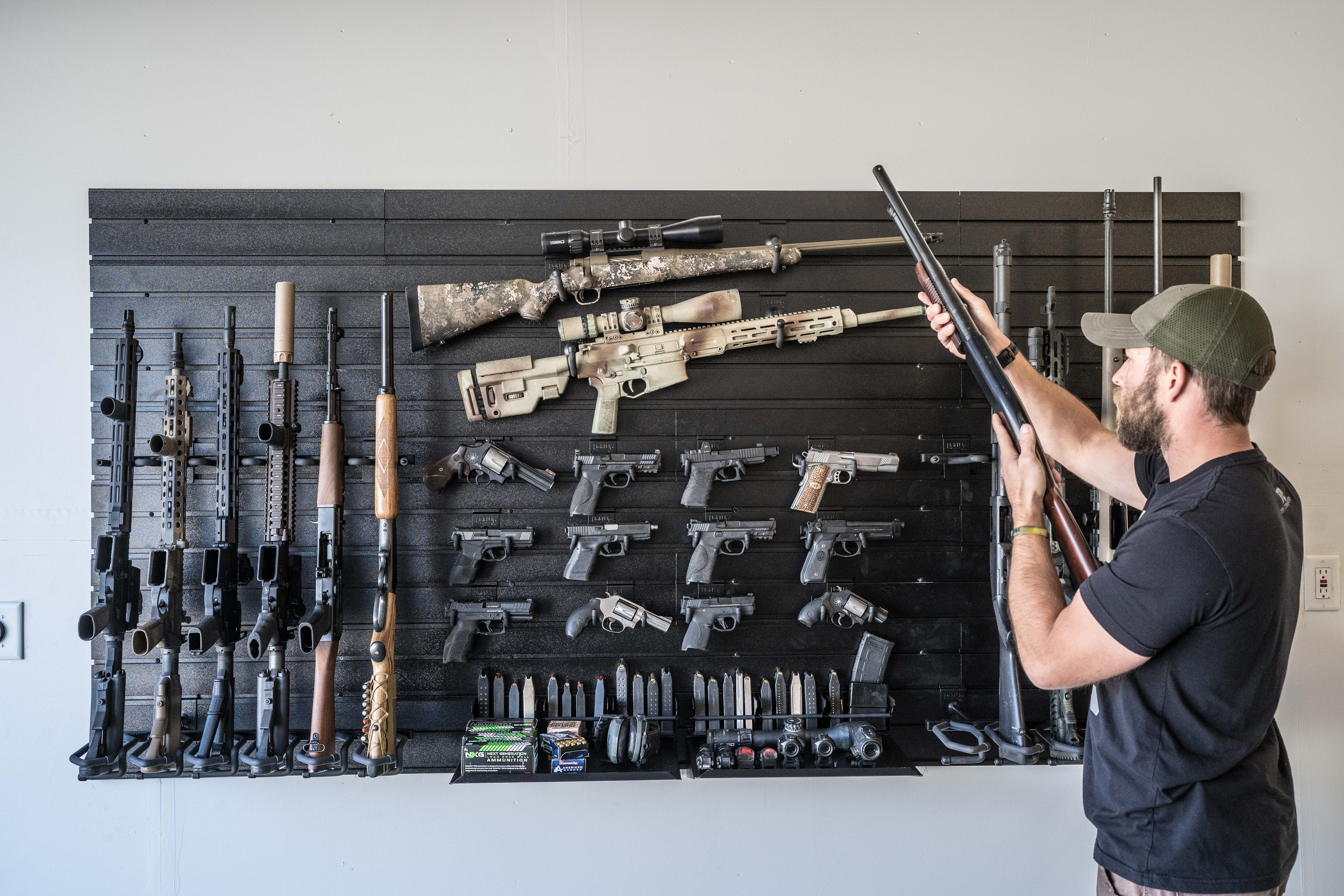 Slatwall: The Best Decision for Your Guns & Gear
If you buy cheap pegboard for your guns, you will definitely get what you pay for.
It is not a matter of 'if' an inexpensive pegboard will sag and bow, but when. It will sag, it will bow, and you will regret the effort you put into mounting a flimsy pegboard.
Instead, mount something that is sturdy when you mount it, and it will still be just as sturdy ten years down the road. But not only does it need to be sturdy, it needs to hold weight effectively.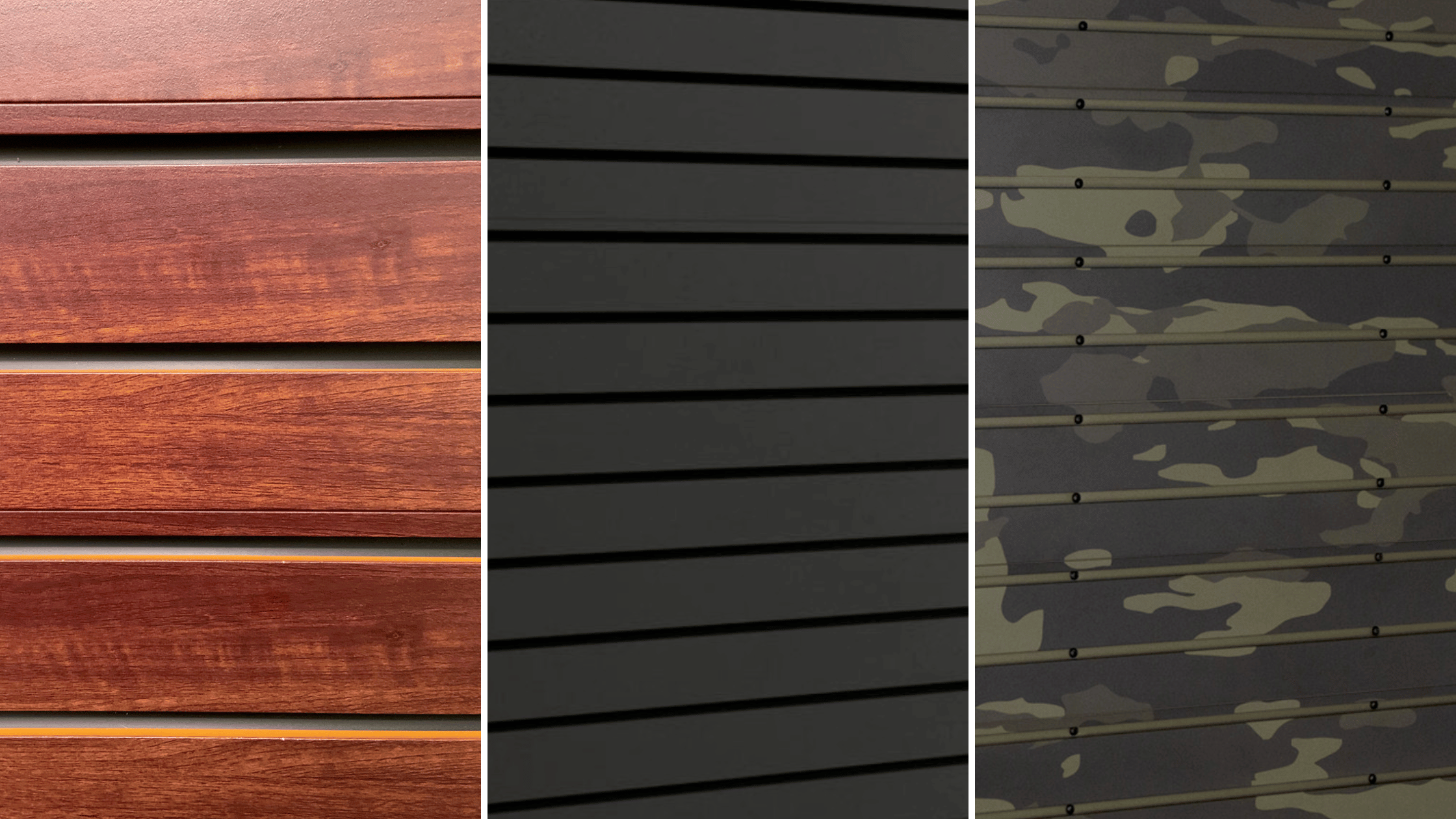 What Is Slatwall?
So how is our slatwall different? It kind of sounds like pegboard, doesn't it?
No, not at all. Slatwall is a system that Hold Up Displays has perfected to create a completely modular setup that can always be added onto. But it starts with a firm foundation. The foundation of our sturdy slatwall systems begins with industrial-grade aluminum panels. Each panel connects to the next to form a solid connection with a slat in between each panel.
Each panel is anchored to the wall separately in up to three spots, each anchoring to a stud in the wall. Our best-selling Gun Wall Bundle, which measures 48"x36", comprises twelve panels, so it is anchored to the wall by up to 36 screws anchoring it directly to studs.
These walls won't budge.
The slats are where the racks are mounted. Basically, you pick the level on the display where you want a rack or hanger, slide it into place, and secure it with the included clips.
Tactical Use-Cases of Slatwall
While our slatwalls are ideal for all kinds of gun storage, they really shine in tactical scenarios. In tactical duties, speed is king, and there is nothing faster than our wall mounts to access your gear.
And it isn't just guns: you can hang chest rigs, helmets, loaded magazines, ear and eye protection, and really just about anything else you can think of.
And if (or when) your tactical arsenal outgrows your gun wall, you can add on as much as you want. If you want to buy another pre-designed gun wall, it will work great with your existing one! Or you can design your own gun wall, which will also work great.
Benefits of Slatwall
The benefits of our slatwall are numerous. They are durable, organize your gear, are completely modular, and they look awesome.
You can customize a slatwall with
Pegboards are cheap and easy to find and install, but that does not make them a great fit for storing guns. You need to ensure you are not shooting yourself in the foot by letting cost sway your decision. Our slatwalls are built for decades of use and custom-tailored to any storage situation.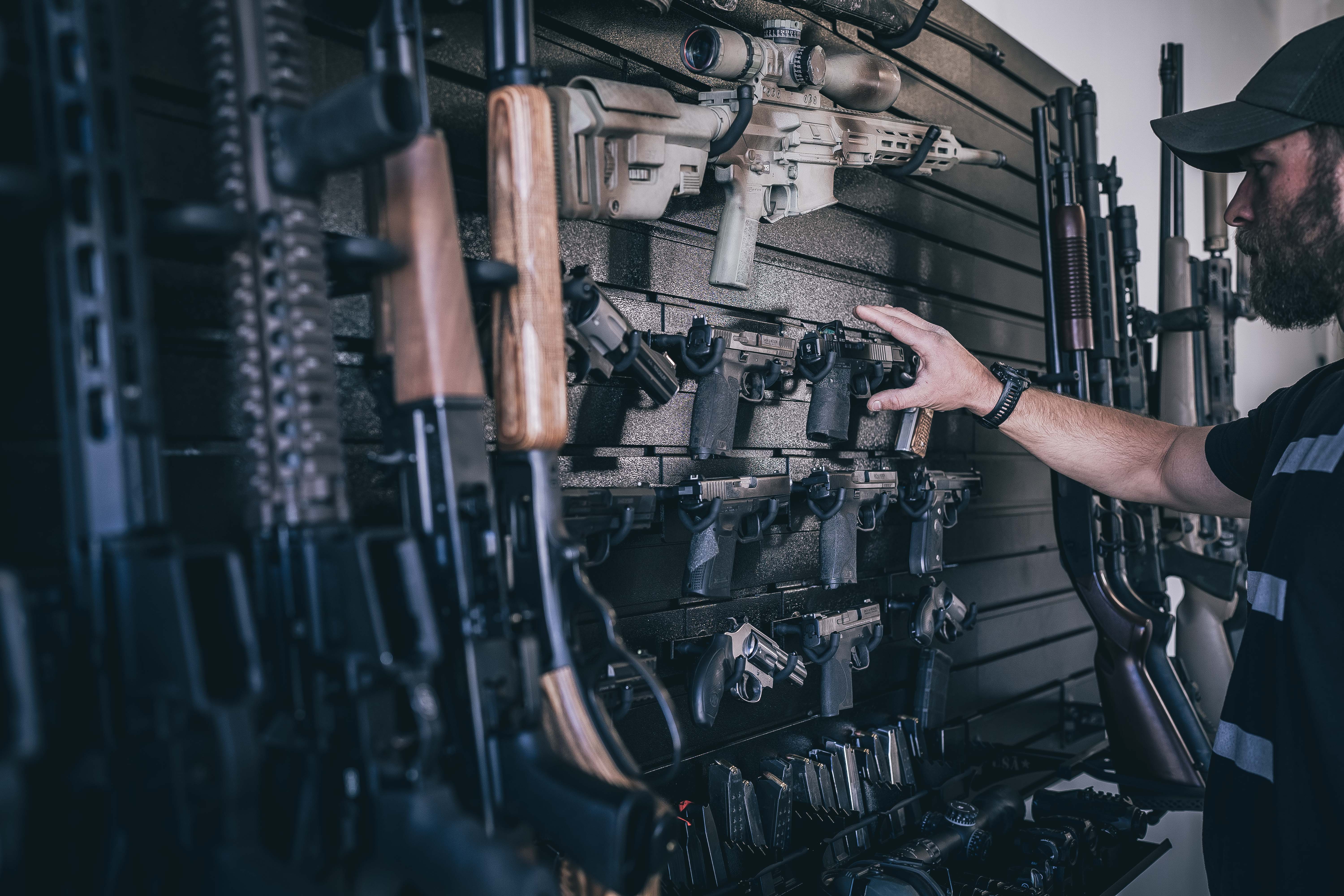 Designing Your Dream Gun Wall
You have a couple of options with Hold Up Displays. First, you can buy a pre-designed bundle. We have analyzed our most popular items and built displays that offer what most users look for. Or, you can design your own from the ground up.
Either way, we have something that fits your needs. Do you have a large collection of long guns? No problem. Love the American flag? Why not. Whatever you need, however, many guns and gear you need to mount, we've got you covered. Contact us today for more information on our gun storage solutions or check out our blog for ideas and tips on getting the best bang for your buck in gun storage!