When we go out looking for a gun storage solution, we generally have two reasons in mind: first, we want them in a central location, out of the way. Second, we need them to be secure. A secure, lockable storage solution is probably the most common reason why gun owners choose a gun safe, and why wouldn't they? Gun safes are easy to find at local big box stores and are lockable. But are they really the best solution for your tactical gear? Are they the most secure solution?
The reality is, you have options for safe, secure, and attractive gun storage solutions that don't include eating up all of the floor space in the coat closet. Our gun walls are just the ticket to give you the look you're looking for while never sacrificing the security and peace of mind you need.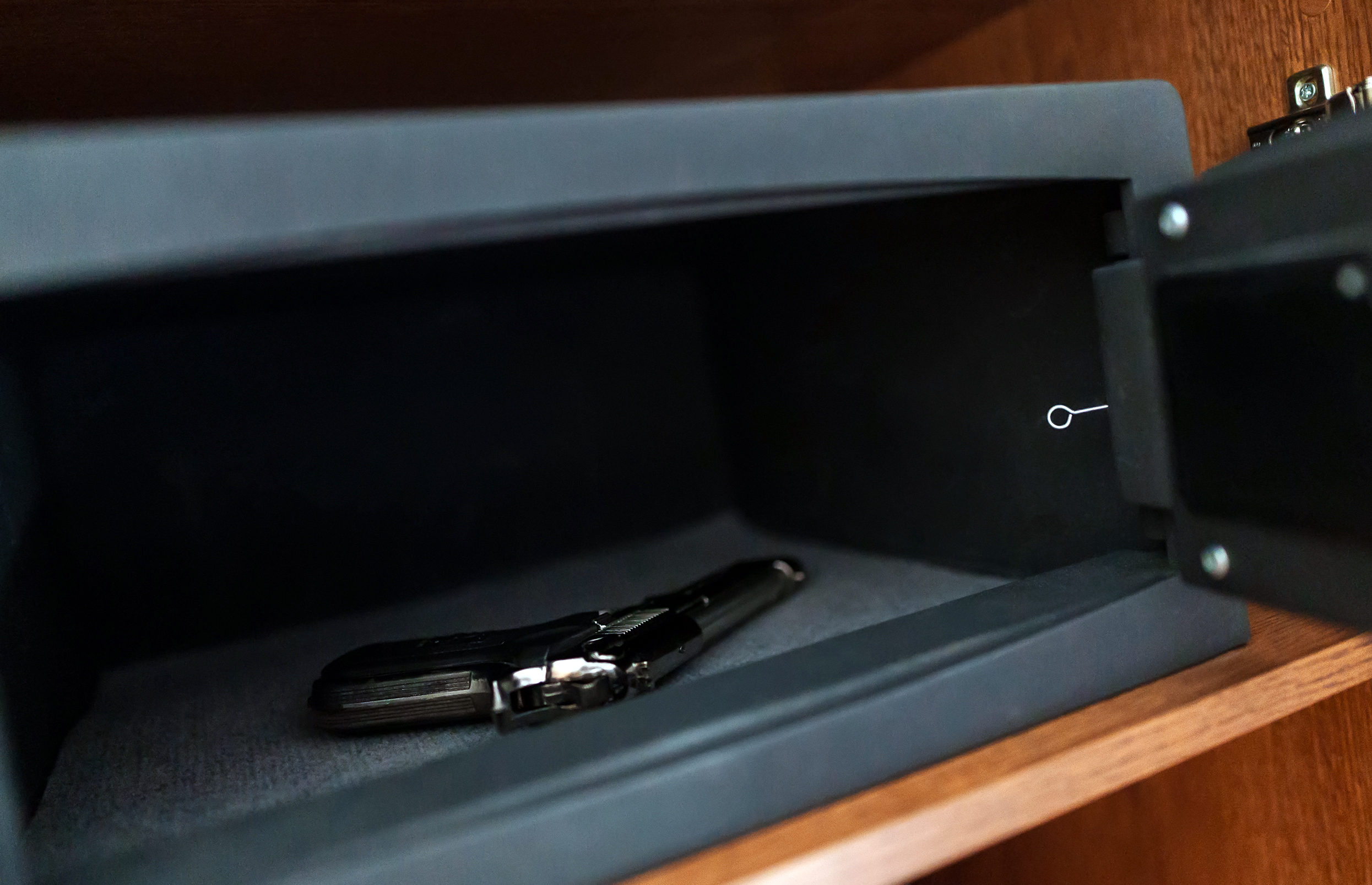 What's So Great About a Safe?
What's so great about gun safes? Well, that depends. Being perfectly transparent, there are some gun safes that are exceptional. These home safes that we speak of are built for extended exposure to extreme temperatures for prolonged periods of time, i.e., house fire protection.
These are a great option for collectors of rare firearms or ultra-high-end firearms. But it comes at a serious cost: weight and actual cost.
You can expect a standard 12-gun safe with basic level-1 security to weigh in around 250 pounds or more. These will buy you not quite an hour of burn time at a scorching 1,200℉.
How about we bump these numbers up?
A high-end, heavy-duty gun safe at the top of the security spectrum will withstand fire for a solid couple of hours, which is impressive, to say the least. But it will also run several thousand dollars, and can easily tip the scales over half a ton.
Just like any tool, a safe has its time and place. Also, we haven't talked much about your run-of-the-mill tactical safe. These units are made from cheap, thin steel and are little more than metal storage containers. They aren't made for heat endurance and are just there to give you a little more mental peace than setting your guns in the corner of a wall closet.
These are truthfully not impressive units. They lack all of the qualities that you will find in a temperature-resistant safe.
Can an Open-Air Gun Mount Really Be Secure?
This begs the question: can an open-air gun mount actually be secure? Surprising to some, yes, it can be a highly secure storage option if you choose the right one.
Our Strongwall system is designed to be the strongest system on the market. Each slat in the modular system is anchored directly into a wall stud and can be anchored in up to three studs per slat.
The guns themselves are as secure as you want them to be; we provide a variety of locking options for your unique long gun or handgun collection. For instance, if you take our six-gun vertical rack, you are able to securely mount them to the slat wall, and secure them to the wall by the use of our multi-gun lock.
The multi-gun lock is also an awesome option to secure your brace of pistols to the wall, which is mounted through a slew of different methods. A few of our personal favorites are:
Locking pistol display. This is a must for quick access to a pistol that you want to readily access but in a secure manner.
We offer a good number of different locking solutions for our gun walls, so whatever your needs are, we can lock your guns down tight.
What Makes a Wall Mount So Secure?
Once your gun locks are secured into the slat system, it forms a single cohesive unit. The only way to get the guns out of the house is to take them down as a single, solid unit.
Our gun walls measure three feet by four feet as a baseline and are quite heavy. The odds of anyone unscrewing one and carrying out the whole unit with guns locked in place are pretty low. Extremely low.
Flooding Protection with Gun Walls
Since gun safes regularly find their way into basements, we need to address this issue. Basements flood and safes sit on the floor. See where this is going? It might not matter much to your M-4 clone if the buttstock gets a little wet. But what about that vintage Weatherby? You know, the one with the beautiful walnut stock?
Yeah, you don't want to see that sitting underwater.
You can choose the height to mount our gun walls. If your basement has a tendency to get a little wet, you can mount this as high as you want to make sure that not one drop of water touches your collection. And again, since our gun walls are fully modular, you can keep adding to it as your collection grows (or in case you forgot about a few of your guns when you bought the wall). Show me a safe that's modular and grows with your collection. I'll wait.
It's safe to say that your average shooter is interested in the concept of security; it's why we do what we do. But your guns need security, too. Otherwise, they might end up stolen, in the wrong hands, or even be subject to natural disasters. Our gun walls are what you need to secure your guns in a way that is classy, modular, and always expandable.
If you're not already sold on a gun wall, how about its ability to organize and secure not just guns, but a variety of tactical gear? Sure, you can throw your ammunition, magazines, and plate carriers in your gun safe, but the clutter and inconvenience will have you rethinking your decision.
Instead, mount tactical shelves, magazine carriers, or display hooks alongside your guns. This makes sure you have instant access to your gear and helps you avoid digging through a cluttered safe.
Rifles, shotguns, pistols, ammo cans, mags, and the list goes on for what you can include on your tactical wall display.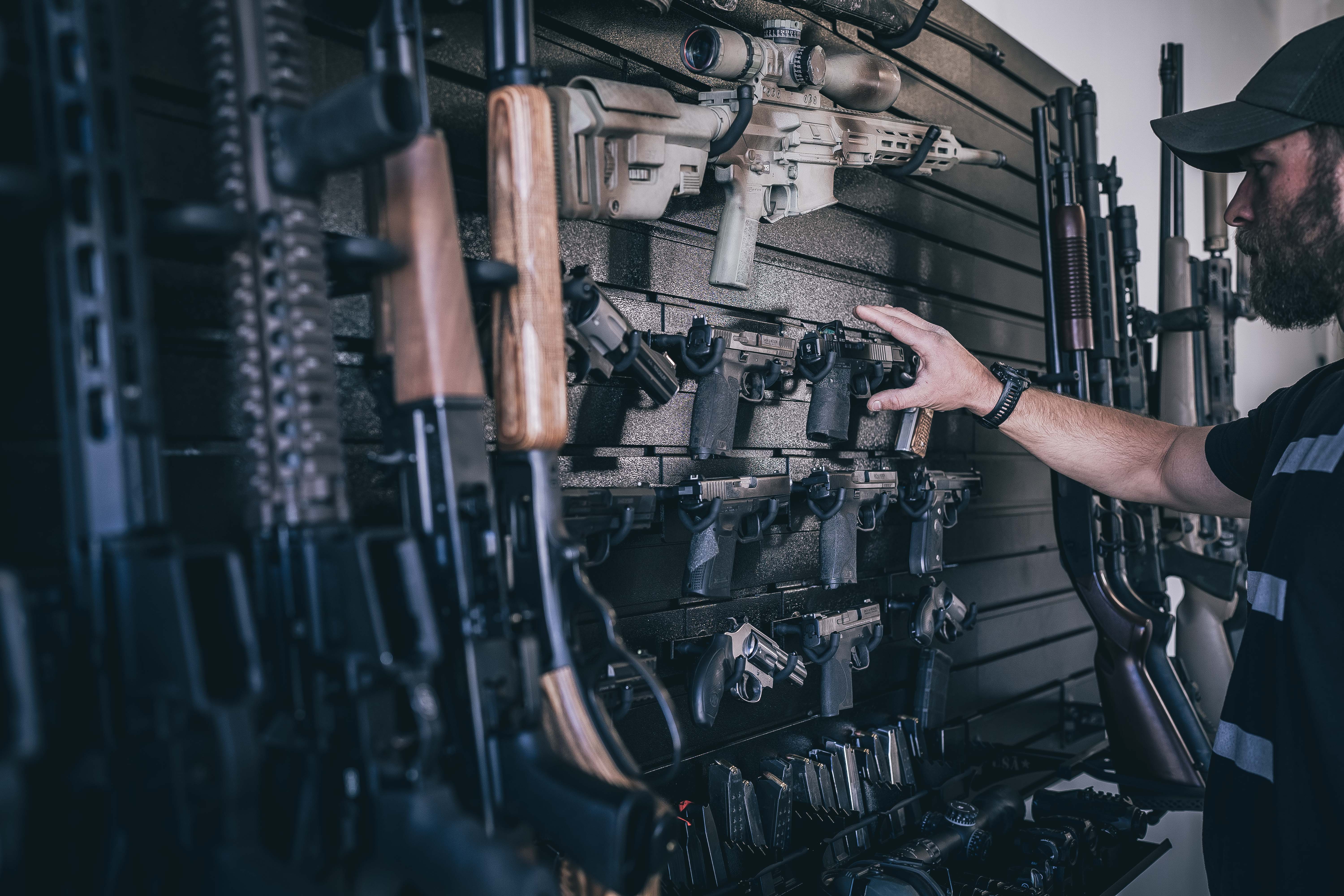 At the End of the Day, A Gun Wall is the Way to Go
Try out one of our pre-designed gun walls, or design your own! You can dress it out for everything from pistols to the longest of long guns. Got gear? Hang it on the wall, too. We have helmet racks, chest rig hangers, magazine holders, and everything else you need to keep your guns and kits secure, dry, and ready for the apocalypse…or just a good conversation piece at your Fourth of July BBQ.