We at the Hold Up Displays blog have talked about gun rooms a lot. For big collections of guns, there really is no comparison to the utility, space, and coolness-factor of a gun room. But how secure is a gun room? Is it really as secure as a gun safe? And how can you efficiently store your whole collection of guns?
Hold Up Displays will easily handle the gun mounting and storage, but let's dig into vault doors for your room. Not all doors are created equally, there are some key security features to understand.And of course, you won't want your collection of guns worth thousands (or tens of thousands) to be secured by a $99 hollow-core door from DIY Budget Depot.
What Makes a Good Gun Room?
A walk-in vault room is ideal. Your gun room needs to have adequate space to move around. In fact, it should have more than enough space to access your collection. Here are a few items to think about in the process:
Workbench - You need a sturdy, flat surface to work on your guns, preferably one where you can add a vice. This is mandatory equipment for you AR builders out there. We see you. You've got to have a vice for your upper or lower receiver blocks, so make sure you've got one.
Plenty of wall space - Hold Up Displays optimizes your vertical square footage by providing wall-mounted solutions. Whether you're looking for a more traditional piece, such as our horizontal long gun racks (note: our wooden racks are produced locally by our friends in the Amish community), or a fully modular gun wall.
Sometimes all you've got is a closet, so you work with it. But ideally you can work with at least one hundred square feet or so. With standard 8' walls, you'll have 320 sq. ft of wall area to mount guns on.
Why Should You Make A Gun Room?
Gun rooms are a great solution for gun storage to keep all your guns and gear in one, secure place. This room would ideally be a centrally located area, and here's why:
Easier to secure it all behind a vault door.
Any extra safety measures (sprinklers, concrete walls, etc.) are easier to centrally locate for a single room.
It's easier to beef up the security measures for one room than spreading it out across the house.
There really isn't a downside to a gun room. If you've got the available space, a gun room is the way to go. You can beef up the security for the room to the point of being practically impenetrable. This can include concrete block walls and, of course, vault door installation. If you do have an irreplaceable collection of firearms, you can always put a safe in the room in addition to wall mounts and floor storage.
If you do have an irreplaceable collection of firearms, you can always put a safe in the room in addition to wall mounts and floor storage.
In addition to a great place to store your collection, a gun room with a block wall and vault door is an excellent panic room or storm shelter for you and your family.
How Secure Is A Gun Room with a Vault Door?
To be blunt, a gun room with a vault door is practically impenetrable. A vault door is nothing more than a safe door framed into a doorway. Of course, it is only as strong as the materials it is mounted on.
But assuming instructions are followed explicitly, a vault door provides you with the most secure gun room door in existence.
If building a vault room from scratch in new construction or as an addition to the house, a concrete block wall construction with a vault door creates a room that is almost impervious to natural disasters, and stops even the most stubborn criminals.
What Is A Vault Door?
A vault door is basically a safe door that can be installed into a standard 32", 34" or 36" rough opening. It installs in a similar manner as a standard pre-hung door except it is a lot heavier.
Unlike a standard door that has a single point of failure in the locking mechanism (locking door knob) or at most two (door knob and deadbolt lock), a vault door uses a series of 1" (or larger) steel pins along the edges. These are known as 'live locking bolts' and make for a door that is almost impossible to break into. At around 350lbs, good luck breaking through a vault door.
And since a vault door is constructed of two panels of thick steel, nobody is getting through there without a torch.
What Are the Best Vault Doors for a Gun Room?
Here are our favorite vault doors on the market:
SnapSafe
The Hornady brand is synonymous with shooting. They make some of the finest bullets and reloading supplies in the world, along with complete ammunition.
One of the subordinate companies of Hornady is SnapSafe, a prominent manufacturer of safes, also produces the SnapSafe vault room door.
This beast of a door weighs in at 350 lbs and has 9 live locking bolts. This door is probably coming off of the wall before it comes open by force. Secured to the rough opening by 5/16" lag bolts, it's designed to take a beating.
The SnapSafe vault door is made for either 32" or 36" rough openings, and can be bought to swing in or out. The advantage of an in-swing vault door is that it won't be blocked closed by any debris or other obstructions (a gun room with a block wall and vault door is an excellent storm room).
Also, this door is made to open from the inside as well as the outside.
Vaultpro USA
Vaultpro USA is one of the best vault door manufacturers in America. They provide everything from business to government to residential vault doors, and they even do custom vault door orders.
Take every item that we love about the SnapSafe and then add a lot more steel to it and you've got Vaultpro USA. Vaultpro produces a thick door that is truly the definition of heavy duty.
They've got a wide selection of colors. Vaultpro USA also features both in and out-swing vault doors. Instead of 12 gauge steel, they use two ¼" steel plates. Instead of 1" steel live locking bolts, they use 1 ½". Instead of 9 live locking bolts, they use 14. The Elite Series Vault door is even "best in class fire protection" if shielding your collection from fire is important to you.
If you needed a vault door for a main battle tank, this would be it.
Both Vaultpro USA and SnapSafe offer a lifetime warranty on your vault door, so you can ensure a long-term commitment to protecting your gun room.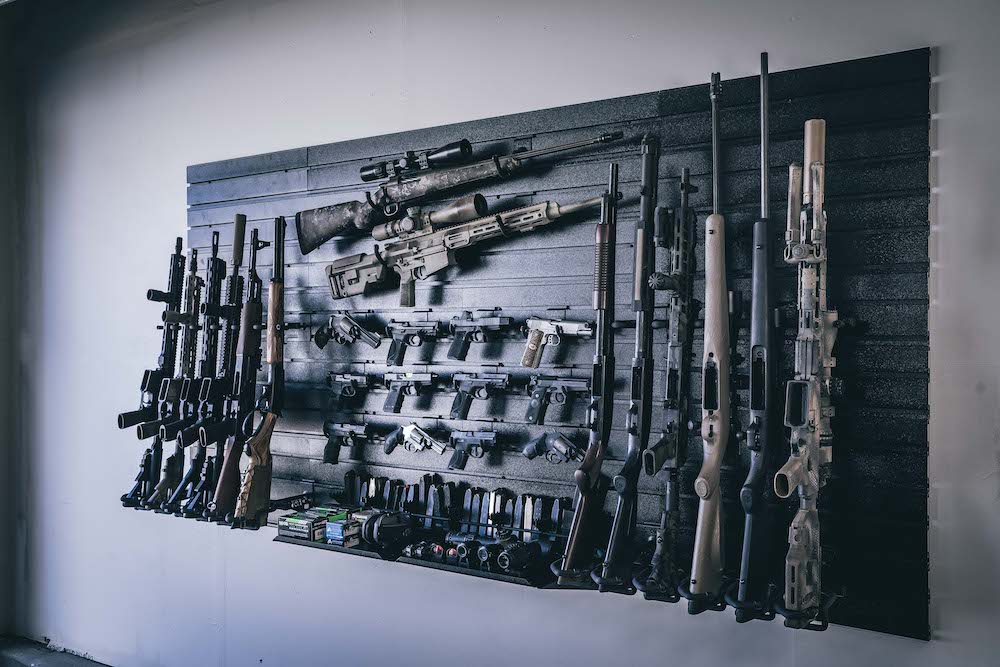 Creating a Secure & Unique Gun Room With HUD
A gun room is basically the ultimate storage center for your guns and gun stuff. It needs to be big enough to hold what you already have, hold what you're going to have, and store what you want to have on top of that. If security is one of your main concerns, building your own vault is easier than you think, especially with the help of Hold Up Displays.
No matter what type of gun room you're building, mounting your guns is key. Hold Up Displays has every solution that you'll need from customized gun walls to efficient gun racks to locking racks for additional security. We also have floor storage solutions to maximize your space. Check it out and outfit your gun room today!