With the holiday season bearing down, most of you are probably already thinking about gun-related gifts for the firearm enthusiast, hunter, competitive shooter, or hobbyist in your life. But what do you get the gun owner who has everything?
Shooting can become a very gear-intensive hobby with ultra-specific guns and load-outs for long-range precision shooting, action/three-gun shooting, self-defense training, hunting of various types, and just plain, old target practice. If you have "that guy" in your life, you've probably asked the question that opens this article: what do you get the person who has everything?
Fortunately, we're here to help with some gun-themed gift ideas. Hold Up Displays offers industrial-grade gun racks for the gun room or gun vault at every price point. Hold Up Displays is an American-owned, American-operated, made-in-the-USA company with industrial-grade gun racks, walls, and mounts. Looking for a Christmas gift, Valentine's Day present, birthday gift, or just something special for a gun-lover in your life? How about a gun rack or – if you want a really impressive holiday gift – a gun wall?
Right now, Hold Up Displays is running a holiday sale offering a FREE portable gun rack that holds six long guns with a purchase of $100 or more (offer code WELCOMERACK). This rack will hold six guns from very short SBRs (with the SBR Add On) and large-format pistols up to the longest of long guns. An attractive, rugged gun storage solution for transporting guns to the range or on a hunting trip, this would pair awesome with any of our mounts, walls, and racks. And the best part? It's a $129.99 value that's FREE with a $100 purchase. Let's take a look at some more of Hold Up Displays' products in this gun enthusiast gift guide!
Gun Walls: The Ultimate Gift for a Gun Enthusiast
Maybe you're looking for a unique gift for that special gun collector in your life…or maybe you're just looking for a thoughtful gift for yourself this holiday season. If only the best will do, check out Hold Up Displays' gun walls. If you're looking for the best gift for a serious gun lover, look no further!
The HD103-BW is an excellent starter kit. It comes with a 48-inch wide by 36.5-inch tall section of Slatwall with a walnut finish for a classic look. Slatwall is the strong mounting panel for various racks that Hold Up Displays offers, and it is affixed directly to your wall. The HD103-BW also comes with an HD53 mount to hold six rifles and/or shotguns vertically, and six HD09 handgun holders. For $549 you have an attractive, all-in-one kit to help a loved one start off (or continue) the gun wall of their dreams.
If you prefer a more tactical look, check out the HD90! This bundle has a 48-inch by 36-inch black Slatwall panel. It also comes with the following items: one HD53 six-gun vertical rack, four HD52-R in-barrel pistol hangers, and two more HD09 pistol hangers. It also includes a heavy-duty shelf that mounts at the bottom of the unit making it incredibly versatile. It also comes in a bit cheaper than the HD103-BW at only $489.
Still not tactical enough for you? How about the HD100-BC? It's very similar to the HD103-BW but in black camouflage, an excellent choice for the latest ARs. Prefer a distressed American Flag background? Check out the HD93-F. There's a little something for everyone. If you still haven't found the color and combination of accessories that meet your needs, you can put together your own gun wall in our gun wall builder.
If your gift recipient has a lot of long guns to store or display, the HD91 is the way to go. This rack holds 12 long guns, side-by-side. Six are displayed in the middle, with three on each end being angled outward. This creates a really unique look. It's a great value at $350, and the best part: if you run out of room you can expand it in either direction!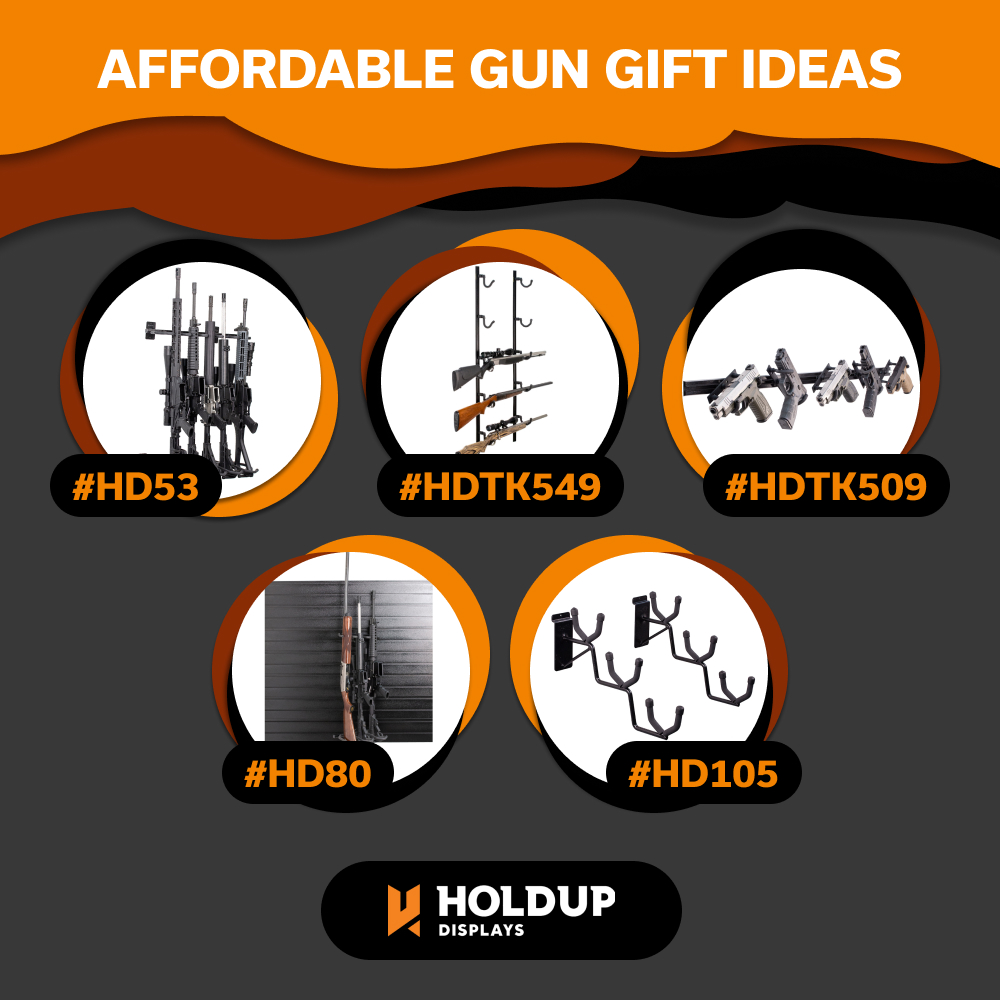 Wall Gun Racks: Still Affordable But Larger Gifts
If you're looking for a smaller, but awesome gift for someone special, look no further than our gun racks and stands. This is the meat-and-potatoes of the Hold Up Displays lineup.
The HD53 is a vertical rack that holds six long guns. It can be used as part of a larger gun-wall display or mounted directly to your walls (just be sure to mount it to studs). The HD53 is made of heavy-duty, powder-coated steel and all contact surfaces are coated in a thick rubber to protect your guns. Costing only $120, this is a great entry point into a gun wall or just a standalone display for six rifles and/or shotguns. Keep in mind that the purchase of this would qualify you for the FREE portable gun rack, putting together the ultimate gun gift package, one rack for at-home and another for on-the-go.
Another option would be the HDTK549. This rack holds five rifles, shotguns, or fishing rods horizontally, providing a clean, classic display. This makes an impressive-looking display and is available in black, copper, or silver. Despite looking like it costs a lot, the HDTK549 only costs $70 and would make a great gift for any gun enthusiast or fisherman.
The HDTK509 is a pistol rack that holds five handguns. The handguns are displayed in profile, and each can be rotated to a different orientation. This creates a very cool visual appeal that is hard to overstate. The individual gun hangers can be slid along the track to put pistols closer together, and additional hangers can be added to the track. Like the HDTK549 this rack is available in black, copper, or silver. It would make a great addition to a gun wall or an awesome standalone piece for the handgun lover.
The HD80 is a 3-gun rack that holds three rifles and/or shotguns in a vertical display similar to the HD53. Unlike the HD53 the entire rack pivots. Rather than sitting flat against the wall, you can pivot the rack out to create a striking visual display, or simply to create more space to display other guns.
The HD105 is slightly different. It holds three rifles and/or shotguns horizontally, but closely spaced, and extending out from the wall. This model is only available for mounting on Slatwall, but for a $20 upgrade, it comes with a section of slatwall. This has a very modern, tactical look and feel and would be right at home in a man cave or law enforcement arms room. At only $59 ($79 with Slatwall) this is a very affordable, standalone option that still has a very striking look.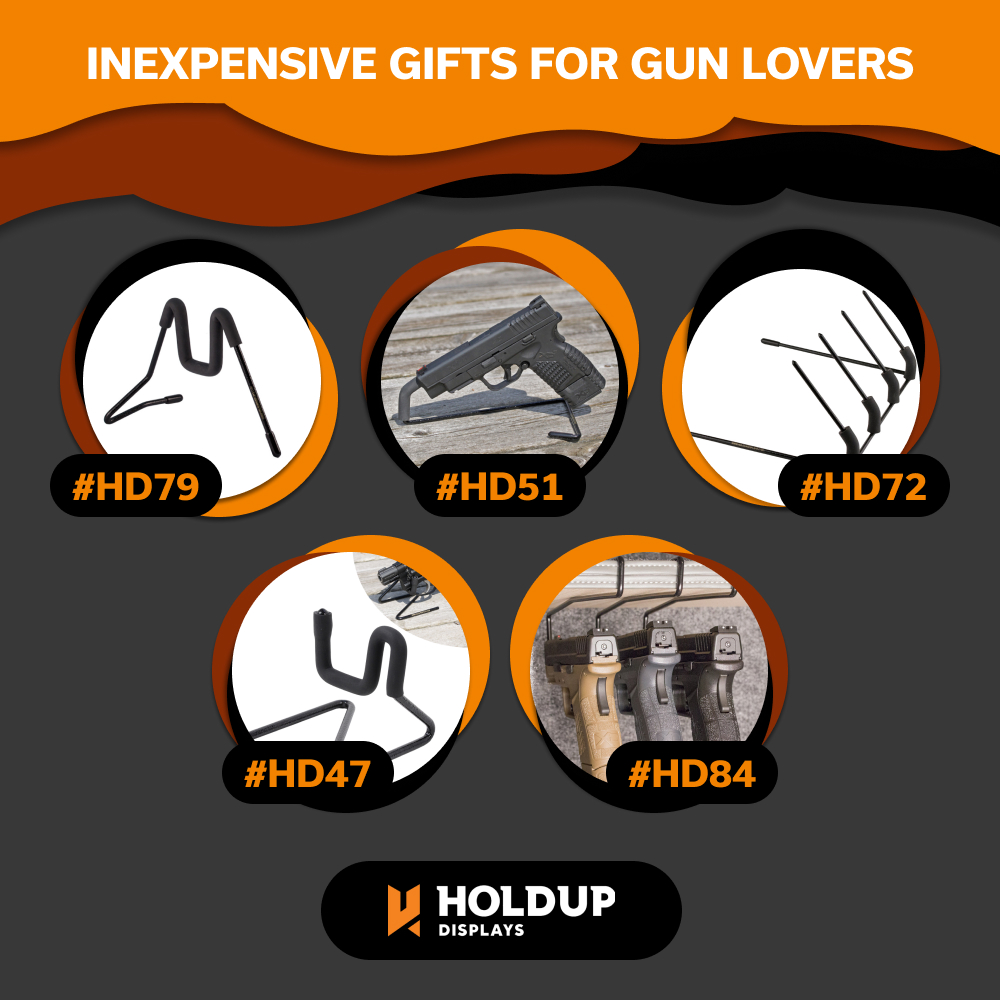 Floor Gun Racks: Inexpensive Gifts for Gun Lovers
Need a creative gift or a perfect stocking stuffer? Looking for an inexpensive gift for the annual Secret Santa in the "under $25" category? Not to worry – Hold Up Displays has you covered with some thoughtful gifts in every price range. Though they are inexpensive they certainly aren't cheap and are made from high-quality materials. Any of these would also be the perfect addition to some of Hold Up Displays' bigger options, too.
The HD79 is a table-top long gun display stand. Coming in at only $25, this durable, two-piece, powder-coated rack is also covered with high-density padding to protect firearm finishes. This is a great way to show off a favorite weapon or priced collector's item.
If handguns are your thing, the HD72 should be in your setup. This handgun rack costs under $10 and holds up to four pistols or revolvers with in-barrel rods. This looks great displayed on a table and also makes a great in-safe storage and organization tool, or to keep a gun available for quick access. The HD51 is a similar in-barrel pistol holder, but for single pistols. It costs under $6.
If you only want to display a single handgun or organize them on separate racks, the HD47 may be worth looking at. This is a single-handgun rack that offers an upright tabletop display for a pistol or revolver. Unlike the HD51, however, it does not have an in-barrel rod but supports the gun from underneath. It is constructed of heavy-duty steel and has dense patting to protect a gun lover's favorite pistol.
One of our personal favorites is the HD84. This is an in-barrel, single-handgun system. Instead of a tabletop display, the HD84 slips onto the shelf of a gun safe, then pistols and revolvers are stored, suspended below the shelf. One of the biggest problems with gun safes is that they fill up too quickly. This makes excellent use of space that would otherwise be unused and helps your gun safe's cubic footage go a little further.
Throw together a few in-barrel holders, tabletop displays, and long-gun stands, and you've got a great set of racks for a gun room, closet, or storage space. These are great options to show off their favorite pieces and keep them quickly accessible.
Free Portable Rack with $100 Purchase!
Regardless of which gun wall you choose, if you purchase it now, you will get the added bonus of this FREE portable gun rack – a $129 value – by spending $100 or more (enter promo code WELCOMERACK at checkout).
The HD39 is a folding, portable gun rack. It's ideal for use on the shooting range. Even by itself, it would be the perfect gift for a serious rifle or shotgun enthusiast.
Contact Hold Up Displays
Unsure about which gun wall, rack, or mount would best suit your boyfriend, husband, friend, or family member? Contact our team of experts and we'll be happy to help you find the best Christmas gift for your loved one!