Firearms are awesome, so awesome that sometimes we find ourselves having more firearms than we have space to put them. If you own a lot of guns, you need a clever and secure place to store them.
Whatever your situation is, Hold Up Displays has clever gun storage solutions to suit your needs. Let's take a look and figure out what the best options are for your collection and storage space.
What Is NOT A Clever Way To Store Guns?
Keeping your guns in the box they came in is not a clever way to store them (yes, we've all done it). Leaning them in the corner of the closet is not clever, either. Neither is leaving them in a gun case in a kitchen cabinet or on top of the refrigerator.
Some gun safes work out alright, but they have drawbacks, too. They are large and bulky and need a fair amount of space.
A pretty common place to store guns is a closet. If you want to tuck a smaller safe away in your closet, you will succeed in taking up a ton of usable space. A perfect solution for closet storage is setting up a gun closet. Mounted guns will provide easy access, an appealing display, and secure storage in your closet.
We aren't saying that safes don't still have a purpose. It's that safes are often overplayed when you are looking for gun storage options, especially inconspicuous storage.
Other lackluster ways to store your guns include:
Keeping them under your mattress. Nothing good will come from this.
Lying on the floor under your bed. Dirty guns tend to malfunction.
Lying in random cabinets and dresser drawers . Little hands always find dangerous things within easy reach.
What Is A Clever Way To Store Guns?
There are quite a few ways to store your guns that are more clever than throwing them in a steel box.
Our vision is to optimize vertical space, i.e., your walls. Think about it like this: a safe is sitting upright on the floor or ground. It is taking up valuable square footage on the floor, plus valuable cubic footage in terms of the volume of the room.
Our wall-mounted storage solutions sharply reduce the amount of cubic volume taken up by attaching directly to the wall. The slat walls themselves are incredibly thin, only measuring ¾" in thickness when mounted to the wall.
We have dozens of accessories tailored specifically for the slats that allow you to mount any number of different firearms, and an infinite combination of items. You can mount all long guns, a combination of handguns & long guns, or you can custom build your gun wall for anything you want.
Of course, you don't have to use a slatwall system to enjoy the benefits of our gun storage solutions. Most of our mounts are made with the option of either using slatwall or flat wall mounts.
For example, if you need a rack for three long guns in your bedroom or closet, we can do that. In fact, our angled gun display will tuck those three rifles or shotguns tightly into any corner. Or if you have a little bit of closet space but can't dedicate the whole thing, think about mounting one or two of our track bundles.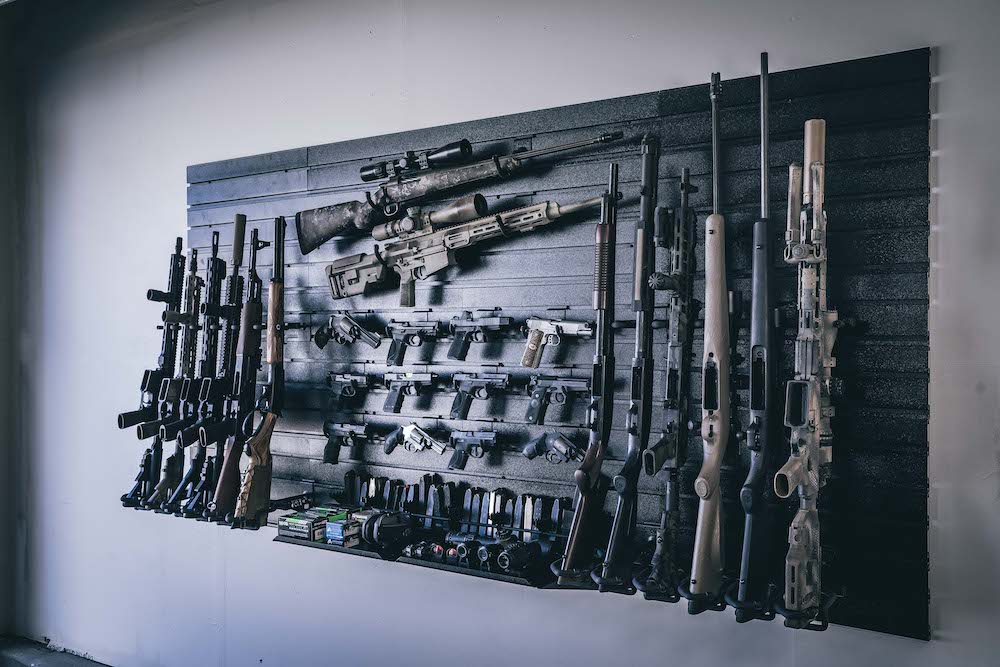 Why Gun Walls Are The Clear Winner
We do believe that our gun walls are the ultimate space optimizer. The best part: they are infinitely modular. We designed them to fit together seamlessly so you can extend your gun walls vertically and horizontally.
Want to fill up an entire wall with slatwall? Be our guest.
Whether you focus specifically on tactical gear, sport shooting, hunting gear (firearm and bows), fishing, or any combination, we have your accessories to optimize a large or small space.
Oh, and we did mention aesthetics, didn't we? If you're a traditionalist, that's fine. We have flat black for the simple approach, along with our beautiful hardwood walls (oak, cherry, and walnut) built by our local Amish community.
No matter your loadout, our gun walls have the guts to handle it. Got a few handguns and rifles? No problem. Our most popular combos come with mounts for six of each. Need a place to store a stash of spare mags and a ballistic vest? We've got those covered, too.
In fact, we can even mount your spare optics if you need.
Gun Storage Ideas When Space Is An Issue
Okay, so what about when space is a critical issue? As in, your apartment or house is small and space is genuinely limited?
We can help with this, too. First, if it's a rental, you might have to be careful about putting holes in the walls. If you are limited with permanent mounts but still want clever storage options, let's talk shop.
Shelf Displays For The Win
For your handguns, assuming you don't want them sitting out in the open. We respect and understand, and we have a solution.
We offer a variety of gun holders and free-standing racks. Our in-barrel pistol displays for shelves are an awesome solution for storing your handguns in a way that allows quick access while barely any more space than the pistol itself. Since the display is so diminutive, you can line up as many handguns as the shelf can manage.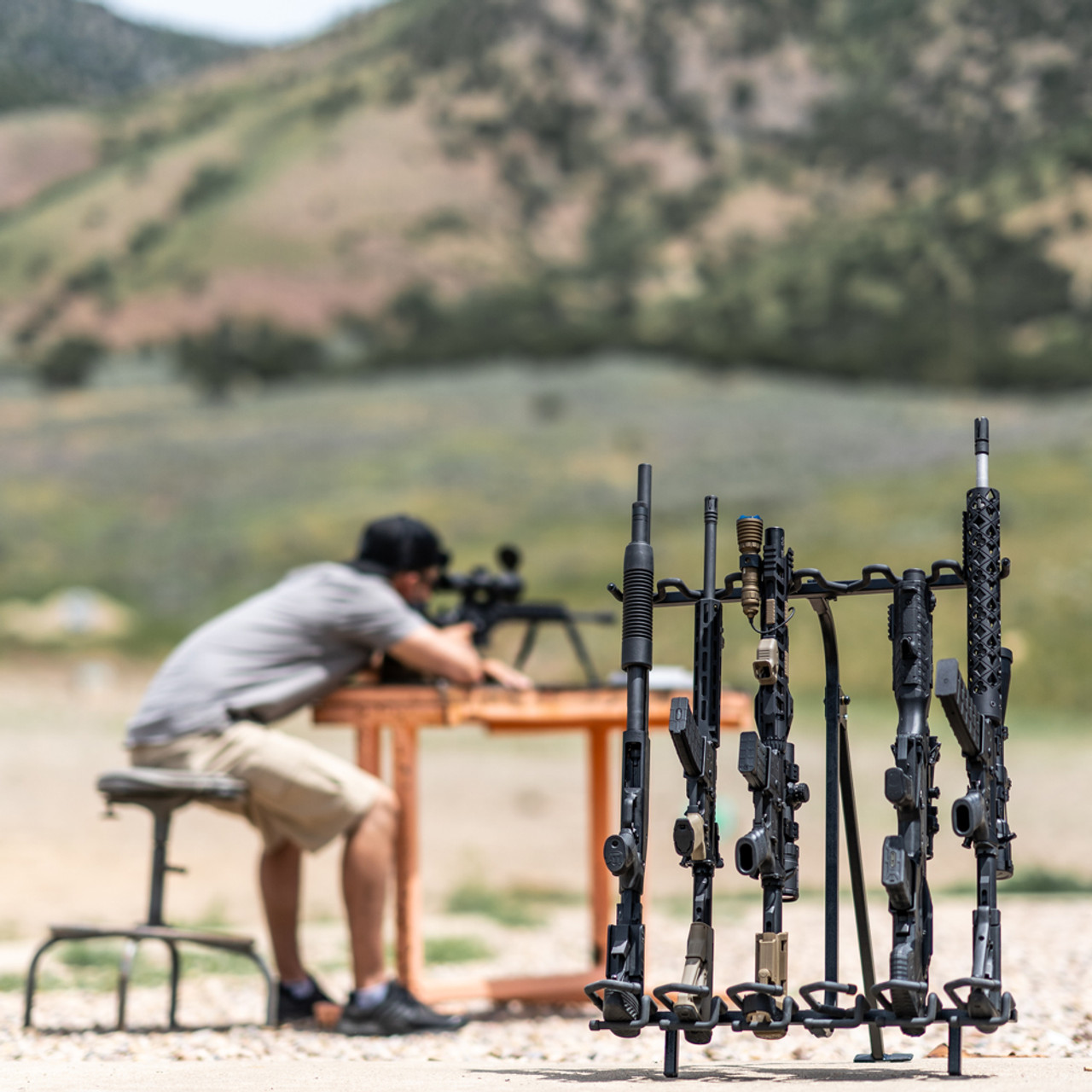 Free Standing Long Run Racks
We suggest our folding metal gun rack is the perfect choice to store up to six long guns (note: this can also be used for AR/AK pistols or SBRs with the SBR add-on). From your short-barreled AR pistol to your Mosin and everything in between, this folding rack is a great way to store your long guns when you don't want a permanent mount or as auxiliary storage if you don't want to mount anything permanent.
Hold Up Displays Provides a Variety of Unique Gun Storage Solutions
It's time to go ahead and wrap up this installment; we could go on for days about our products. However, we think they speak for themselves; once you try them out you will see the difference for yourself. Our storage solutions will give you options you didn't even know existed.
Don't know what would work best for you? No problem. Our customer service team is ready to help find a customized gun storage system to display whatever collection of guns and gear you own. Contact us today!