This month we're going to talk about tactical gear storage. As all tactical buffs know, your firearms are only the beginning of your tactical loadout. A soldier may be only as good as his rifle, but he won't last very long without accompanying gear; modern warfare isn't like fighting in Bastogne or Sicily. While your house or property isn't exactly like storming Iwo Jima, your defense strategy will still undoubtedly include more than just grabbing a gun and a phone.
Let's take a look at some of the gear you'll probably use and how to store it.
How Accessible Does Your Gear Need to Be?
The good thing about the army is that whenever they spend millions (or billions) on R&D, the results of their trials usually trickle down to the civilian population in a few years.
Without the army driving it, we probably would still be using incandescent Maglights (GREAT for bashing but about ⅓ as bright as a modern Streamlight that fits in your pocket), and body armor/chest rigs would be out of reach for the average person.
Instead, you can jump on any tactical website (or Amazon) and get top-tier flashlights, chest rigs, and ballistic gear shipped to your door in a couple of days.
I remember reading Combat Handgunnery and Shooting Times back in the 90s and their takes on home defense. Basically, you had a Maglight, a Gen 2 Glock, and a landline phone.
Now, a good loadout will include a carbine with optics and attached lights, a chest rig, and probably a ballistic helmet. And why wouldn't they? If something goes bump in the night, chances are pretty good that they might be armed, too.
The point is you need to have a plan for when something is out of place. This plan should include:
Optimal loadout
Minimum loadout (the things you cannot do without)
A systematic approach to storing your gear.
It is common lore that SEALs and other operators all customize their kit. They all carry the same things, more or less, but each individual locates them a little differently. They never vary the location or their core kit components either.
Your kit should be no different. If you are worried about home or homestead intrusion, you need to prepare accordingly, keep your gear close by and ready for quick access when you're under stress.
How Much Storage Do You Have Available?
We can't create more storage capacity for you, but what we can do is optimize the space you're working with. Hold Up Displays specializes in wall storage, which we feel is the most underrated form of storage.
Every house has wall space, it's as simple as that. Even the smallest little cottage has a fair amount of wall space to work with. Even if you have next to no closet space, you've got walls.
Even in a small, 10'x12' bedroom, you've got roughly 352 square feet of wall space to work with, minus any doors and windows.
This is more than enough to work with for a fully-equipped gun wall.
How Much Storage Do You Need?
This question is completely contingent on what your preferred kit is. Our gun wall bundle is built for six rifles and six pistols and has room for the rest of your gear, equipment, and accessories. Our heavy duty display shelf can really accommodate anything from ammo to molle pouches. A few of our most popular tactical gear additions are:
So, how much storage do you need?
Our starter gun wall is 48"x36", only twelve square feet. It will work in any room. Since you drill pilot holes, it doesn't matter if your wall uses 16-inch or 24-inch stud spacing. Our walls will work anywhere.
Even if you want to mount it directly onto a concrete or concrete block wall, you can do that too. Our products work on almost any wall type, regardless of where you want to mount them.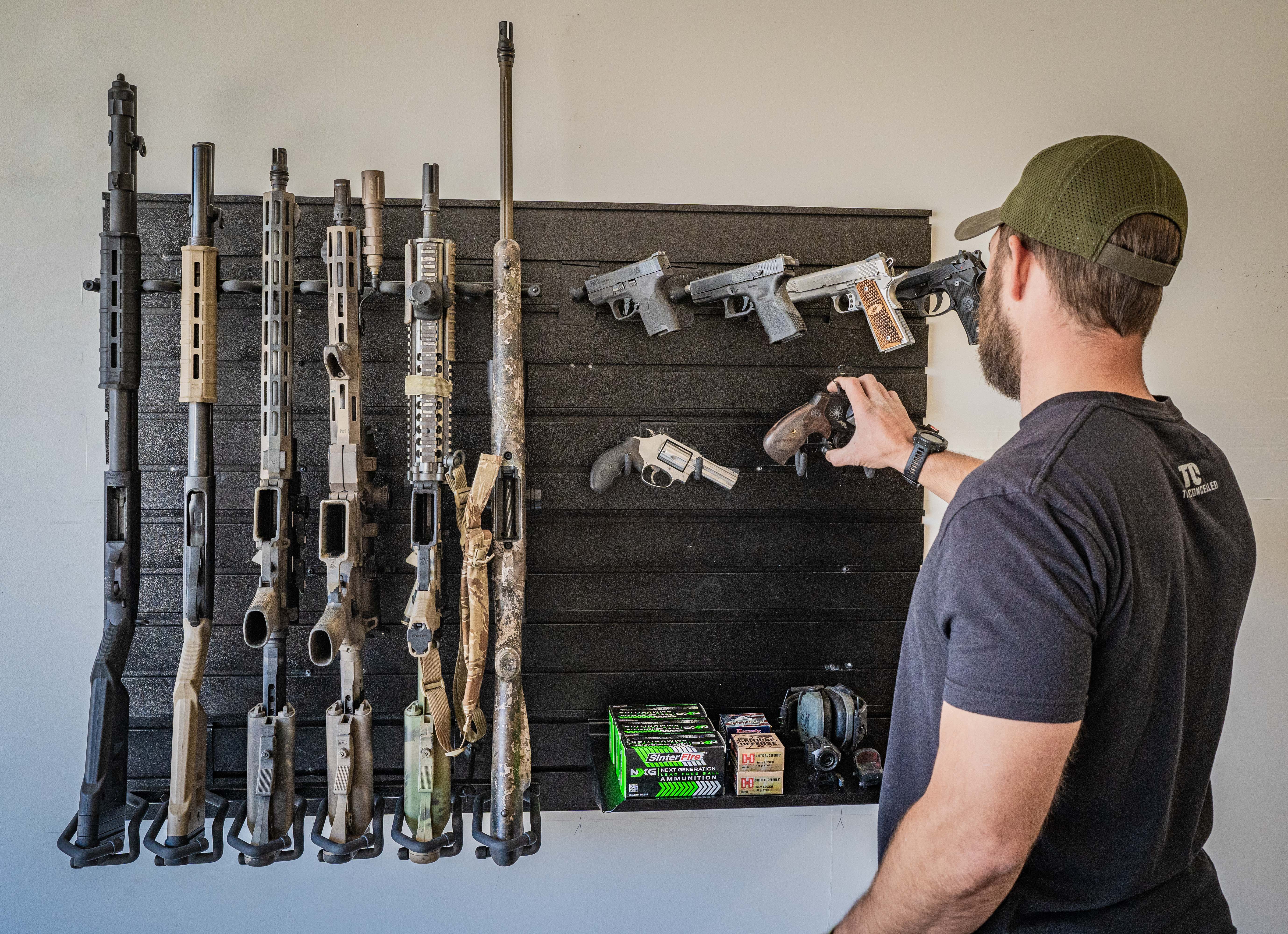 Use Tools to Optimize Space
Most of us need more space to work with. There is no getting around it; we don't have endless areas to mount our tactical gear. And even if we did, that would defeat the purpose of storing it close at hand.
Our gun and slat walls are designed to be wall-conforming and unobtrusive. They are adaptable storage options, with a modular quality that can grow with your collection.If your original location can't support your growing collection, it can be taken down and moved elsewhere.
The great thing is that you can use our gun walls for much more than just guns. We have mounts for tactical gear, archery, fishing rods, scopes & optics, rifles, shotguns, and handguns.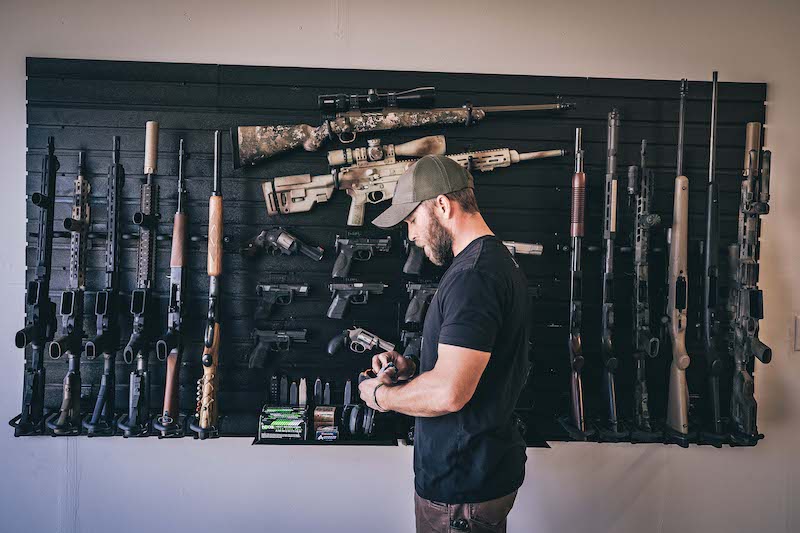 Plan Ahead for Future Gear & Firearm Storage Needs
Our gun walls are a great place to start, made with premium materials and efficient configurations. Our starter pre-built bundle accommodates six long guns, six handguns, and an assortment of gear, but that's just a starting point. Six long guns sound like a lot to the rank novice, but those who have been collecting or building for a while? The chances are that your collection eclipsed six long guns a while ago.
Since all our gun walls are modular, you can plug and play any way you want. In addition, we have a bundle builder where you can customize your gun wall to your needs, so you can add on anything you need. You can break your walls into long guns, handguns, and supporting gear.
Hold Up Displays Creates the Best Tactical Gear Storage Solutions
Your tactical gear is an integral part of your home defense response. Gone are the days of a Rayovac flashlight and a Ruger Security Six; your response kit could include ballistic gear (helmet, chest rig), a handgun, carbine, and even medical. But you can't just throw your gear in the closet or slide it under your bed. Maintaining easy access, organization, and customized storage is key.
You need to optimize your storage space with a customized strategy, and we have the solutions. Our secure storage systems and individual racks utilize high quality materials and are made right here in the United States. We provide more than just firearm storage options, but also tools to mount your ammo, protective gear, military gear, and extra magazines.
Check out our pre-designed gun wall bundles, or build your own!