Secure storage to prevent unauthorized access and use is an important part of gun safety. When thinking of secure gun storage, most people think of gun safes. However, gun safes aren't as secure as you might think, and they keep you from displaying your proud collection.
Cable gun locks are a simple, yet effective solution to safe gun storage within a variety of gun racks or gun walls. They can be attached directly to the gun and are a great option for gun owners who want to be able to display their collection while still keeping it secure. Let's discuss more how to use cable gun locks and specifically how they are an easy solution for safe firearm storage with our gun walls. .
Cable Gun Locks… Preventing Use & Theft
Cable locks are affordable and easy to use. They consist of a steel cable and some sort of locking mechanism, usually a keyed lock. These effective, inexpensive locks can be used on virtually any firearm and can work in a couple of different ways.
Some cable locks will prevent unauthorized use of the firearm, either by preventing ammunition from being loaded or by blocking the barrel and chamber. The exact details of how they function vary from gun type to gun type, but we'll talk about each individual type in a moment. The other kind of cable gun lock attaches to the gun, usually by winding a cable through the trigger guard, and attaches to a secure, immovable point to prevent theft.
Some options will have both, acting as a security and safety device. These locks have a design that prevents intentional or unintentional firearm use while also keeping the gun securely in place.
Cable locks are great for the safe storage of firearms within home displays, at trade shows, or in gun shops, because they're not very visually obtrusive. Some jurisdictions even require proof of some sort of security for firearm safety reasons, and cable locks are an affordable, effective option for meeting those requirements.
How to Use a Cable Gun Lock on Various Firearms:
While just about any gun can be secured in place by threading a cable lock through the trigger guard and attaching it to a secure, fixed object, if you want to use a cable lock to prevent a firearm from being operated, how to do that varies from gun to gun.
However, the first step is always to make sure that the gun is completely unloaded and the last step is to make sure that the end of the cable has been inserted into the locking mechanism and properly secured.
Revolver
There are two main ways to use a cable gun lock to prevent a revolver from being operable. For either, you'll first want to ensure that the handgun is unloaded and leave the cylinder released, generally to the left side, after you do so.
For the first method, you'll want to string the cable through two chambers. If you want to be able to put the cylinder back in place, put it through the two chambers on the far side of the revolver's frame. The cable will still prevent the cylinder from rotating as long as it's through two chambers.
If you don't want to be able to move the cylinder in place at all, you can achieve this with most revolvers by loading the cable through the topmost and bottommost chambers.
Note that some revolvers can still rotate the cylinder if you just load the cable through one of the chambers. It's not a lot, but the worst way to find out that yours was one of those is via an intentional or unintentional injury.
The second method is even more secure, and it's the one we'd generally recommend going for. For this method, simply run the cable lock through the barrel. This will ensure that the cylinder can't be seated properly in the first place.
Pistol
Likewise, there are two main ways that you can use a cable lock with a semi-auto pistol.
The first is like the latter revolver method. Pull back the slide and simply feed the cable from the chamber to the muzzle.
The second option is our preferred method.. For this one, remove the magazine, pull back the slide, and then feed the cable through the action and down through the empty magazine well.
Shotgun
Putting a cable lock on a shotgun is very straightforward. All you have to do is feed the cable in through the ejection port and out through the loading port. Then just secure the lock closed and you're good to go.
Rifle
Using a cable lock on a rifle works pretty much exactly the way it does on a shotgun. Just feed the cable in through the ejection port and out through the loading port.
Hold Up Display's Cable Gun Locks To Keep Your Gun Wall Safe & Secure
Here at Hold Up Displays, we offer two different cable gun locks.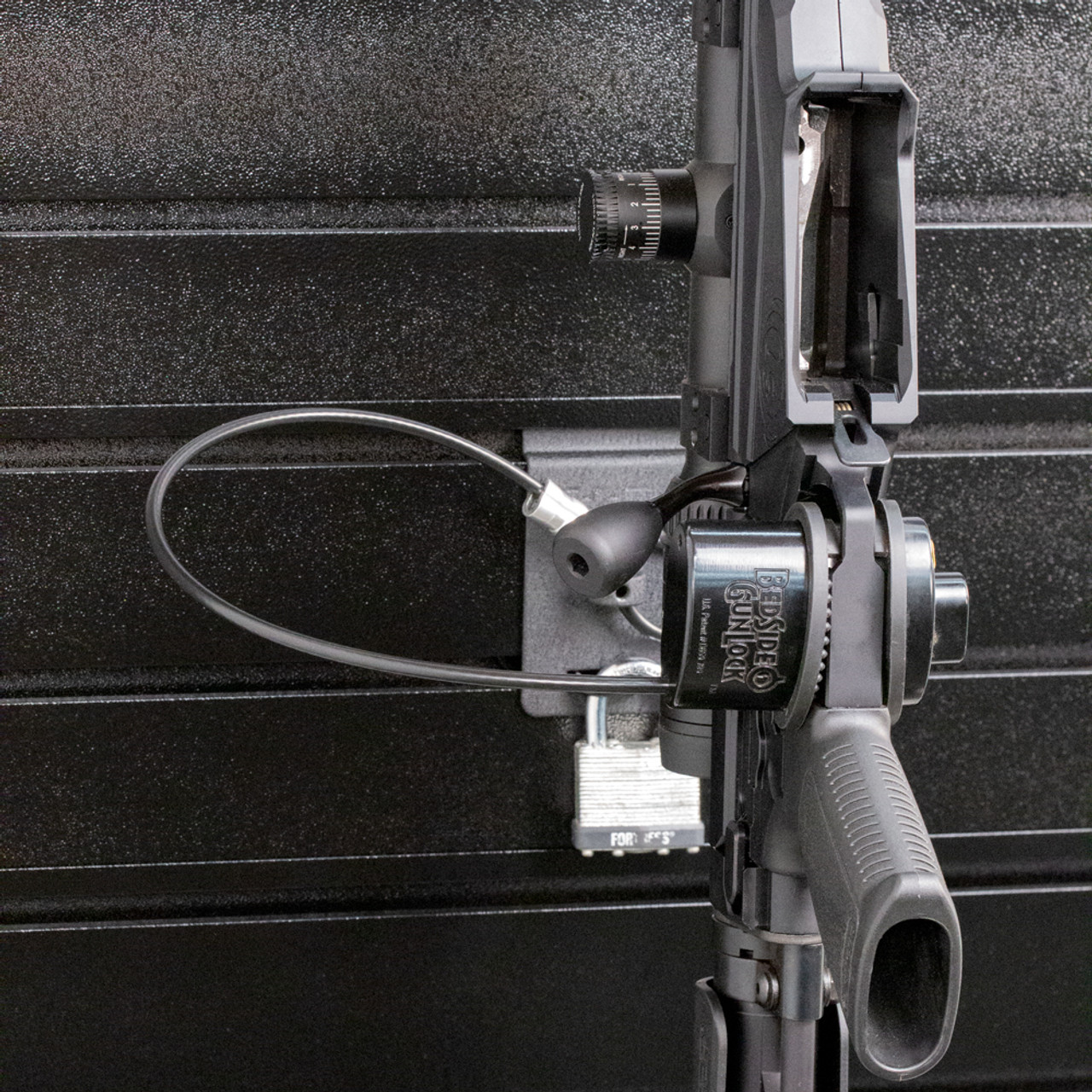 The first is our Individual Gun Lock. This locking system combines the convenience of a trigger lock with the security of a cable lock. One end is a trigger lock that attaches to your gun, preventing operation (we'll talk a bit more about trigger locks below) while the other affixes to your Hold Up Displays gun wall. A padlock holds it in place on the wall so it can't simply be removed and unlocked later on at a thief's discretion.
The Individual Gun Lock comes in versions compatible with our Slatwall or a flat wall, and can be purchased with or without a padlock. If you want multiple locks that are keyed alike, we suggest purchasing padlocks separately from the Individual Gun Lock.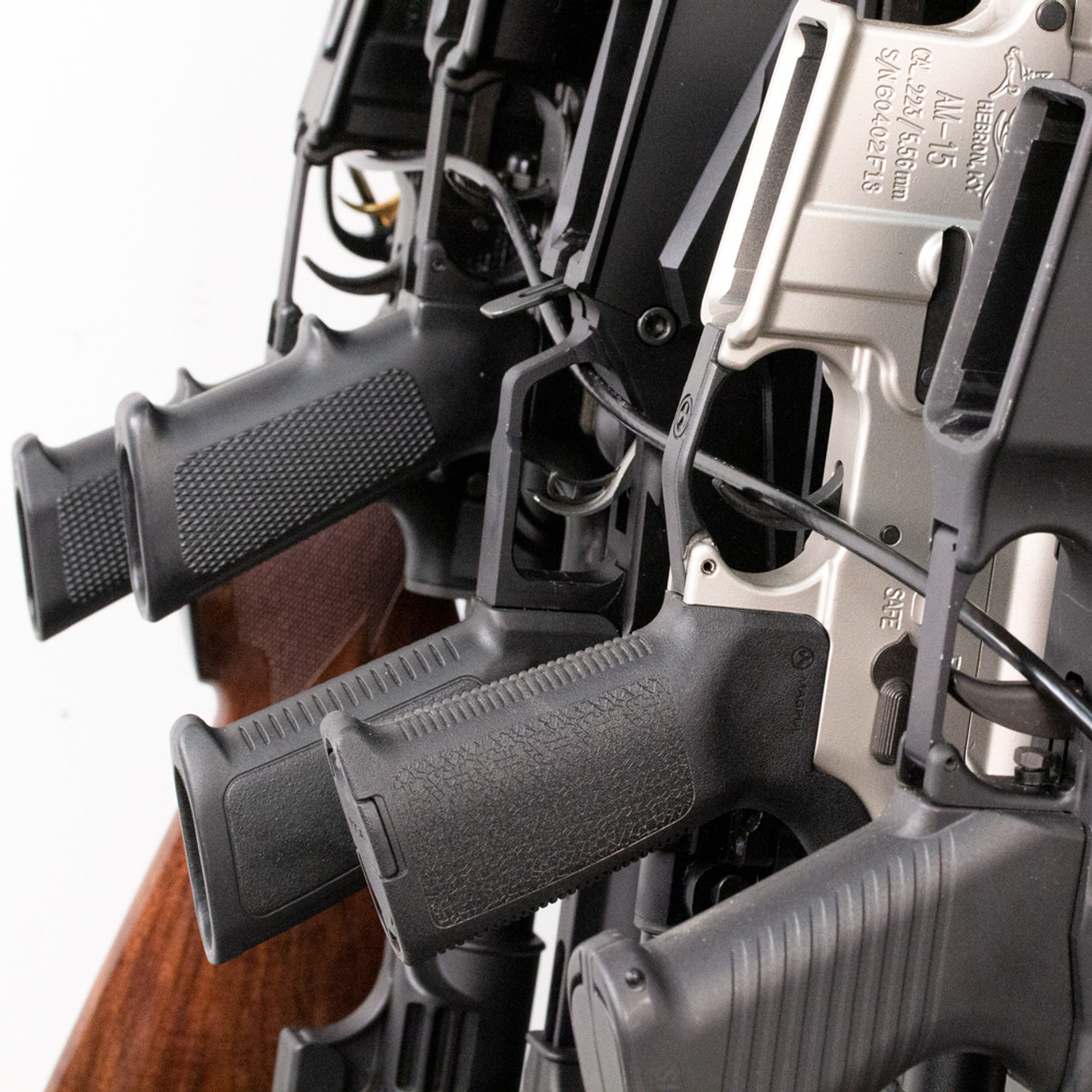 Our other option is the Multi-Gun Lock. This one has a 70-inch steel cable that can be threaded through the trigger guard of multiple guns before being locked back on the base, which can be either a Slatwall mount or a flat wall mount. Again, this gun lock is available with or without a padlock.
Other Secure Gun Products with Hold-Up Displays
If you don't love the idea of a cable lock for whatever reason, a good alternative for displaying weapons is a trigger lock, like the Hold Up Displays Locking Pistol Display.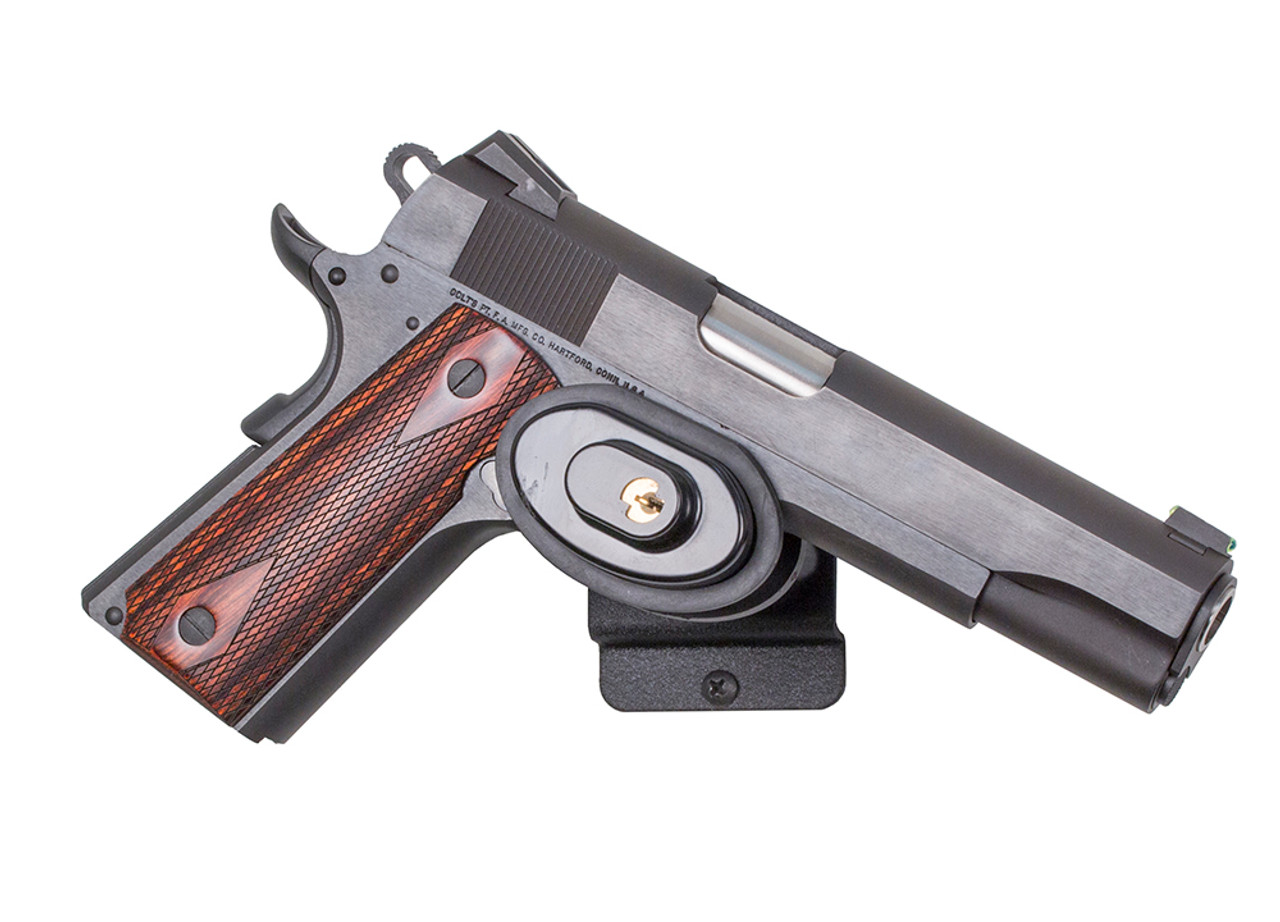 These devices are made up of two pieces. First, a cylindrical piece is inserted behind the trigger which ensures it can't be pressed. Then a cover with a locking mechanism fits over it and completely covers the trigger guard so that the cylinder can't be easily removed.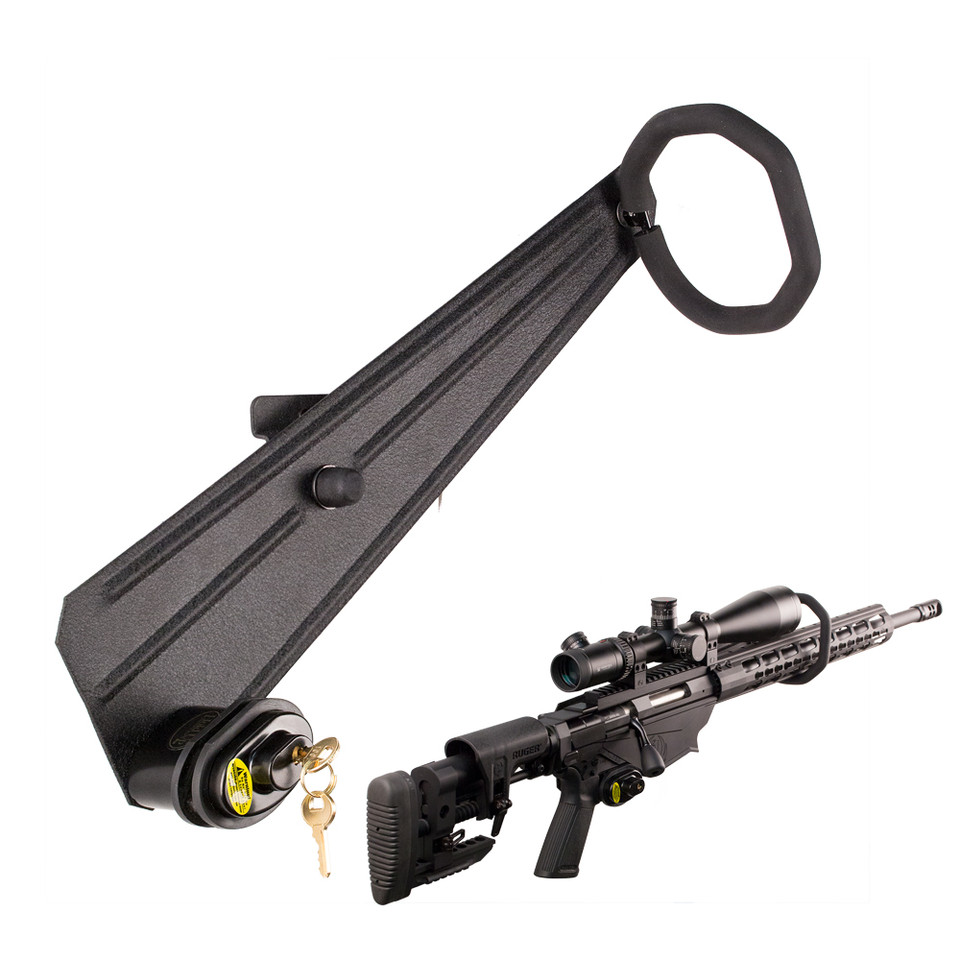 There are even display systems that come with integrated trigger locks. One that we offer is the Locking One Piece Long Gun Display, which allows you to securely display your long gun at any angle.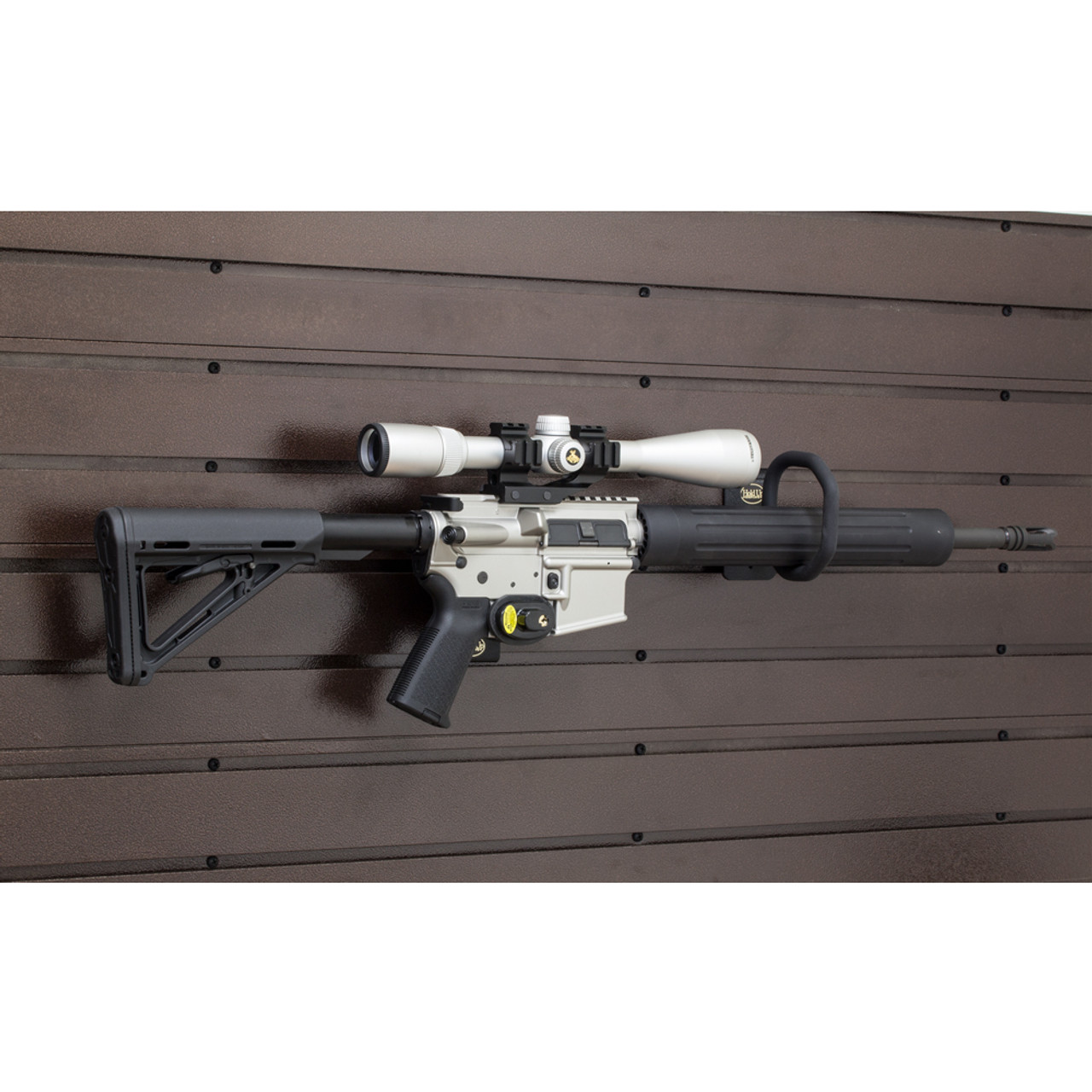 Another great option from Hold Up Displays is our Locking Firearm Display, which comes in versions mounted on either our Slatwall gun walls or a flat wall. It has two pieces, one with a trigger lock and the other to hold up your gun's barrel, so it's great for minimalist displays of guns of a variety of lengths.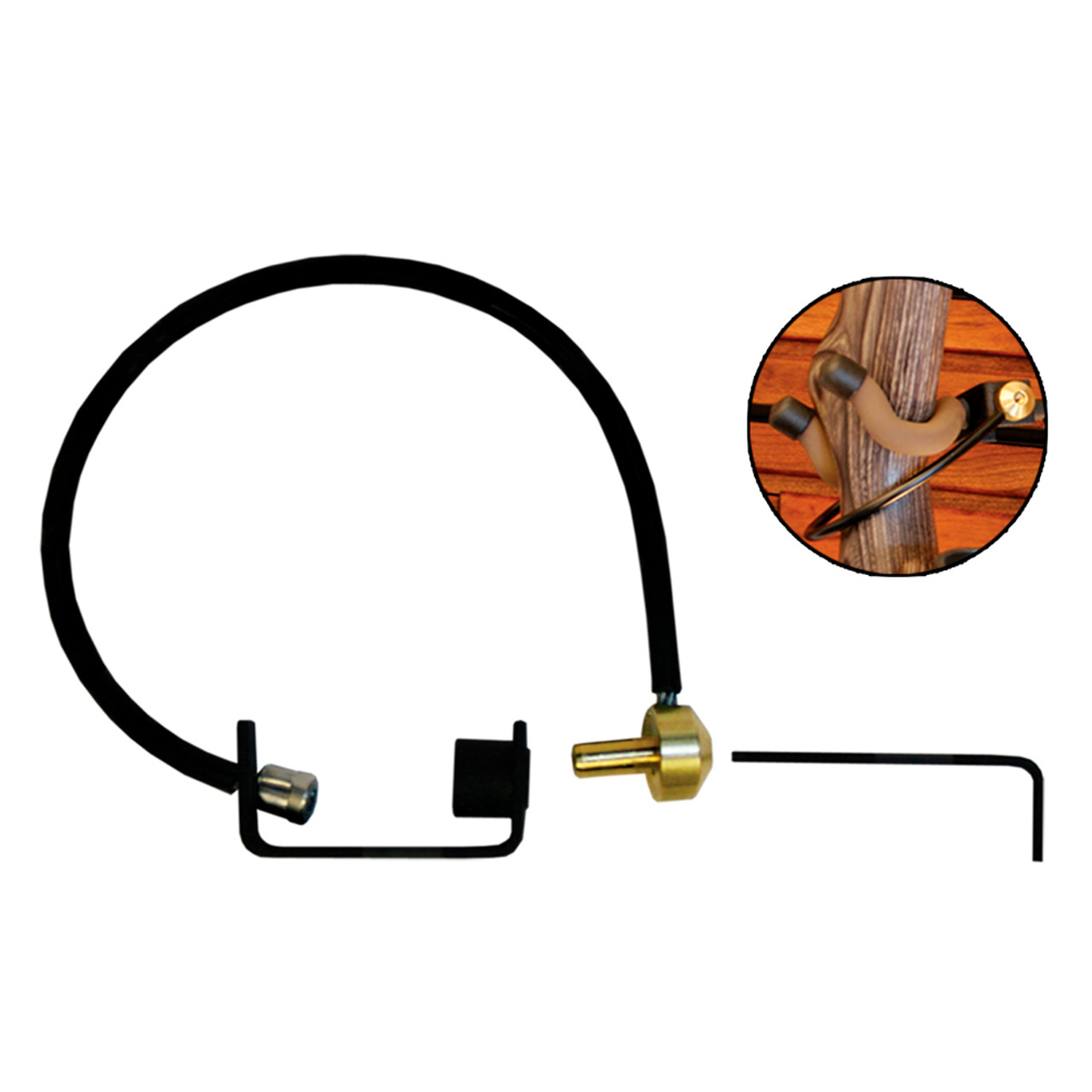 Finally, the Hold-Up Displays Security Lock is an alternative to both traditional cable locks and trigger locks. It avoids the trigger guard altogether and instead wraps around your rifle or shotgun's stock at the thinnest point and is locked into place with an Allen wrench and the locking system is attached to a mount to keep it securely attached to your gun wall.
A decoy screw hides the real screw so someone who's not already familiar with the locking system won't know how to actually remove it.
The Secure & Smart Way to Display Your Gun Collection
With Hold Up Displays, you can easily display your firearm collection without having to compromise on firearm safety and security. Our modular gun displays use slatted wall panels and compatible mounts to create a modular system that you can switch up whenever you want without having to drill new holes in your walls.
However, we also have a variety of gun racks that can be attached directly to the wall if that's what you prefer, as well as a great selection of freestanding gun racks. Whatever rack or mount you choose, we are here to help promote functional and safe storage practices.
No matter how you want to store and display your firearms and firearm accessories, you can get started with Hold Up Displays today.