You've got a lot of guns and aren't exactly sure what the best way to store them all is. Plus, you've got some kit to go with it, right? Classic gun safes are fine for storing weapons pulled out once a year to bag a whitetail or drop a few Pheasants, but are they the best option to keep your kit armory at your immediate disposal? Not really. But there is a better way: gun walls are a great way to keep your gear at your immediate disposal while looking great, and since wall mounts are modular, you always have what you need when you need it. Let's look at the five benefits of using a gun wall.
1. Modular Designs
When you buy a safe, you get a safe. There are only so many things you can do with a steel box. You are still using a steel locker with a few cutouts for your hardware. And unless you want a big safe, you can kiss your kit goodbye.
Our gun walls are designed from the ground up to offer you the ultimate modularity. Got a cache of AR- and AK-pattern rifles and a few pistols and a chest plate? Cool. We can do that. Are you more of the hunting type and have a rack of shotguns and fine rifles that you want to display?
We design our products to grow with your collection as it grows or to change as your tastes change. So you can go small or go big with your gun wall (although we always recommend going big!).
2. Infinitely Adaptable
There are only so many ways to adapt a safe to your needs. It either works, or it does not work. There is no in-between.
Our gun walls are infinitely adaptable to whatever your needs are. And we know that a shooter's needs are never fully satisfied, so feel free to scratch that itch and keep adding to your arsenal! Whatever you buy, we have a solution for it.
And our solutions aren't just for the firearms themselves. Instead, our expansive list of accessories will support whatever mission your gun wall is called to perform. From scope trees to magazine cradles to the humble coat hanger (life isn't always all about tactical choices; sometimes you just need a place for your jacket).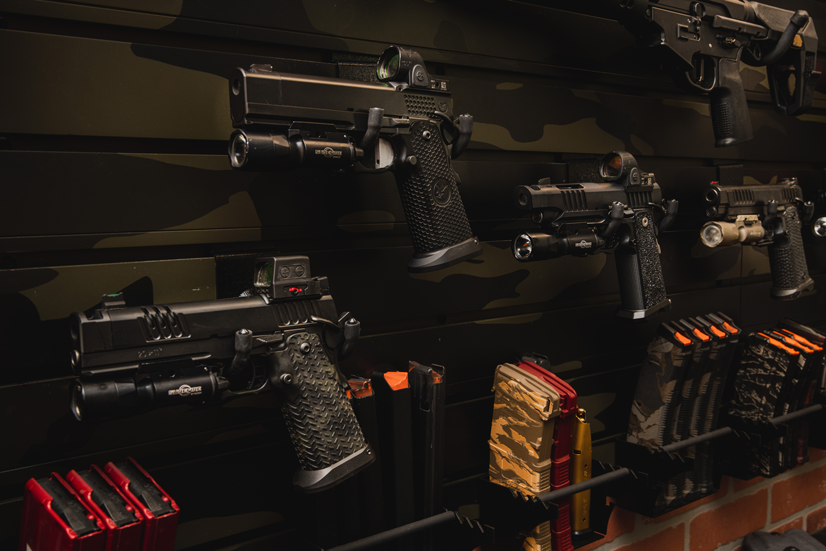 3. Your Gear is Readily Available
One of the challenges of firearm storage is having a secure solution that allows easy access when you need it. Safes are secure, but they are cumbersome, and your options are limited to the layouts available. Also, a safe is not a diverse storage solution. What do we mean?
The best-case scenario for a safe is that it securely stores your firearms and maybe leaves you a little room on the top shelf for magazines. But what about a chest rig? When things go bump in the night, it's not a bad idea to armor up. Also, you might want a powerful light for checking things out and maybe even a trauma kit.
Your house can get a little cluttered with these things, and they might not end up being readily accessible when the flag goes up if you have them scattered around the house. Our gun walls shore up your loose ends.
4. Adapts to Your Needs as Your Needs Change or Grow
If you have been storing your guns in a cabinet or safe, you know the challenge: it's full; now what can you do besides buying another safe or cabinet? Or, of course, upsize to a much larger safe. However, these take up a lot of room and are extraordinarily heavy; they might not be leaving once it's in.
Our walls are modular, not just because they are outfitted how you want them with unique mounts, but you can always add that additional panels. So as your collection grows, your storage grows with it!
We understand that security is a real concern, so we provide locking solutions. Whether it be for a single firearm or an entire wall of rifles, we've got you covered.
With a full line of accessories, you can store a brace of pistols, a full rack of rifles (vertically, horizontally, or even at an angle if you like), and add on plenty of room for chest rigs, helmets, and even a bug out bag. Magazine holders ensure you will have plenty of ammo to go the distance, and you can even set up magazine racks for multiple calibers (PLEASE mark them accordingly!).
5. They Look Great!
Look, practicality is excellent, but nobody wants to hang $10,000 worth of guns on a wall that's ugly as a mud fence. So we take great pride in manufacturing walls that stand up to whatever you throw at them and look great along the way.
Whether you like the traditional look and feel of beautiful walnut, want to express your patriotic streak with an American flag background, or celebrate your time in service with a camo" "background, we have the product! Then, of course, you can go incognito with a basic black slat panel. Whichever product you choose, know that you are buying an American-made product that will serve you well for many years to come.
Firearms technology is constantly advancing, so don't you think it is about time that your storage solution does the same? Safes still have their place, but they are antiquated and are not an excellent solution for keeping your arms at the ready when you need them the most. Our gun wall products are made with your needs in mind, and infinitely adaptable designs ensure you will always have what you need, when you need it, and will quickly evolve to meet your demands.